WWE CROWN JEWEL: OUR PREDICTIONS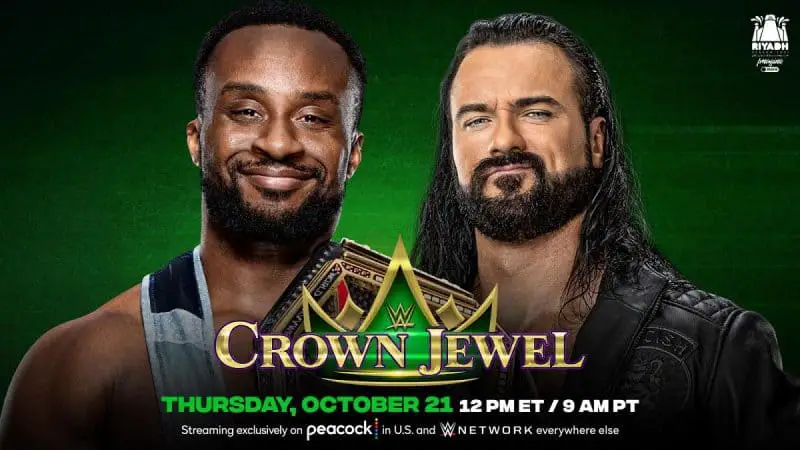 WWE CROWN JEWEL MATCHES: OUR PREDICTIONS
The Usos (Jey Uso and Jimmy Uso) vs. The Hurt Business (Cedric Alexander and Shelton Benjamin). Tag Team Match
This is a random filler match, but it actually could end up being the match of the night. These are some of the best teams WWE has right now and this could be an awesome match. The only correct outcome here though is that Jimmy and Jey Uso pick up the victory as they are the SmackDown Tag Team Champions.
OUR PREDICTION: The Usos win
---
Roman Reigns (c) (with Paul Heyman) vs. Brock Lesnar. Singles match for the WWE Universal Championship
We think Brock Lesnar should win. He has a new persona now and a lot more character but we don't think he'll beat Reigns. Roman Reigns is going to hold onto that championship until at least WrestleMania 38 but we do see Paul Heyman turning on Reigns and siding with Lesnar.
OUR PREDICTON: Roman Reigns wins
---
Becky Lynch (c) vs. Bianca Belair vs. Sasha Banks. Triple threat match for the WWE SmackDown Women's Championship
Becky Lynch is going to win. We think that Becky Lynch and Charlotte will just switch their championships and that requires Becky Lynch to still be champion by the end of the night. This should be a really good match though and honestly all three women have a chance of winning.
OUR PREDICTION: Becky Lynch wins
---
RK-Bro (Randy Orton and Riddle) (c) vs. AJ Styles and Omos. Tag team match for the WWE Raw Tag Team Championship
This is the easiest match to predict. RK-Bro is going to retain those championships and feud with Dolph Ziggler and Robert Roode most likely. This should be a fun match but it feels so repetitive. 
OUR PREDICTION: RK-BRO wins
---
Big E (c) vs. Drew McIntyre. Singles match for the WWE Championship
Big E just became champion and Drew McIntyre is going to SmackDown. This should still be a really fun match but Big E isn't going to lose here. The buildup to this match has been pretty lackluster too honestly.
OUR PREDICTION: Big E wins
---
Goldberg vs. Bobby Lashley. No Holds Barred Match
Goldberg is going to destroy Bobby Lashley. We don't want to see it but it will happen. Bobby Lashley needs something new because this storyline has sucked. Hopefully whatever is next for him will be better. This will be five minutes long anyways so we don't have to worry about it too much.
OUR PREDICTION: Goldberg wins
---
Finn Bálor vs. Xavier Woods. King of the Ring Tournament finals
Xavier Woods is going to defeat Finn Balor. This has been his dream for such a long time and it's hopefully going to come true at Crown Jewel. Maybe this will lead to a Kofi Kingston heel turn? No idea but it should be a great match with Woods coming out on top.
OUR PREDICTON: Xavier Woods wins
---
Doudrop vs. Zelina Vega. Queen's Crown Tournament finals
Zelina Vega should win over Doudrop. She deserves it and we think she will win by cheating somehow. The Queen gimmick would fit her perfectly and this might just be the push she needs. This probably won't be a very long match but we're excited for it.
OUR PREDICTION: Zelina Vega wins
---
Edge vs. Seth Rollins. Hell in a Cell match
This is the match we are most excited to see. This storyline is perfect but Edge has to win. This will be a conclusion to the story and Edge will take a break from wrestling for a few months. This will be the match of the night. Both Rollins and Edge need something new after though.
OUR PREDICTION: Edge wins
---
Mansoor vs. Mustafa Ali. Singles Match
This is another predictable match, Mansoor is winning in his home country. He's never going to lose there because he gets the biggest reaction of the night. The team of Mansoor and Ali splitting up was a dumb decision though and they should be put back together after the pay-per-view. This match will be awesome.
OUR PREDICTION: Mansoor wins