Leati Joseph "Joe" Anoaʻi is a 38-year-old American wrestler, actor and former professional football player. Anoaʻi is currently signed to WWE and performs on SmackDown under the ring name Roman Reigns.
Anoa'i comes from a family of famous Samoan professional wrestlers including his father, Sika, and cousins Rikishi, Umaga and Yokazuna. He's also a cousin of Dwayne "The Rock" Johnson and the Usos once-removed.
Before Anoa'i started wrestling, he was a professional football player having had brief stints with the NFL's Minnesota Vikings and the Jacksonville Jaguars in 2007. During a team physical, it was discovered that Anoa'i had leukemia and was released by the Vikings to get treatment. In 2008, he returned to football and played for the Canadian Football League's team, the Edmonton Eskimos, for one season.
Anoa'i's WWE Contract & Debut
Anoa'i signed with the WWE in 2010 and was assigned to the company's developmental territory, Florida Championship Wrestling (FCW). He made his in-ring televised debut on August 19, 2010 using the ring name Roman Leakee in a 15-man battle royal won by Alex Riley. In August 2012, he changed his ring name to Roman Reigns and debuted on NXT (the FCW re-branded).
Roman Reigns was moved to the main roster in November 2012 and debuted on the Survivor Series pay-per-view event alongside Dean Ambrose and Seth Rollins. The villainous trio declared that they would be known as, The Shield.
At Extreme Rules 2013, Seth Rollins and Roman Reigns defeated Team Hell No (Kane and Daniel Bryan) to win their first WWE Tag Team Championships. The Shield lost the titles in a match against Cody Rhodes and Goldust on an episode of RAW in October.
Roman Reigns Wins Royal Rumble
In 2014, after Seth Rollins betrayed The Shield, Roman Reigns went on a singles run but was unsuccessful in winning a title. At the 2015 Royal Rumble, Reigns won the Royal Rumble match and earned himself a shot at the WWE World Heavyweight Championship match at WrestleMania 31. Reigns didn't win the title at WrestleMania; Seth Rollins cashed in his Money in the Bank contract turning the match into a triple threat which ended with Rollins pinning Reigns.
In October 2015, Reigns defeated Alberto Del Rio, Dolph Ziggler and Kevin Owens in a fatal four way to become the number one contender for the WWE World Heavyweight Championship. In November, Rollins, who held the title, had to vacate it due to injury. A tournament to crown a new champion was held and Roman Reigns defeated The Big Show in the first round. He then beat Cesaro in the quarter finals and Alberto Del Rio in the semi-finals. In the finals, he defeated Dean Ambrose at Survivor Series in November to win the WWE World Heavyweight Championship for the first time.
Immediately following the match, Sheamus cashed in his Money in the Bank contract and defeated Roman Reigns, ending his first title reign at only five minutes.
Reigns' World Heavyweight Championship
Reigns regained the WWE World Heavyweight Championship on the episode following the TLC pay-per-view event. He managed to hold onto the title until the 2016 Royal Rumble when Triple H eliminated him from the match. Reigns won the WWE World Heavyweight championship a third time at WrestleMania 32.
In September 2016, Roman Reigns fought Rusev to become the United States Champion at the pay-per-view event, Clash of Champions. His United States Championship title reign lasted 106 days.
In October 2017, Roman Reigns alongside Seth Rollins and Dean Ambrose decided to reform The Shield. In November, Roman Reigns defeated the Miz for the Intercontinental Championship thus becoming the 28th Triple Crown and 17th Grand Slam champion. His reign lasted 63 days as Intercontinental Champion.
Roman Reigns WWE Universal Champion
At the 2018 SummerSlam, Roman Reigns defeated Brock Lesnar for the WWE Universal Championship. In October 2018, Reigns announced that he would be vacating the title because his leukemia had returned after 11 years of remission. Reigns began his hiatus following this announcement in order to seek treatment.
Roman Reigns returned to RAW on February 25, 2019, announcing that his leukemia was in remission again. During the WWE SuperStar shake-up, Roman Reigns was assigned to SmackDown. For most of 2019, he feuded with Shane McMahon, Drew McIntyre, King Corbin and Dolph Ziggler.
At WrestleMania 36, Roman Reigns was set to battle Goldberg for the Universal Championship but he had to pull out of the event due to the pandemic and concerns for his health being immunocompromised from leukemia.
Roman Reigns' Return to WWE Action
Reigns returned to WWE at SummerSlam 2020 and attacked both Braun Strowman and "The Fiend" Bray Wyatt, at the end of the show. On the following SmackDown, Reigns aligned himself with his new manager, Paul Heyman, turning heel for the first time since 2014.
A week later at PayBack, Roman Reigns defeated Bray Wyatt and Braun Strowman in a triple threat, no holds barred match to become the WWE Universal Champion for a second time.
Reigns then began a rivalry with his cousin, Jey Uso. In his first championship defense at Clash of Champions, Reigns retained the title against Uso by technical knockout. After Reigns viciously beat down Jey, Jimmy Uso threw in the towel. After this, Reigns granted Jey a rematch at the Hell in a Cell event. The match was later confirmed as a Hell in a Cell match, with the added stipulation of being an "I Quit" match. At Hell in a Cell on October 25th, Roman Reigns made Jey quit after attacking the injured Jimmy, thus retaining his title. Due to the loss, Jey was ordered to follow Reigns' commands and address him as "The Tribal Chief," thus turning him into a villainous character.
Roman Reigns' Various Feuds
At Survivor Series in November 2020, Reigns defeated RAW's WWE Champion Drew McIntyre in a Champion vs. Champion match. He then began feuding with Kevin Owens, after Reigns believed Owens to be disrespecting his family. Reigns successfully defended the title against Owens in a TLC match at TLC: Tables, Ladders & Chairs on December 20.
At the 2021 Royal Rumble, he defended his title again against Kevin Owens in a Last Man Standing match. Reigns then defeated Daniel Bryan at Elimination Chamber and Fastlane pay-per-view events. At this time, Reigns would also feud with Edge, who had won the Royal Rumble match. In the main event of night 2 of WrestleMania 37, Reigns defeated Bryan and Edge in a triple threat match to retain the Universal Championship.
On the April 30 episode of SmackDown, Reigns defeated Daniel Bryan in a championship vs. career match, which resulted in Bryan being forced to leave SmackDown.
Reigns' next challenger for the championship was Cesaro, whom Reigns defeated at WrestleMania Backlash on May 16. Afterwards, Reigns initiated a rivalry with Rey Mysterio, after Reigns brutally attacked Mysterio's son, Dominik. Reigns and Cesaro faced off for the championship in a Hell in a Cell match on the June 18 episode of SmackDown, with Reigns as the winner. 
Roman Reigns Battles John Cena & Brock Lesnar
On the June 25th episode of SmackDown, while addressing his victory over Mysterio, Reigns was attacked by the returning Edge, leading to a title match between the two at Money in the Bank. Reigns retained the title because Seth Rollins interfered. After the match, Reigns was confronted by a returning John Cena. Over the following weeks, Cena challenged Reigns for a title match at SummerSlam. After initially rejecting Cena's challenge, a match was made official for the two at the event. Reigns defeated Cena to retain the title at SummerSlam. Immediately after the match Reigns would be confronted by a returning Brock Lesnar.
At Extreme Rules in September, Reigns defeated Finn Bálor. He then successful defended his title against Brock Lesnar at Crown Jewel. On November 8, it was announced that Reigns would face WWE Champion Big E at Survivor Series, with Reigns emerging victorious at the event.
On the December 17 episode of SmackDown, Reigns fired Heyman as his manager because Heyman was once associated with Brock Lesnar. He was scheduled to defend his title against Lesnar at the Day 1 event on January 1, 2022, but the match was canceled as a result of Reigns testing positive for COVID-19.
Reigns Becomes Longest Reigning Universal Champion
Reigns surpassed Lesnar's 503 day reign on January 16 2022 to become the longest reigning Universal Champion. This also meant that Reigns has the sixth longest world championship reign in WWE's history. On January 29, at the Royal Rumble event, Reigns defended the championship against Seth Rollins, losing the match by disqualification. But, championships cannot change hands by disqualification, meaning Reigns kept his title.
Later that same night, he interfered in the WWE Championship match between Lesnar and Bobby Lashley, re-uniting with Heyman to cause the upset victory for Lashley to regain the championship. On the February 4th episode of Smackdown, Goldberg made his return to challenge Reigns to a match at Elimination Chamber for the title. At the event, Reigns defeated Goldberg via technical submission to retain the title.
At WrestleMania 38, Roman Reigns pinned Brock Lesnar to win the WWE Championship for a fourth time. He also became the first superstar to hold both the WWE Championship and WWE Universal Championship simultaneously.
On the June 17th episode of SmackDown, Reigns successfully defended the Undisputed WWE Universal Championship against Riddle. However, after the match he was attacked by a returning Brock Lesnar to renew their rivalry and set up a Last Man Standing match at SummerSlam. At SummerSlam, he battled Brock Lesnar and with the help of The Usos, he defeated Lesnar to retain his titles.
SHOW LESS

STATS
Birth Name: Leati Joseph "Joe" Anoaʻi
Born: May 25, 1985, Pensacola, Florida, USA
Height: 6 ft 3 in (191 cm)
Weight: 265 lb (120 kg)
Spouse: Galina Becker
Children: 5
Ring name(s): Leakee, Roman Leakee, Roman Reigns
Current Roster: WWE SmackDown
Finishing Move(s): Superman Punch

Roman Reigns' Social Media:




Roman Reigns Photos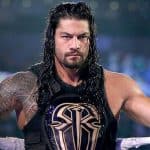 Career Championships and Accomplishments
Florida Championship Wrestling

FCW Florida Tag Team Championship (1 time)


World Wrestling Entertainment (WWE)

WWE World Heavyweight Championship (4 times, current)
Universal Championship (2 times, current)
WWE Intercontinental Championship (1 time)
United States Championship (1 time)
WWE Tag Team Championship (1 time)
Twenty-eighth Triple Crown Champion
Ninth Grand Slam Champion
Royal Rumble (2015)
WWE World Heavyweight Championship Tournament (2015)