Adam Joseph Copeland is a 48-year-old professional wrestler from Orangeville, Ontario, Canada. Better known as his ring name, "Edge," Copeland is currently signed with WWE's RAW brand.
Copeland started his wrestling career in Toronto in 1992. From there, he working on the independent circuit in Ontario and the Great Lakes region of the United States. Copeland worked for WWF (now WWE) house shows before heading to Calgary, Alberta where he was trained by WWF Superstar, Bret Hart.
Edge's WWF Debut
In 1997, Copeland signed a developmental contract with WWF and made his television debut on RAW on June 22, 1998 as "Edge." Copeland's childhood friend and tag team partner William Jason Reso (ring name "Christian") had also signed with WWF and together, along with wrestler Gangrel, formed "The Brood."
In 1998, Edge won his first singles championship when he defeated Jeff Jarrett for the Intercontinental Championship. He lost the title the following night at Fully Loaded. Later that year, Edge and Christian began their longtime feud with the Hardy Boyz and became the number one contenders for the WWF Tag Team Championship. At Wrestlemania 2000, Edge and Christian beat the Hardy Boyz and the Dudley Boyz in a triangle ladder match to win the WWF Tag Team Championship title. Edge and Christian would go on to be Tag Team Champions six more times throughout their careers.
Edge's Championships
In the early 2000s, Edge emerged as a powerful singles competitor winning the 2001 King of the Ring tournament, the WCW United States Championship, the Intercontinental Championship, and the World Tag Team Championships with various partners.
From 2005 to 2010, Edge had an impressive list of accomplishments. He was the winner of the first Money in the Bank ladder match and he won the WWE Championship four times. Edge also won the World Heavyweight Championship five times defeating an impressive list of wrestlers including the Undertaker, Batista and John Cena. In 2010, Edge also won the Royal Rumble match and in 2011, he became the World Heavyweight Champion again.
Edge's Retirement
On an episode of RAW in April 2011, Copeland gave an emotional speech to the audience explaining he had sustained serious injuries throughout his wrestling career including a neck injury and cervical vertebral fusion. He said an MRI revealed a diagnosis of cervical spinal stenosis and that he was being forced into retirement. His injuries were so serious that if he fell the wrong way, he could end up being paralyzed or even die.
Edge's Return To WWE
In January 2020, after a 9 year retirement, Edge entered to Royal Rumble match but was eliminated by Roman Reigns. A feud between Edge and Randy Orton erupted the following night on RAW and resulted in a match at Wrestlemania 36 and continued until WWE's Backlash where Orton defeated Edge. During the match, Copeland suffered a torn triceps that required him to have surgery. He is currently on the injury list for at least the next four to eight months.
Edge was inducted to the WWE's Hall of Fame in 2012.

Stats
Birth name: Adam Joseph Copeland
Born: October 30, 1973, Orangeville, Ontario, Canada
Height: 6 ft 5 in (196 cm)
Weight: 241 lb (109 kg)
Spouse: Beth Phoenix
Children: 2
Ring Name(s): Adam Copeland, Adam Impact, Conquistador Uno, Damon Striker, Edge, Sexton Hardcastle
Current Roster: WWE RAW
Finishing Move(s): Anti-venom

Edge's Social Media:




Photos of Edge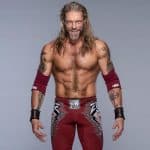 Career Championships and Accomplishments
Canadian Wrestling Association

CWA North American Championship (1 time)

Insane Championship Wrestling

ICW Street Fight Tag Team Championship (2 times)
MWCW Tag Team Championship (1 time)
World Wrestling Federation/World Wrestling Entertainment/WWE

WWE Championship (4 times)
World Heavyweight Championship (7 times)
WWF/E Intercontinental Championship (5 times)
WCW United States Championship (1 time)
WWE Tag Team Championship (2 times)
WWF/World Tag Team Championship (12 times)
King of the Ring (2001)
Money in the Bank (2005)
Bragging Rights Trophy (2010)
Royal Rumble (2010)
Gold Rush Tournament (2005)
Fourteenth Triple Crown Champion
Third Grand Slam Champion
WWE Hall of Fame (Class of 2012)