WWE NXT HALLOWEEN HAVOC RECAP & REVIEW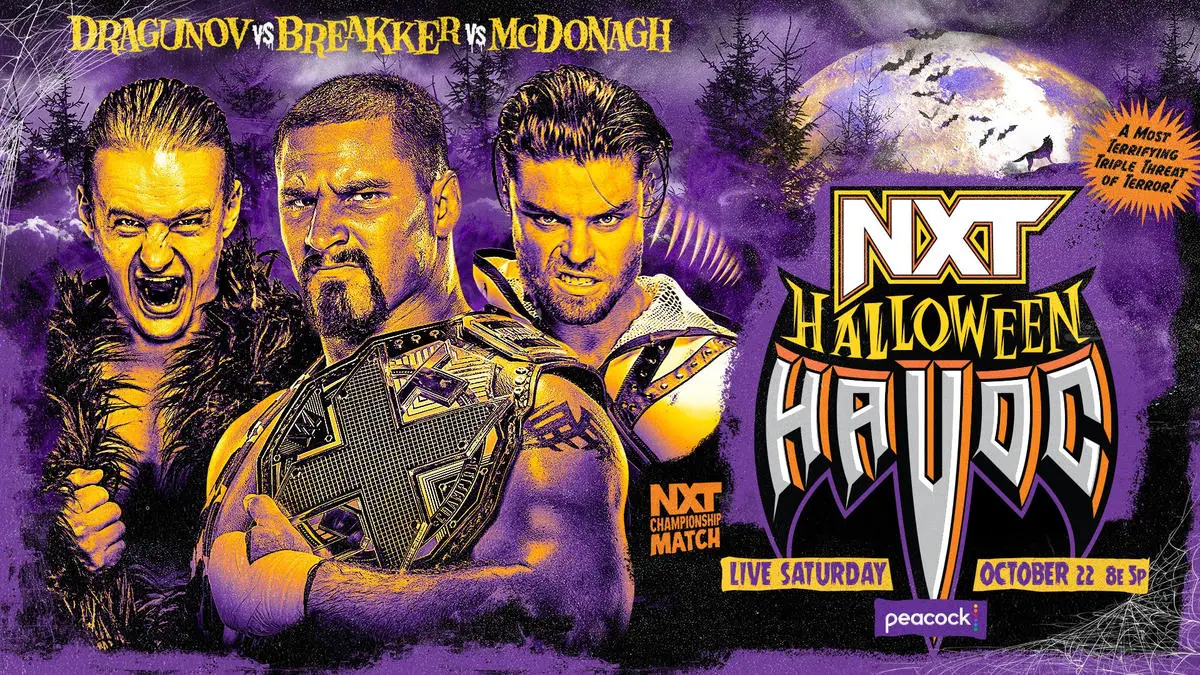 NXT HALLOWEEN HAVOC MATCH CARD RECAP
Wes Lee defeated Carmelo Hayes (with Trick Williams), Oro Mensah, Von Wagner (with Mr. Stone), and Nathan Frazer. Ladder match for the vacant NXT North American Championship
WINNER: WES LEE
OUR PREDICTION: NATHAN FRAZER
RATING: 8/10
A ladder match for the North American Championship is always a good way to start off a show. This was a really good match and it highlighted the future of NXT. All these fresh faces were in the match and they got to show off all their skills. All the men teamed up on Von Wagner since he was the biggest man in the ring. The best spot of the match was Nathan Frazer hitting Carmelo Hayes with a Spanish Fly onto a ladder which was brutal. It seems as if Carmelo Hayes is about to win the match, and then out of nowhere Wes Lee drops him off of the ladder and picks up the well deserved victory. Overall a really fun way to kick off the show, and it made stars out of guys like Wes Lee and Nathan Frazer.
---
Apollo Crews defeated Grayson Waller. Spin the Wheel, Make the Deal: Casket match
WINNER: APOLLO CREWS
OUR PREDICTION: APOLLO CREWS
RATING: 2/10
This was probably the worst match of the night. It was slow, and uninteresting at points, but it still had some decent spots. The two men brawled all around the ring including on top of the announce table. Grayson Waller started getting the upper hand until the lights went out. Apollo Crews was at the top of the stage along with some druids in an odd moment. Then Apollo Crews got the upper hand and threw Grayson Waller into the casket. It was an odd finish to a boring match. Hopefully this rivalry doesn't continue. 
---
Roxanne Perez defeated Cora Jade. Spin the Wheel, Make the Deal: Weapons Wild match
WINNER: ROXANNE PEREZ
OUR PREDICTION: ROXANNE PEREZ
RATING: 7/10
This was a sloppy match, but in the best way possible. These two future stars went out there and beat eachother up for the best part of 15 minutes. It didn't feel like a wrestling match, it felt like a straight brawl. Roxanne Perez brought out a skateboard to attack Cora Jade with. The two then climbed the balcony above the crowd and fell off of it into a table. The two then headed back into the ring and Perez hit Jade with the Pop Rox finisher on some chairs for the win. Roxanne Perez got a much deserved win in a really fun match.
---
Julius Creed defeated Damon Kemp. Ambulance match
WINNER: JULIUS CREED
OUR PREDICTION: DAMON KEMP
RATING: 8/10
After this match, we can definitely see Julius Creed being a singles star. This match was awesome. Julius started the match by throwing pumpkins across the arena at Damon Kemp. There were many innovative spots with Julius Creed trapping Damon Kemp in a wheel chair as well. Damon Kemp didn't get much offence in but when he did it really showed how awesome he is in the ring as well. The match ended after Julius Creed powerslammed Damon Kemp onto a stretcher and then he loaded him into the ambulance for the win. This was an awesome match, and hopefully Julius Creed gets more singles matches in the future.
---
Mandy Rose (c) defeated Alba Fyre. Singles match for the NXT Women's Championship
WINNER: MANDY ROSE
OUR PREDICTION: MANDY ROSE
RATING: 7/10
Alba Fyre is too good for NXT. This was a pretty good match with Alba Fyre having the upper hand throughout most of it. Toxic Attraction came out to help Mandy Rose which was the downfall of Alba Fyre. Jacy Jane was knocked into the ref meaning that Mandy Rose could cheat by making Toxic Attraction help take Alba Fyre down. Mandy Rose hit Alba Fyre with a running knee for the win. This was a good match, but sadly it wasn't a very memorable one. Alba Fyre needs to go to SmackDown.
---
Bron Breakker (c) defeated Ilja Dragunov and JD McDonagh. Triple Threat match for the NXT Championship
WINNER: BRON BREAKKER
OUR PREDICTION: BRON BREAKKER
RATING: 9/10
Bron Breakker is awesome. These three men went out there and fought like their lives were on the line. Ilja and Bron kept knocking McDonagh out of the ring meaning that throughout most of it Ilja and Bron were just fighting eachother. This lead to McDonagh trying to sneak up on them and steal a pinfall to win the title. The best part of this match was that all three men have very unique wrestling styles. JD McDonagh hit Ilja Dragunov with an awesome Spanish Fly on the floor. Then all three men were in the ring and  Bron Breakker won the match with a spear on Ilja Dragunov. This match was awesome, and Bron Breakker is one of the best NXT Champions we have seen in a while. Awesome way to end the show.
---