WWE CROWN JEWEL 2022 PAY-PER-VIEW RECAP & REVIEW
Crown Jewel 2022 was a pay-per-view that took place on Saturday November 5th, 2022 in Saudi Arabia. It was hosted by WWE and the main event was Roman Reigns vs Logan Paul. It streamed live on the Peacock Network in the USA and on the WWE Network internationally.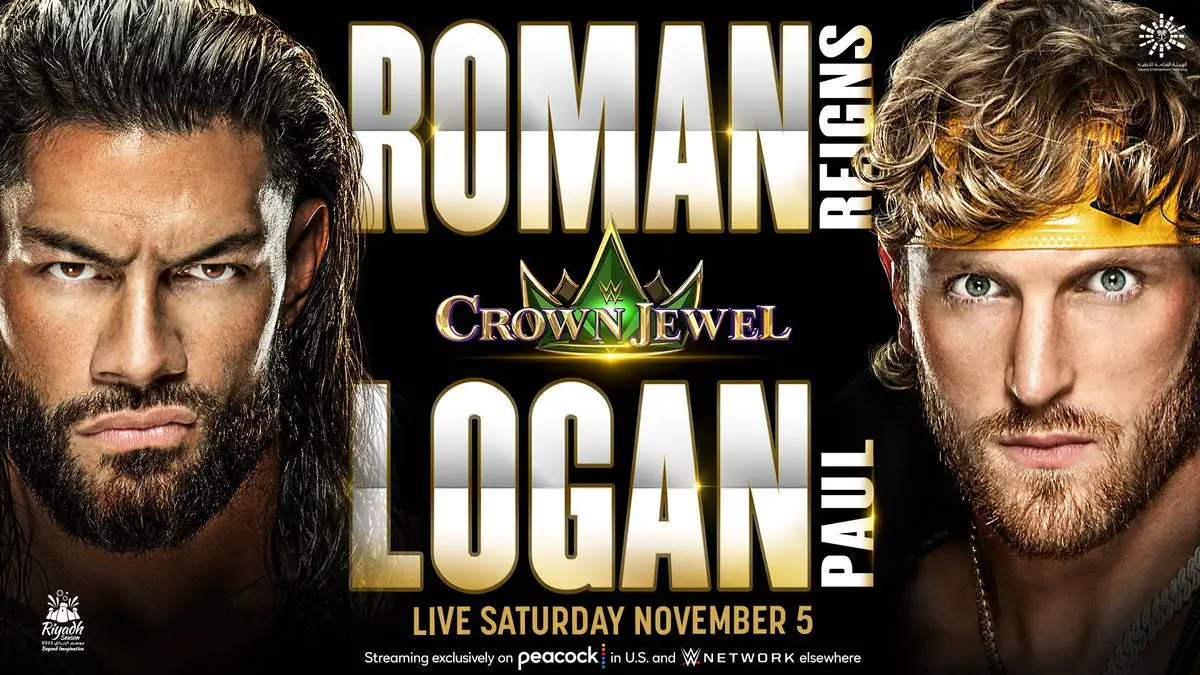 WWE CROWN JEWEL MATCH CARD
Brock Lesnar defeated Bobby Lashley. Singles match
WINNER: BROCK LESNAR
OUR PREDICTION: BOBBY LASHLEY
RATING: 6/10
This was an odd match to start the show off with. It seemed as if we were going to get a fast paced match, which we kind of got but it was a lot more one sided than we thought. Lesnar still got some offense in, but Lashley got so much more. After brawling outside of the ring for almost the whole match and somehow not getting counted out, they went back into the ring and Bobby Lashley locked Brock Lesnar into the Hurt Lock. Lesnar then rolled down on his back accidentally pinning Bobby Lashley for the win. This was an odd finish as Brock Lesnar won on accident, but it will probably set up a third match in their rivalry. This was a decent match, and was definitely better than their Royal Rumble one. Still not a fan of the odd finish though. 
---
Damage CTRL (Dakota Kai and Iyo Sky) defeated Alexa Bliss and Asuka (c). Tag team match for the WWE Women's Tag Team Championship
WINNER: DAMAGE CTRL (DAKOTA KAI & IYO SKY)
OUR PREDICTION: DAMAGE CTRL
RATING: 4/10
Another odd choice for a match on this card. It was not a needed match on the card because Alexa Bliss and Asuka lost the titles back to Damage CTRL so I don't really understand the purpose. There was nothing really substantial here, it felt worse than their match on Raw which was actually really good. Alexa Bliss was about to win the match for her team with a Twisted Bliss off of the top rope but then Nikki Cross came out costing Alexa and Asuka the match turning heel in the process. This was a poor ending for an okay match, but at least Damage CTRL are the tag team champions again.
---
Drew McIntyre defeated Karrion Kross (with Scarlett). Steel Cage match
WINNER: DREW MCINTYRE
OUR PREDICTION: DREW MCINTYRE
RATING: 7/10
This match was exactly what these two needed in their rivalry. While their last match was fine, this one really made it special. Karrion Kross could actually stand up on his own with McIntyre without the help of Scarlett who only really helped in the end. Usually Steel Cage matches are boring but this one was an exception. There was a spot where Drew McIntyre hit a brutal slam on Karrion Kross from the top rope which was crazy. The match ended with Scarlett hitting Drew McIntyre with pepper spray and locking the door, but despite this Drew McIntyre climbed the cage and was the first man to escape by hitting the floor. A really good match and now we're excited for the third one.
---
The Judgment Day (Finn Bálor, Damian Priest, and Dominik Mysterio) (with Rhea Ripley) defeated The O.C. (AJ Styles, Luke Gallows, and Karl Anderson). Six-man tag team match
WINNER: THE JUDGMENT DAY
OUR PREDICTION: THE JUDGMENT DAY
RATING: 8/10
This match was awesome. All six of these men went out there and decided that they were going to steal the show. This was the best match of the night, everyone looked good and there was never a dull moment. Rhea Ripley caused many distractions to help the Judgment Day. The highlight of this match was Dominik Mysterio. He is slowly becoming better when it comes to his in ring ability. The match ended with Rhea Ripley distracting AJ Styles which caused him to get pinned by Finn Balor. A great match that should lead to a rematch later down the line.
---
Braun Strowman defeated Omos. Singles match
WINNER: BRAUN STROWMAN
OUR PREDICTION: BRAUN STROWMAN
RATING: 3/10
This was the worst match of the night, but it was still entertaining in parts. Even though the in-ring work sucked, there is something special about seeing two guys this big having a wrestling match. The weird part of the match was that Omos had the upper hand through the whole thing, but the match ended with a powerslam from Braun Strowman out of nowhere. It basically took one move to take down Omos, it was an odd choice. This was still entertaining despite its lack of quality.
---
The Usos (Jey Uso and Jimmy Uso) (c) defeated The Brawling Brutes (Ridge Holland and Butch). Tag team match for the Undisputed WWE Tag Team Championship
WINNER: THE USOS
OUR PREDICTION: THE USOS
RATING: 8/10
This was another really fun match where The Usos showed off why they're the best tag team in the world right now. The Brawling Brutes are also a great duo and when you put those two teams together you get pure magic in the ring. Another one of the better matches of the night with the only complaint being that it wasn't a bit longer. There were multiple points in the match where it seemed like The Brawling Brutes were going to win, especially with the multiple finishers used by Butch. The match ended when The Usos hit a 1-D off the top rope to Butch for the win. Great match that showed how talented all four of these men really are. 
---
Bianca Belair (c) defeated Bayley. Last Woman Standing match for the WWE Raw Women's Championship
WINNER: BIANCA BELAIR
OUR PREDICTION: BAYLEY
RATING: 8/10
Great match, great spots, wrong winner. There were so many creative spots in this match, these two women brawled all over the arena, and knowing that Bianca Belair wouldn't stay down Bayley tried to trap her in places she couldn't physically stand up, such as under the ring. This match had a golf cart with Bianca Belair driving it down the ramp with Bayley on top of it, and there were brutal spots involving being slammed on top of chairs. Bayley almost won the match with Bianca Belair kicking out at the last second after a Roseplant. The match ended with Bianca Belair defeating Bayley using Bayley's own strategy. That being trapping Bayley under a bunch of chairs and a ladder. Bayley should've won this match because there isn't much more for Bianca to do in her title reign. If Bayley can't take it off of her, Rhea Ripley is probably the person they want to do it. This match was great despite the wrong person winning.
---
Roman Reigns (c) (with Paul Heyman) defeated Logan Paul. Singles match for the Undisputed WWE Universal Championship
WINNER: ROMAN REIGNS
OUR PREDICTION: ROMAN REIGNS
RATING: 8/10
What a match. Logan Paul is an awful person, but he is an amazing wrestler. This match was awesome, and there were times where it genuinely looked like Logan Paul was going to win the titles. The Usos and Solo Sikoa came out to help Roman and Jake Paul came out to help his brother which is the typical stuff for Roman Reigns's matches but it was still fun to see. Logan Paul hit an amazing splash from the top turnbuckle to the announce table on top of Roman Reigns, and Roman hit him with a spear for the win. This was the longest match of the night, and was a great one to close out the show on. Thank God Logan Paul isn't our champion.
---