WWE SUMMERSLAM 2023 PAY-PER-VIEW RECAP & REVIEW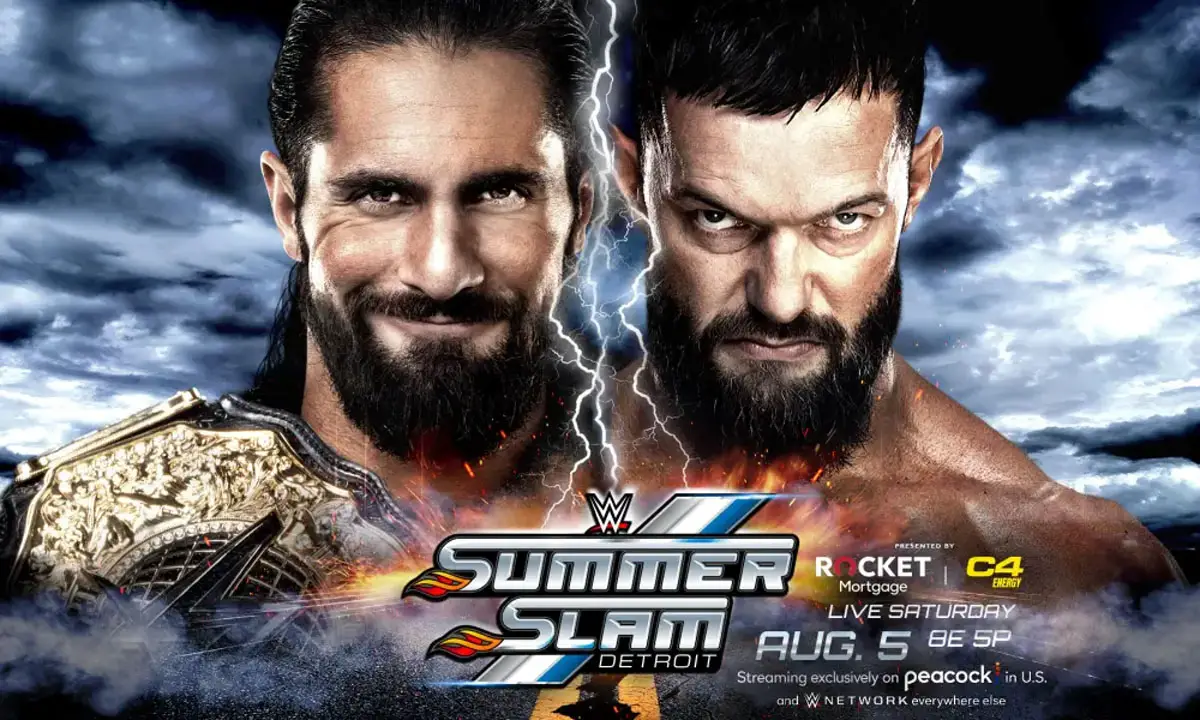 SUMMERSLAM 2023 MATCH CARD
Logan Paul defeated Ricochet. Singles match
WINNER: LOGAN PAUL
OUR PREDICTION: LOGAN PAUL
RATING: 7/10
The match-up of Logan Paul and Ricochet was one that seemed to be a match made in heaven, and they delivered in the opening match of SummerSlam. It's a good thing that this match wasn't big spot after big spot, but instead the two worked a traditional wrestling match that had us on the edge of our seats. Ricochet didn't need the win as this was enough spotlight to get him over, and Logan Paul needed a win. Overall a good opener, but it could have been a little longer. 
---
Cody Rhodes defeated Brock Lesnar. Singles match
WINNER: CODY RHODES
OUR PREDICTION: CODY RHODES
RATING: 9/10
In the best match of the night, and by far the best match of their trilogy, Cody Rhodes and Brock Lesnar told a story with Lesnar constantly throwing Rhodes out of the ring and telling him to save himself. But Cody kept beating the count until he hit Lesnar with the stairs in a spot that should have been a disqualification, then hit him with the Cross Rhodes and Cody Cutter for the win. A great David vs Goliath storyline, and it's exciting to see what's next for both Cody Rhodes and Brock Lesnar. 
---
Shayna Baszler defeated Ronda Rousey. MMA Rules match
WINNER: SHAYNA BASZLER
OUR PREDICTION: SHAYNA BASZLER
RATING: 2/10
From the best match of to night to the worst, this match was dull and didn't have a single memorable spot. The only thing this match will be remembered for is that it will possibly be Ronda Rousey's last match in the WWE. Shayna Baszler won after locking her finishing submission in on Ronda Rousey making her tap out. Not much to say, the shortest match of the night was the one that felt the longest. 
---
Gunther (c) defeated Drew McIntyre. Singles match for the WWE Intercontinental Championship
WINNER: GUNTHER
OUR PREDICTION: GUNTHER
RATING: 9/10
This match was a war. Two huge guys going out there and doing whatever it takes to hurt each other. Gunther and McIntyre much like WrestleMania, once again trade chops in the middle of the ring, but McIntyre catches Gunther with a crazy Claymore that seemed like it would be the end of the match but it wasn't. Gunther follows up with a clothesline and hits a powerbomb for the three count. This match really was something special, and was definitely the match that made it obvious that Gunther is the greatest WWE Intercontinental Champion of all time. 
---
Seth "Freakin" Rollins (c) defeated Finn Bálor. Singles match for the World Heavyweight Championship
WINNER: SETH ROLLINS
OUR PREDICTION: FINN BALOR
RATING: 9/10
This match was amazing, and would have been perfect if it wasn't for the ending. Finn Balor needed to win here, and chances are he will never be a world champion in WWE again, but with that aside, this match was high octane, and had us at the edge of our seats the entire time. The spot with Finn Balor performing the buckle bomb on the apron was amazing. The match ended after Damian Priest accidentally cost Balor the match when Balor was stomped onto the Money in the Bank contract. Still a really good match, and Seth Rollins is having a great run as champ, you love to see it. 
---
Iyo Sky (with Bayley) defeated Bianca Belair. Singles match for the WWE Women's Championship
WINNER: IYO SKY
OUR PREDICTION: CHARLOTTE FLAIR
RATING: 7/10
The match started out sloppy, and with tons of botches but halfway through the match picked up and truly became something special. All three of these women have phenomenal chemistry and made sure that the crowd was awake before the main event. After a fake injury scare, Bianca Belair won the title after she pinned Asuka in a genuinely shocking moment. Right after the match Iyo Sky cashed in and became the new WWE Women's Champion. Awesome moment.
---
Roman Reigns (c) (with Paul Heyman) defeated Jey Uso. Tribal Combat for the Undisputed WWE Universal Championship
WINNER: ROMAN REIGNS
OUR PREDICTION: ROMAN REIGNS
RATING: 3/10
In a match that was really underwhelming, Jey Uso lost to Roman Reigns after the betrayal of his own twin brother Jimmy Uso. The match itself was slow and boring, as well as lacking the storytelling efforts of their first two matches back in 2020. Solo Sikoa getting involved again was really lazy and showed how shallow Roman's title reign has been as of late. This was his first defense of the title since WrestleMania, and it didn't fully live up to anything. Hopefully the eventual Bloodline Fatal Four Way is really good, but this sucked. Roman Reigns won with the spear for the win.