WWE 2023 ROYAL RUMBLE MATCH RECAP AND REVIEWS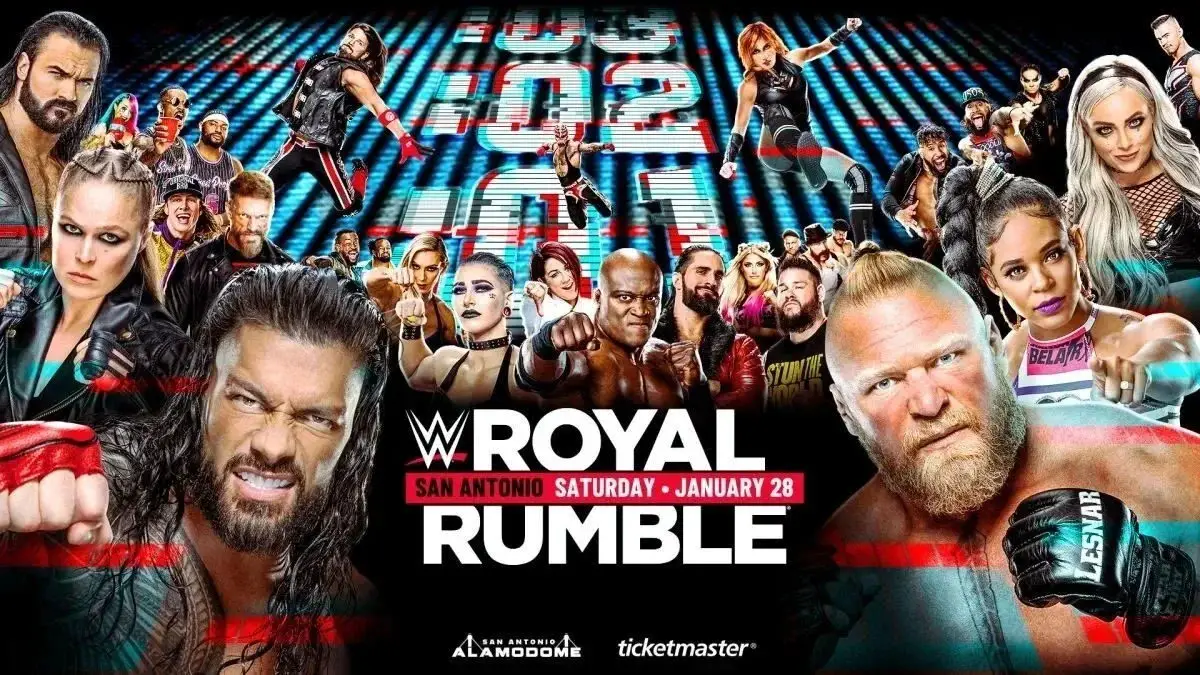 2023 ROYAL RUMBLE MATCH CARD
Cody Rhodes Wins 2023 Men's Royal Rumble match
OUR PREDICTION: SAMI ZAYN
WINNER: CODY RHODES
RATING: 8/10
This was a fantastic match. Gunther and Sheamus started the match as the first two competitors and these superstars were nothing short of incredible. To watch Gunther survive the entire match and end up in the final two was amazing. proved to be an excellent way to start of the Royal Rumble. The only problem with this year's Men's Rumble match was the lack of surprises and its predictability. It's a good thing that Cody Rhodes won the Rumble, but it was very predictable once you got down to the final two of Gunther and Cody. The surprises of the match were Booker T and Edge. We all knew Edge would come back but he only lasted a few minutes and that was kind of underwhelming. Booker T was another fun surprise but when the names rumored included Jay White, Randy Orton, and Big E, it can be a little hard to be excited about Booker T. Kofi Kingston also botched his yearly save spot again when he failed to land on a chair. Cody was still the right choice to win and it made for a really good ending bit with Gunther.
---
Bray Wyatt defeated LA Knight. Mountain Dew Pitch Black match
OUR PREDICTION: LA KNIGHT
WINNER: BRAY WYATT
RATING: 1/10
This was a joke of a match. Bray Wyatt and LA Knight both deserve so much better, and this made them look like two idiots playing laser tag. The Mountain Dew branding right in the middle of the ring made this amazing storyline seem like a throwaway match. Good on WWE for making Bray Wyatt seem strong by destroying LA Knight in this match, and LA Knight is too charismatic to let this hurt his character or lower his place on the card, but this was still awful. The match was slow and dull, and the Uncle Howdy stuff after the match didn't make the storyline anymore interesting.
---
Bianca Belair (c) vs. Alexa Bliss. Singles match for the WWE Raw Women's Championship
OUR PREDICTION: BIANCA BELAIR
WINNER: BIANCA BELAIR
RATING: 5/10
This match was fine. There isn't too much to say about it. It's a good thing that they didn't involve too much of the Bray Wyatt stuff during the match and waited until it was over. We all knew Alexa Bliss wasn't going to win so it was completely predictable. It ended after a KOD to Alexa Bliss. We're happy Bianca Belair is still the champion, and hopefully she faces Rhea Ripley at WrestleMania.
---
Rhea Ripley Wins 2023 Women's Royal Rumble Match
OUR PREDICTION: RHEA RIPLEY
WINNER: RHEA RIPLEY
RATING: 8/10
This match was also really well done. The best part was the ending segment with Rhea Ripley, Asuka, and Liv Morgan. Rhea Ripley and Liv Morgan also started the match at number one and two and lasted until the end, both tying the record for the longest performance in the Women's Royal Rumble match ever. NXT got some good representation with Roxanne Perez, Indi Hartwell, and Zoey Stark. Zoey Stark put on a great performance lasting around 20 minutes. The match still had its downsides though. Chelsea Green made her WWE return and lasted only four seconds so it was a waste of time, and at number 30 Nia Jax came back with a botched entrance. Still overall it was a really good match, and Rhea Ripley was the best person they could have chose to win.
---
Roman Reigns (c) (with Paul Heyman and Sami Zayn) defeated Kevin Owens. Singles match for the Undisputed WWE Universal Championship
OUR PREDICTION: ROMAN REIGNS
WINNER: ROMAN REIGNS
RATING: 10/10
This match was amazing. The fact that they put this in the main event made it seem like Kevin Owens actually had a chance of winning, and making Sami Zayn watch Kevin Owens get brutalized by Roman Reigns was an amazing choice. Kevin Owens took two really hard bumps onto the steel steps before being hit by Roman Reigns with a spear and losing the match. It's a good thing that this match didn't go on for half an hour like most other Roman Reigns matches, but the best part of this match was after it ended. The Usos and Solo Sikoa came out to celebrate and beat up Kevin Owens while Sami Zayn had to watch. Roman Reigns told Sami Zayn to hit Kevin Owens with a chair and Sami Zayn refused and hit Roman Reigns instead betraying The Bloodline. The Bloodline then started attacking Sami Zayn but Jey Uso left the ring refusing to hit Sami Zayn. This was just amazing storytelling following an amazing match. The best ppv ending we have seen in a long time.