WRESTLEMANIA BACKLASH 2022 PREDICTIONS
WrestleMania Backlash 2022 takes place on Sunday May 2022 at 8PM EST and airs live from Providence Rhode Island. Backlash streams live on Peacock in the United States and WWE Network internationally.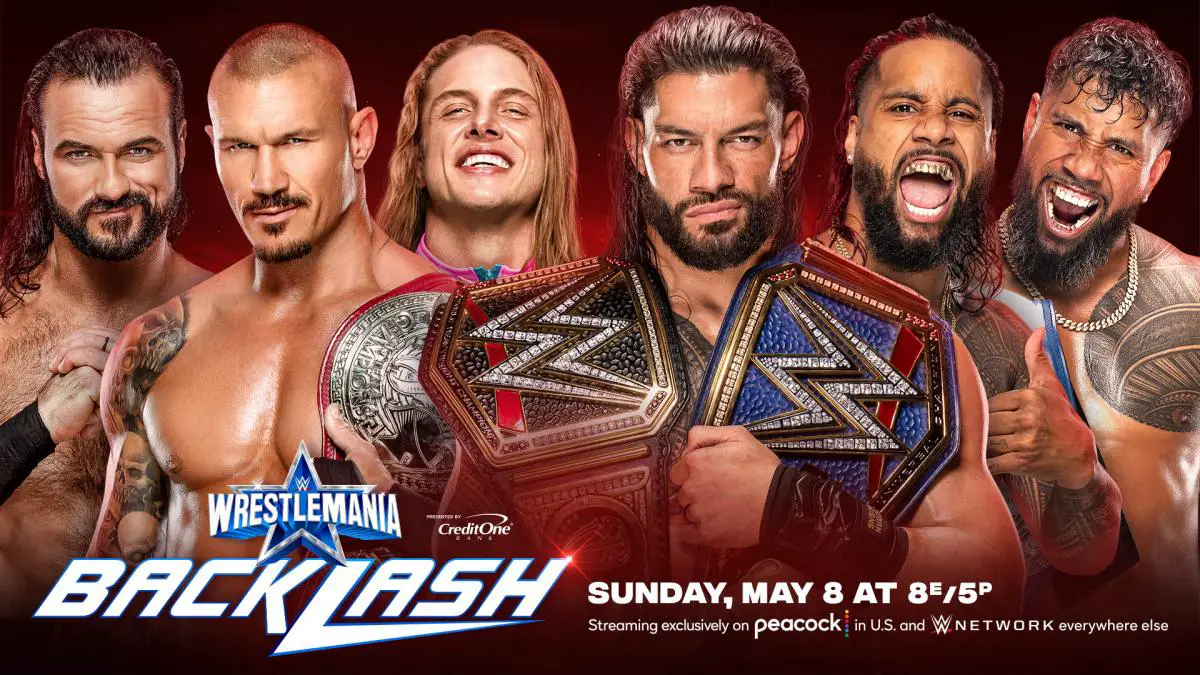 WRESTLEMANIA BACKLASH 2022 MATCH CARD
Charlotte Flair (c) vs. Ronda Rousey. "I Quit" match for the WWE SmackDown Women's Championship
This match is going to suck. Their WrestleMania match was garbage and we don't see this one being any better. The only good thing here is that we think Ronda Rousey is going to win the championship. There is no way that they're going to have Ronda Rousey say "I quit" to Charlotte Flair. There will be another match between Ronda Rousey and Charlotte Flair next month at Hell in a Cell but we think that Ronda is winning.
OUR PREDICTION: RONDA ROUSEY
---
Cody Rhodes vs. Seth "Freakin" Rollins. Singles match
This is a match we think is going to evolve into a trilogy of matches, so that means that Seth Rollins is probably going to win. We don't think Seth Rollins is going to win clean though. He is going to cheat somehow to get one over on Cody Rhodes. This will probably lead to them having a Hell in a Cell match next month at the event.
OUR PREDICTION: SETH ROLLINS
---
Drew McIntyre and RK-Bro (Randy Orton and Riddle) vs. The Bloodline (Roman Reigns and The Usos (Jey Uso and Jimmy Uso)) (with Paul Heyman) (with Paul Heyman). Six-man tag team match
This match will end with Drew McIntyre and RK-Bro standing tall. The reason we think that is it's a non-tile match. This match will probably end with Drew McIntyre pinning one of The Usos so that way The Bloodline can lose the match and keep their titles. This works perfectly because the storyline going into this match is that Roman Reigns has no faith in The Usos. They will cost the match for Reigns continuing the storyline even further. This will also lead into Drew McIntyre vs Roman Reigns one on one.
OUR PREDICTION: DREW MCINTYRE & RK-BRO
---
AJ Styles vs. Edge. Singles match
This match is interesting because Damian Priest is banned at ringside. The real question is who will help Edge win the match? We all know that Edge is winning and that Finn Balor is going to turn on AJ Styles to help Edge win the match. This will be good as Edge will get another man to join his group and we will get to see matches between AJ Styles and Finn Balor which is always a win. Some other people who could help Edge are Ciampa or Rhea Ripley.
OUR PREDICTION: EDGE
---
Happy Corbin vs. Madcap Moss. Singles match
The only way this match can end is with Madcap Moss winning. People are actually behind that man and he could be really good if they change his gimmick. Hopefully they change it after he wins this match and he becomes a bit more serious. Happy Corbin has been unbearable as of late and he doesn't need this victory. This match should be decent but it is still the worst looking match on the card. Hopefully Madcap Moss wins.
OUR PREDICTION: MADCAP MOSS
---
Bobby Lashley vs. Omos (with MVP). Singles match
We have a feeling that Omos is sadly going to win this match. We're really enjoying the pairing of Omos and MVP but Omos shouldn't win. He really needs more work in the ring and Lashley doesn't need this loss. Bobby Lashley has had the upper hand on Raw the past few weeks so hopefully he wins, but we doubt it will happen. Omos will win after MVP costs Lashley the match.
OUR PREDICTION: OMOS
---