WRESTLEMANIA NIGHT ONE PREDICTIONS
WrestleMania Night One takes place on Saturday April 2nd, 2022. WrestleMania 38 airs live tomorrow night on Peacock in the United States and on the WWE Network internationally.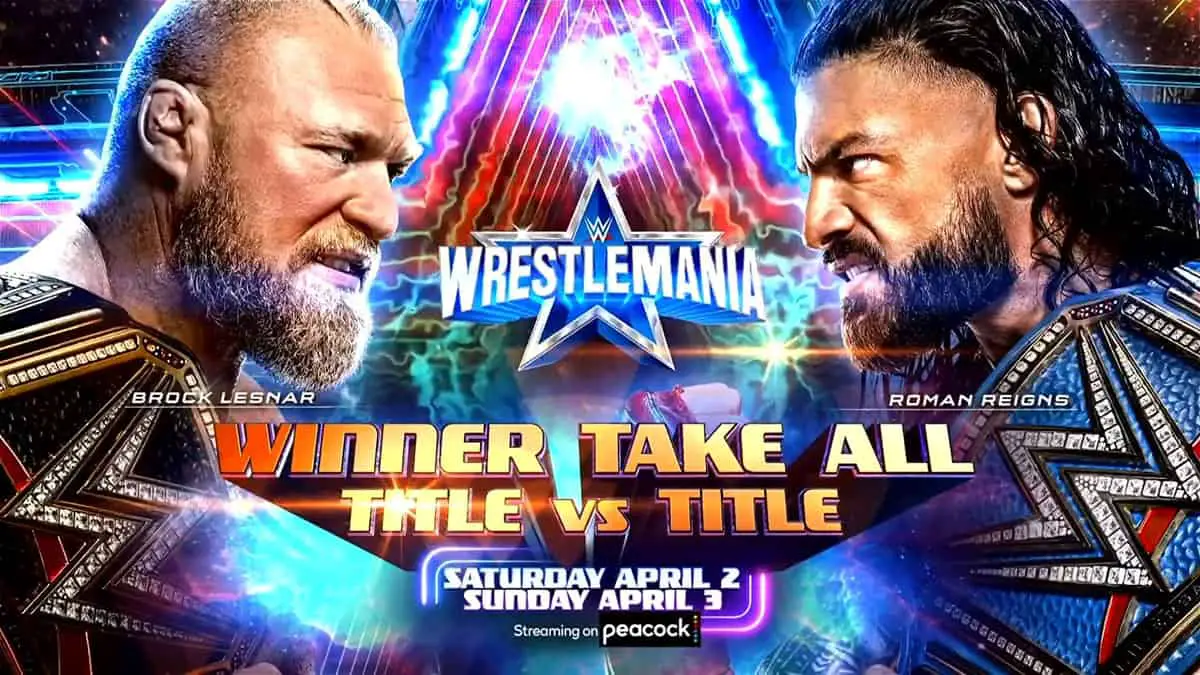 WRESTLEMANIA 38: NIGHT ONE MATCH CARD
Becky Lynch (c) vs. Bianca Belair. Singles match for the WWE Raw Women's Championship
This match is one of the easiest to predict. There isn't much of a chance that Becky Lynch retains here. This is going to be the payoff to the storyline that started all the way back at SummerSlam last year. Bianca Belair is going to get her revenge on Becky Lynch on the match that is most likely going to kick off WrestleMania.
OUR PREDICTION: BIANCA BELAIR
---
Rey Mysterio and Dominik Mysterio vs. The Miz and Logan Paul. Tag team match
This match looks boring. We're not the biggest fans of Logan Paul, but he might surprise us with his skills. This match has been building up about the fact that Logan Paul hasn't been hit with the 619. This match will be fine and it will end with The Mysterios winning after hitting Logan Paul with a double 619.
OUR PREDICTION: THE MYSTERIOS
---
Drew McIntyre vs. Happy Corbin (with Madcap Moss). Singles match
This might be the most boring match of the card. Everyone knows that Drew McIntyre is winning. The only interesting thing that can happen in this match is Drew McIntyre being the first person to kick out of Baron Corbin's finisher "The End of Days." A popular belief is that Madcap Moss could turn on Baron Corbin after or during the match, but it doesn't seem likely for a while. Drew McIntyre is going to win and then eventually be put back into the main event scene.
OUR PREDICTION: DREW MCINTYRE
---
The Usos (Jey Uso and Jimmy Uso) (c) vs. Shinsuke Nakamura and Rick Boogs. Tag team match for the WWE SmackDown Tag Team Championship
We think that Roman Reigns is going to win both titles on WrestleMania Night Two. The only reason we think The Usos are retaining is because Reigns is retaining. We believe that The Usos and Roman Reigns will lose their titles on the same night, and tonight just isn't that night. WWE desperately needs new tag teams for SmackDown. The Usos are retaining.
OUR PREDICTION: THE USOS
---
The New Day (Xavier Woods and Kofi Kingston) vs. Sheamus and Ridge Holland (with Butch). Tag team match
This match is only here so the crowd can cheer when the good guys win. I believe that before Ridge Holland broke Big E's neck that there was a chance his team could win, but because of Big E being injured by Holland, I think that he will be the one getting pinned and causing his team to lose. Hopefully all of this leads to something new for The New Day.
OUR PREDICTION: THE NEW DAY
---
Seth "Freakin" Rollins vs. TBA. Singles match
Everyone knows that Cody Rhodes is returning at the event. He will come out and beat Seth Rollins probably after 10 minutes. The crowd will go crazy and Cody Rhodes will hopefully be used properly this time around. But on the off chance that the opponent isn't Cody Rhodes, we still believe that whoever it is will beat Seth Rollins as a pay off to the story.
OUR PREDICTION: CODY RHODES
---
Charlotte Flair (c) vs. Ronda Rousey. Singles match for the WWE SmackDown Women's Championship
This is the longest title reign that Charlotte Flair has had in a while and we finally think it's time for her to lose. WWE clearly know that Ronda Rousey is good for business and that she gets eyes on the product. Ronda Rousey probably won't have that long of a reign but she will win in the main event of WrestleMania 38 Night One.
OUR PREDICTON: RONDA ROUSEY