ROYAL RUMBLE 2022 – RECAP & REVIEW
The 2022 Royal Rumble was the 35th annual Royal Rumble professional wrestling live event produced by WWE. The event aired on pay-per-view (PPV) worldwide and was available to stream through Peacock in the United States and the WWE Network internationally.  It took place on January 29, 2022, at The Dome at America's Center in St. Louis, Missouri.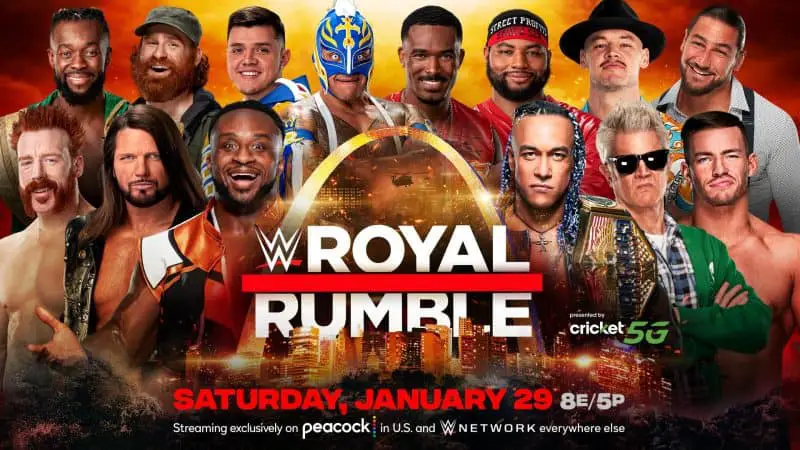 ROYAL RUMBLE MATCHES
Seth "Freakin" Rollins vs Roman Reigns (c) by disqualification. Singles match for the WWE Universal Championship
OUR PREDICTION: ROMAN REIGNS
WINNER: SETH ROLLINS
OUR RATING: 5/10
This match was awesome but the problem was the ending. Rollins came out wearing The Shield attire and was playing mind games with Reigns throughout the whole match. It was fast-paced and felt like the perfect conclusion to this great story until the ending. Roman Reigns locked Seth Rollins in a submission while Seth had his hand on the bottom rope so Rollins won by disqualification. This was a dumb finish to an awesome match.
---
30-Woman Royal Rumble match for a women's championship match at WrestleMania 38
OUR PREDICTION: BIANCA BELAIR
WINNER: RONDA ROUSEY
OUR RATING: 6/10
This was a really good rumble match until the end when Ronda Rousey won. Sasha Banks was eliminated too early and all the legends were eliminated in seconds. Of course, Charlotte Flair was in the final two again. Some highlights of the match were Mickie James with the Impact title, Ronda Rousey's return, and a decent performance by Liv Morgan. Ronda Rousey shouldn't have won though – it should've been Belair or Morgan but it was a fun rumble.
---
Becky Lynch (c) vs Doudrop. Singles match for the WWE Raw Women's Championship
OUR PREDICTON: BECKY LYNCH
WINNER: BECKY LYNCH
OUR RATING: 6/10
This was actually a better match than we expected. We knew both women were capable of it, but we just didn't think WWE was going to give them the time to put on a good match. But, it was good and Doudrop looked strong and the match kept gradually building until its conclusion. It's not worth a re-watch but it was good for what it was. Becky Lynch should have lost the title by now though.
---
Bobby Lashley (with MVP) vs Brock Lesnar (c) (with Paul Heyman). Singles match for the WWE Championship
OUR PREDICTION: BROCK LESNAR
WINNER: BOBBY LASHLEY
OUR RATING: 7/10
This match was everything we wanted in a match between these two superstars. It was hard-hitting and fast-paced. Roman Reigns interfering was great as well as it sets up the match between Lesnar and Reigns. Our only complaint with this match was the fact that Bobby Lashley didn't look that strong. Does Lashley really need help from Reigns to win? We don't think so. Overall, this was an awesome match and the best of the night.
---
Edge and Beth Phoenix vs The Miz and Maryse. Mixed tag team match
OUR PREDICTION: EDGE AND BETH PHOENIX
WINNER: EDGE AND BETH PHOENIX
OUR RATING: 7/10
This match was way better than expected. Both teams did very well and the match had actual good spots like the double Glam Slam and Maryse hitting Edge with a Hurricanrana. Our only complaint is that the match dragged on at points but it was still really fun. Edge and Beth Pheonix won with a double Glam Slam.
---
30-Man Royal Rumble match for a world championship match at WrestleMania 38
OUR PREDICTION: BIG E
WINNER: BROCK LESNAR
OUR RATING: 6/10
Did Brock Lesnar need to win? No. Was the match fun? Yes, definitely. This match was a great rumble and people are only upset because someone from AEW showed up. Yes, there are some complaints – Shane McMahon being a surprise entrant and Madcap Moss eliminating AJ Styles but Drew McIntyre coming back was really cool. Bad Bunny put in a great performance and Riddle made it to the final 4 which is huge for him. This was an awesome match but Drew McIntyre or Riddle should have won instead of Brock Lesnar.