WWE CROWN JEWEL RECAP & REVIEWS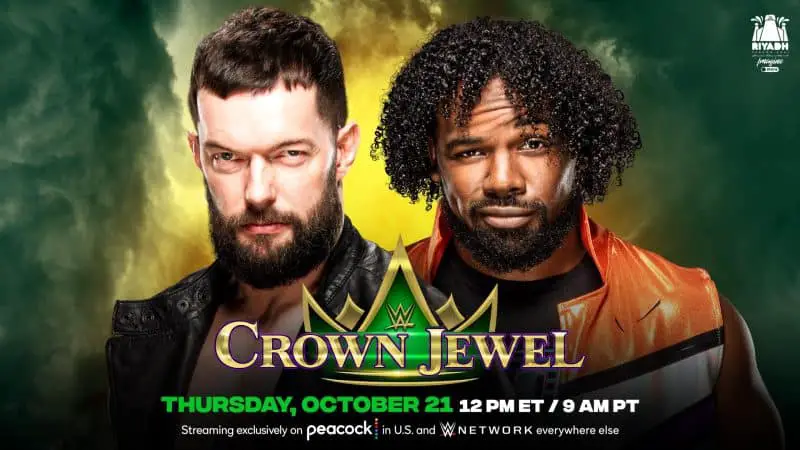 WWE CROWN JEWEL MATCHES: RECAP & REVIEW
The Usos (Jey Uso and Jimmy Uso) vs The Hurt Business (Cedric Alexander and Shelton Benjamin). Tag team match
OUR PREDICTION: THE USOS
WINNER: THE USOS
OUR RATING: 6/10
For a kickoff match it wasn't bad. We thought since it was a non title match that The Hurt Business would win but that didn't happen. This was a fast-paced match as expected and the crowd seemed pretty into it. This was a good match to kick off the show but not much else to say about it.
---
Edge vs Seth Rollins. Hell in a Cell Match
OUR PREDICTION: EDGE
WINNER: EDGE
OUR RATING: 10/10
This was the match of the year for us. Both men put on good spot after good spot and Edge took so many bumps he shouldn't have. Lots of weapons and back and forth action mixed with perfect storytelling made this a perfect way to end the feud. We're upset about this feud coming to an end because of how good it was but this is a perfect ending.
---
Mansoor vs Mustafa Ali. Singles Match
OUR PREDICTION: MANSOOR
WINNER: MANSOOR
OUR RATING: 7/10
When it's a show in Saudi Arabia, Mansoor is just as strong as The Undertaker and we all knew Mansoor was going to win. It made sense, but these two still put on a very enjoyable match despite the obvious outcome. The problem was that this match followed Edge and Rollins which was hard to follow. Still a good match and Mansoor got a huge reaction when he won.
---
RK-Bro (Randy Orton and Riddle) (c) vs AJ Styles and Omos. Tag team match for the WWE Raw Tag Team Championship
OUR PREDICTION: RK-BRO
WINNER: RK-BRO
OUR RATING: 6/10
This was the 17573th time we've seen this match and it was fine. The highlight was Riddle coming out on a camel for his entrance which was really fun. This was a fine match but it was really hard to pay attention as this felt the exact same as all of their other matches. RK-Bro retaining was the right choice though and hopefully they have something new now.
---
Zelina Vega defeated Doudrop. Queen's Crown tournament finals
OUR PREDICTION: ZELINA VEGA
WINNER: ZELINA VEGA
OUR RATING: 6/10
This wasn't a very good match, at least we didn't think it was. But the ending more than made up for it. The match was short and this whole tournament was a joke. Zelina Vega defeated Doudrop after hitting her with a Code Red. Zelina Vega winning was the correct choice though.
---
Goldberg vs Bobby Lashley. No Holds Barred Falls Count Anywhere match
OUR PREDICTION: GOLDBERG
WINNER: GOLDBERG
OUR RATING: 7/10
This was Goldberg's best match since his return in 2016. This showed that Goldberg can put on good matches and WWE is wasting the small amount of time he does have left in the ring. Bobby Lashley obviously carried the match but it was still really good. Goldberg won the match with a spear.
---
Xavier Woods vs Finn Bálor. King of the Ring tournament finals
OUR PREDICTION: XAVIER WOODS
WINNER: XAVIER WOODS
OUR RATING: 8/10
This was a fun match – definitely a good choice to have Woods win but Balor needs to start picking up some wins soon. This was a really fun match though as these two have good chemistry and we wouldn't mind some more matches in the future. Xavier Woods won the match with his flying elbow.
---
Big E (c) defeated Drew McIntyre. Singles match for the WWE Championship
OUR PREDICTION: BIG E
WINNER: BIG E
OUR RATING: 8/10
This was a really good match as expected. Another very predictable one though as we all knew McIntyre wasn't going to win. The match was fun and it ended with McIntyre trying to hit Big E with the Big Ending but failed and the Big E hit McIntyre with a Big Ending instead. It was still a good match.
---
Becky Lynch (c) vs Bianca Belair and Sasha Banks. Triple threat match for the WWE SmackDown Women's Championship
OUR PREDICTION: BECKY LYNCH
WINNER: BECKY LYNCH
OUR RATING: 8/10
These three put on one of the best women's matches of the year if not the best. There was near fall after near fall and you could see any of the three women winning. Sasha Banks should have won this match in my opinion but we didn't get that. We got Becky Lynch retaining which is fine. Overall a really good match with a poor choice of winner.
---
Roman Reigns (c) (with Paul Heyman) vs Brock Lesnar. Singles match for the WWE Universal Championship
OUR PREDICTION: ROMAN REIGNS
WINNER: ROMAN REIGNS
OUR RATING: 8/10
This was the best Roman Reigns vs Brock Lesnar match ever. Brock Lesnar's new persona is awesome and the storyline with Paul Heyman. The match was decently paced and way better than expected. The match ended with Paul Heyman throwing the championship in the middle of the ring helping out Roman Reigns with defeating Lesnar. Overall a great match and this feud is far from over.