WRESTLEMANIA 37 RECAP & REVIEWS
WrestleMania 37 was the 37th annual WrestleMania professional wrestling pay-per-view and WWE Network event produced by WWE for its RAW and SmackDown brand divisions. It took place as a two-night event on April 10 and 11, 2021 at Raymond James Stadium in Tampa, Florida.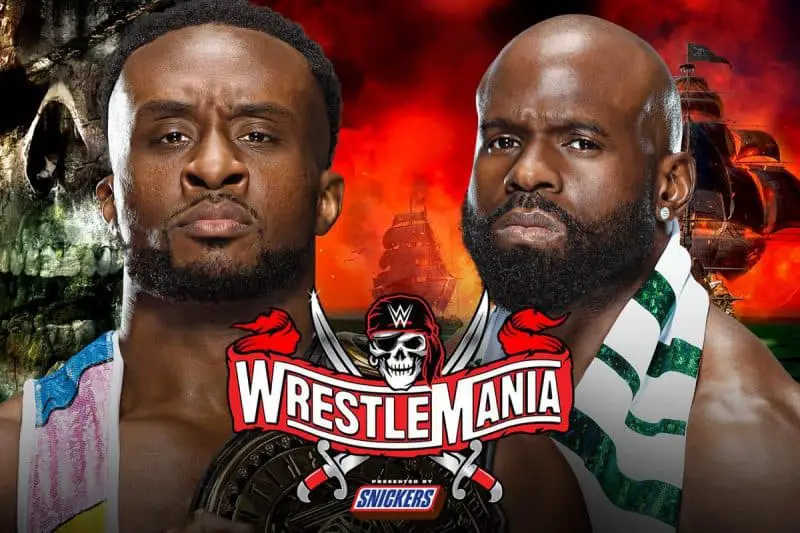 WRESTLEMANIA 37 MATCHES
Bobby Lashley (c) (with MVP) vs Drew McIntyre
OUR PREDICTION: DREW MCINTYRE
WINNER: BOBBY LASHLEY
RATING: 8/10
RECAP: This was the first match back with live fans and was a great way to open up WrestleMania. Drew McIntyre was in control for most of the match and it looked like he was going to win until MVP distracted him. As a result, Bobby Lashley took advantage of the distraction and put the Hurt Lock on McIntyre. McIntyre then passed out and Lashley retained. This was a shock result as everyone thought that McIntyre would retain. A great way to open the show and Lashley deserved the win.
---
Lana and Naomi vs. Dana Brooke and Mandy Rose vs. The Riott Squad (Liv Morgan and Ruby Riott) vs. Natalya and Tamina vs. Billie Kay and Carmella. Tag Team Turmoil match.
OUR PREDICTION: NAOMI & LANA
WINNER: NATALYA & TAMINA
RATING: 4/10
RECAP: This match was the lowest point of the show with many botches including Mandy Rose slipping during her entrance. An overall average match that had nothing special going on. All the teams looked okay but the Riott Squad should have won. Natalya and Tamina looked impressive in the match though. Tamina Snuka won with a splash on top of Liv Morgan to win the match.
---
Cesaro vs. Seth Rollins. Singles match
OUR PREDICTION: CESARO
WINNER: CESAR0
RATING: 8/10
RECAP: This was the match of the night! Cesaro and Rollins put on a good back and forth match and both men worked well together. Cesaro swung Seth Rollins around a record 23 times before putting him down and then won the match with a neutralizer. These two stole the show last night; not the moment of the night but from an in-ring standpoint these two did great. Hopefully, Cesaro gets a title reign soon.
---
A.J. Styles and Omos vs The New Day (Kofi Kingston and Xavier Woods) (c). Tag team match for the WWE RAW Tag Team Championship
OUR PREDICTION: A.J. STYLES & OMOS
WINNER: A.J. STYLES & OMOS
RATING: 6/10
RECAP: This was a short, well worked match. The New Day double teamed up on AJ Styles and wouldn't let Omos into the ring for most of the match. AJ Styles eventually got the tag to Omos and everything went down hill for The New Day from there. Xavier Woods and Kofi Kingston started kicking Omos which had no effect on Omos at all. Omos hit a huge back breaker on Kofi Kingston and then picked him up and slammed him on that mat. After that, Omos pinned Kofi Kingston with one foot to win the RAW Tag Team Championships. Overall, it was a well worked match nothing special in the ring but the moment made up for it.
---
Braun Strowman vs Shane McMahon. Steel cage match
OUR PREDICTION: SHANE MCMAHON
WINNER: BRAUN STROWMAN
RATING: 7/10
RECAP: Surprisingly, this was a really good match. Braun Strowman was attacked before the match by Elias and Jaxson Ryker as they hit his legs with steel chairs. Strowman had an injured leg the whole match and McMahon took advantage of that. Eventually Shane McMahon was about to escape the cage and Braun Strowman ripped the cage open and pulled McMahon back in. After this Braun Strowman threw Shane McMahon off the top of the cage and hit him with a running powerslam for the win. A good match that exceeded expectations.
---
Bad Bunny and Damian Priest vs The Miz and John Morrison. Tag team match
OUR PREDICTION: BAD BUNNY & DAMIAN PRIEST
WINNER: BAD BUNNY & DAMIAN PRIEST
RATING: 7/10
RECAP: All that can be said about this match is that Bad Bunny definitely exceeded everyone's expectations. Obviously The Miz, John Morrison and Damian Priest carried him to a good match but Bad Bunny stood his own as well. He hit a Canadian Destroyer on John Morrison or a "Bunny Destroyer" as commentary decided to call it that. The match was not that long either and definitely was the best match involving a celebrity ever.
---
Bianca Belair vs Sasha Banks (c). Singles match for the WWE SmackDown Women's Championship
OUR PREDICTION: SASHA BANKS
WINNER: BIANCA BELAIR
RATING: 9/10
RECAP: If Cesaro vs Seth Rollins was the match of the night, then this was for sure the moment of the night. The match started and both women looked like they wanted to cry due to the emotions they were both feeling. They were making history – this was the first time two women of colour would ever main event a WWE event and a WrestleMania. These two put on a great back and forth match with Bianca Belair's hair being used as a weapon at many points. It seemed like Sasha Banks would retain but then Bianca used her hair as a whip on Sasha Banks. She followed that up with a KOD to finish her for good. Bianca Belair was the new WWE SmackDown Women's Champion in an amazing moment – by far, the best moment at WrestleMania 37.
---
Randy Orton vs The Fiend (with Alexa Bliss). Singles match
OUR PREDICTION: THE FIEND
WINNER: RANDY ORTON
RATING: 2/10
RECAP: Night One ended with the best moment and night two started off with the absolute worst. What the heck was that? The red lighting was back which made this hard to watch and then The Fiend dominated Randy Orton as expected. But then Alexa Bliss had this black goo coming off of her face and The Fiend got distracted and Randy Orton hit him with the RKO for the win. It made no sense at all and this is what we get for putting up with five months of this garbage on Monday Night RAW. Not a good opener at all.
---
Nia Jax and Shayna Baszler (c) vs Natalya and Tamina. Tag team match for the WWE Women's Tag Team Championship
OUR PREDICTION: NIA JAX & SHAYNA BASZLER
WINNER: NIA JAX & SHAYNA BASZLER
RATING: 3/10
RECAP: The last match may have been the lowest point of the show, but this match wasn't much better. The only reason this match wasn't as bad is because they actually had a match and it didn't involve black goo or red lighting. This was a sloppy match and neither team looked good. It wasn't that long which was nice but at this point things were not looking that well for night two. The match ended after Shayna Baszler made Natalya tap out.
---
Kevin Owens defeated Sami Zayn (with Logan Paul). Singles match
OUR PREDICTION: KEVIN OWENS
WINNER: KEVIN OWENS
RATING: 7/10
RECAP: This was a really good match and almost made up for the last two matches. Logan Paul didn't get involved during the actual match which was great to see. This match was everything you would want to see in a Sami Zayn and Kevin Owens match if only it was a bit longer. We would love to see a 60 minute ironman match between the two. Kevin Owens won the match after a super kick and a stunner to Zayn. After the match Logan Paul pushed Sami Zayn away and Kevin Owens hit Logan Paul with a stunner.
---
Sheamus vs Riddle (c). Singles match for the WWE United States Championship
OUR PREDICTION: RIDDLE
WINNER: SHEAMUS
RATING: 8/10
RECAP: This was a great match but with the wrong winner. We wanted Sheamus to be the one to take the title off of Riddle but not this soon. Either way these two put on the second best match of the night and did the best they could with the time that they were given. The match ended with the best Brogue kick that Sheamus has ever done when he did it while Riddle was in the air upside down. Great match overall.
---
Apollo Crews vs Big E (c). Nigerian Drum Fight for the WWE Intercontinental Championship
OUR PREDICTION: BIG E
WINNER: APOLLO CREWS
RATING: 4/10
RECAP: If you thought Night Two of WrestleMania 37 was finally getting back on track, it definitely was derailed with this match. This was a good match at best and was shaping up to be a great one but had a bad ending. Apollo deserves the championship but not in the way he won. After a bunch of kendo stick hits it seemed like this match was getting good and then Dabba Kato of all people came back and helped Apollo Crews win. A bad ending to this match that was just getting good.
---
Rhea Ripley vs Asuka (c). Singles match for the WWE Raw Women's Championship
OUR PREDICTION: RHEA RIPLEY
WINNER: RHEA RIPLEY
RATING: 6/10
RECAP: This was a good match but nothing special. This is another match where the moment was better – it was good but not memorable at all. The best part was that you could see either woman winning the match. It was also a pretty back and forth match with Rhea having control during most of it. The problem with this is that the build up to the match was bad and made it difficult to care about. Rhea Ripley won the match with the riptide which was a good moment.
---
Roman Reigns (c) (with Jey Uso and Paul Heyman) vs Edge vs Daniel Bryan. Triple Threat match for the WWE Universal Championship
OUR PREDICTION: EDGE
WINNER: ROMAN REIGNS
RATING: 9/10
RECAP: This match over delivered and was the best match of both nights but again, had the wrong winner. But that doesn't matter in the end. Jey Uso helped Roman Reigns as expected so in the beginning of the match it seemed like Roman Reigns and Jey Uso vs Edge and Daniel Bryan. But after they dealt with Uso and Reigns, the match picked up. Bryan and Edge went to war and made us want a one-on-one match in the future. They got a double submission on Reigns and when Roman got out of it, he knocked both men down. He then stacked them on top of each other and pinned them both to retain the title. Reigns fulfilled his promise and remains champion. It should have been Edge though. This match would have been a 10/10 but with the wrong winner it gets a nine out of ten. Still, a great main event.