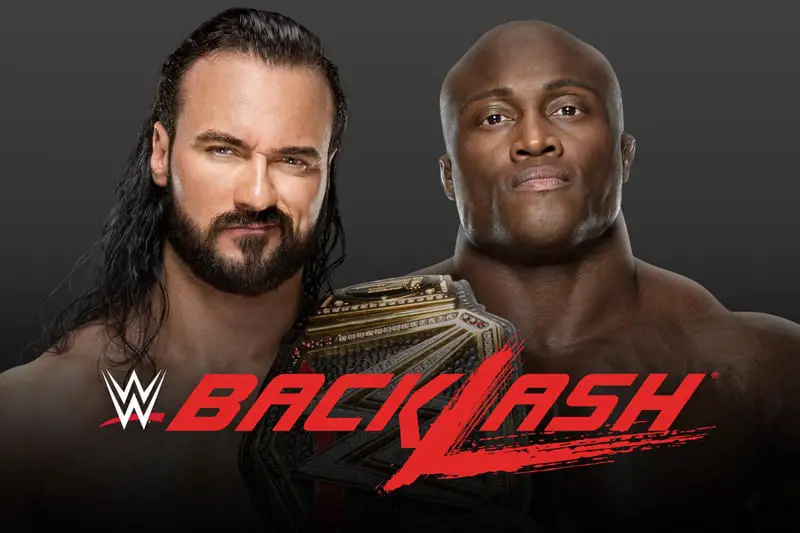 WWE Backlash Recap
Bayley and Sasha Banks (c) vs. Alexa Bliss and Nikki Cross vs. The IIconics (Billie Kay and Peyton Royce) for the WWE Women's Tag Team Championships
OUR PREDICTION: BAYLEY & SASHA BANKS
WINNER: BAYLEY & SASHA BANKS
RATING: 6/10
RECAP: Lots of great offense by both teams but Alexa Bliss and Nikki Cross were definitely more dominant. The match ended though when Alexa Bliss hit the Twisted Bliss on Peyton Royce but Sasha Banks broke up the pin fall and rolls up Alexa Bliss for the win.
---
Jeff Hardy vs. Sheamus
OUR PREDICTION: SHEAMUS
WINNER: SHEAMUS
RATING: 7/10
RECAP: Sheamus came out strong and dominated Jeff Hardy throughout most of the match and even managed to drop Hardy on the ring post in a nasty spot. Jeff Hardy started to get a bit more offensive and almost won the match when he caught Sheamus off guard. After a Twist of Fate and Swanson Bomb, Hardy almost had the win until Sheamus put his foot on the bottom rope. After two Brogue kicks from Sheamus, one outside the ring and one inside, Sheamus pinned Hardy for the win.
---
Asuka (c) vs. Nia Jax for the WWE RAW Women's Championship
OUR PREDICTION: ASUKA
WINNER: ASUKA
RATING: 3.5/10
RECAP: The match started with Asuka repeatedly attacking Nia Jax's left arm. Nia Jax also had a lot of offense during the match though it was Asuka who dominated overall. The match ended in a double count out with Asuka retaining the RAW Women's Championship. Overall not a good match – Full of move botches and scary spots.
---
Braun Strowman (c) vs. The Miz and John Morrison in a 2 on 1 Handicap Match for the WWE Universal Championship
OUR PREDICTION: BRAUN STROWMAN
WINNER: BRAUN STROWMAN
RATING: 6/10
RECAP: The match opened with lots of offense by the The Miz and John Morrison. But neither won the match because Braun Strowman was on the ground and John Morrison pinned him and almost won the championship but The Miz got jealous and pushed John Morrison off. After realizing this was dumb, Miz told Morrison to pin Strowman again. Strowman kicked out at 2 and hit the running power slam on Miz to retain his title. Overall an entertaining match with a predictable outcome and something most people most likely would not want to see again.
---
Drew McIntyre (c) vs. Bobby Lashley for the WWE Championship
OUR PREDICTION: BOBBY LASHLEY
WINNER: DREW MCINTYRE
RATING: 6/10
RECAP: The match began with Lashley attacking McIntyre before the match even started. Bobby Lashley was dominant the entire match until Lana came out and distracted him causing McIntyre to hit Lashley with the Claymore Kick. Overall, an entertaining match but McIntyre should have had a bit more control throughout the match.
---
Edge vs. Randy Orton
OUR PREDICTION: EDGE
WINNER: RANDY ORTON
RATING: 8.5/10
RECAP: The match started with Edge and Orton having an equal amount of momentum. Both were fairly fast-paced but Orton seemed to always be one step ahead of Edge. There was a really good spot where Edge got thrown off the apron to the floor and his knee hit Randy Orton causing him to bleed. Orton kept going for Edge's head, neck, and back throughout this match. Randy Orton was in control through most of the match, but Edge had some great moments as well. There were a lot of close falls and it seems like either man could win but in the end, Randy Orton used the Punt Kick to defeat Edge. Overall a great match with great spots, great story, and great surprises. Was it the greatest wrestling match ever? No, it was not.