MONEY IN THE BANK 2023 PAY-PER-VIEW RECAP & REVIEW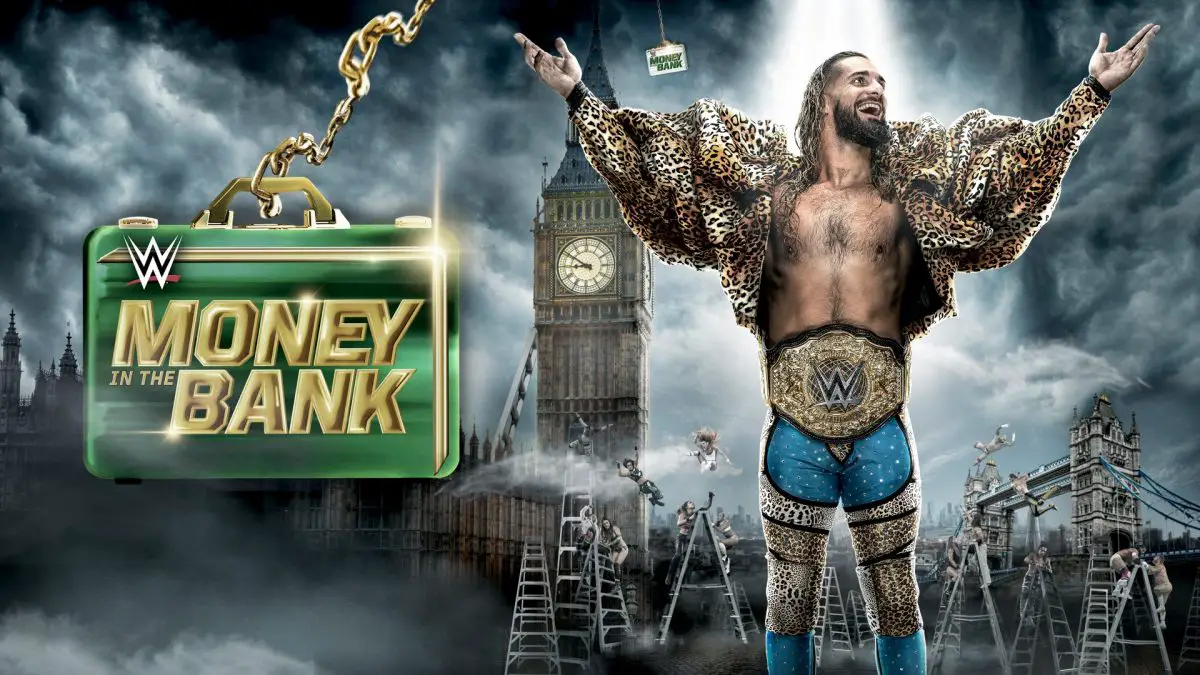 WWE MONEY IN THE BANK 2023 MATCH CARD
Damian Priest defeated Butch, LA Knight, Logan Paul, Ricochet, Santos Escobar, and Shinsuke Nakamura. Money in the Bank ladder match for a men's championship match contract
WINNER: DAMIAN PRIEST
OUR PREDICTION: LA KNIGHT
RATING: 9/10
This was a really good match to start off the show. WWE knew that the crowd wanted LA Knight to win, and they didn't want the fans to hijack the show with LA Knight chants so he started off the show. The match had a really good spot with Logan Paul and Ricochet that almost got botched. The biggest downside of the match was that guys like Nakamura, and Butch weren't given too much to do. Instead, they were just there to fill up spots in the match. LA Knight had a bit at the end of the match where it finally looked like he was going to win after he single handedly took everyone out. When LA Knight was about to grab the briefcase, Damian Priest threw him off the ladder and grabbed it himself. Damian Priest is a good choice, and definitely the second best after LA Knight, but LA Knight should have really won. Still a great match though, and a great way to start off a really fun night in the United Kingdom. 
---
Liv Morgan and Raquel Rodriguez defeated Ronda Rousey and Shayna Baszler. Tag team match for the WWE Women's Tag Team Championship
WINNER: LIV MORGAN & RAQUEL RODRIGUEZ
OUR PREDICTION: RONDA ROUSEY & SHAYNA BASZLER
RATING: 6/10
This match was fine, but forgettable. If it wasn't for the Shayna Baszler turn it wouldn't be remembered at all. It was nice to have Liv Morgan back after the time away, but it was only a few weeks and it makes you question why they even bothered to vacate the titles in the first place. Hopefully Shayna Baszler and Ronda Rousey have a good feud, and hopefully Liv and Raquel hold onto those titles for a while. The match ended after Liv Morgan hit Ronda Rousey with an Oblivion for the win.
---
Gunther (c) defeated Matt Riddle. Singles match for the WWE Intercontinental Championship
WINNER: GUNTHER
OUR PREDICTION: GUNTHER
RATING: 7/10
For a match that had the potential to steal the show, it was somewhat underwhelming. It was still pretty good, but it felt like it needed more. The submission stuff was nice, and for a second it even seemed like Riddle had a chance of winning. Gunther won after using a submission move on Riddles injured ankle, and after the match everyone immediately forgot it happened because Drew McIntyre returned. The match was still good, and had some good technical wrestling. Hopefully these two run it back on RAW sometime with a longer match. 
---
Cody Rhodes defeated Dominik Mysterio (with Rhea Ripley). Singles match
WINNER: CODY RHODES
OUR PREDICTION: CODY RHODES
RATING: 7/10
This match was pretty good due to Dominik Mysterio and his antics. He kept running away from Cody the whole match and hiding behind Rhea Ripley. Cody Rhodes was so incredibly over with the UK crowd, it made him feel like a genuine star, so it's a shame that this match wasn't for the Undisputed WWE Universal Championship. Cody Rhodes won the match after finally getting his hands on Mysterio and hitting him with the Cross Rhodes. Great stuff. 
---
Iyo Sky defeated Bayley, Becky Lynch, Trish Stratus, Zelina Vega, and Zoey Stark. Money in the Bank ladder match for a women's championship match contract
WINNER: IYO SKY
OUR PREDICTION: ZELINA VEGA
RATING: 9/10
This match was really something special. It was the better of the two ladder matches on the night, and by far the best Women's Money in the Bank match. The highlight of the match was the Code Red off the ladder that Zelina Vega hit onto Zoey Stark. Iyo Sky was the favourite to win the match so it's good that she was the choice of winner. She won after handcuffing Becky Lynch and Bayley together so they couldn't climb the ladder which was a really good spot. Great match with a great finish that will be remembered for years. Amazing stuff.
---
Seth "Freakin" Rollins (c) defeated Finn Bálor. Singles match for the World Heavyweight Championship
WINNER: SETH "FREAKIN" ROLLINS
OUR PREDICTION: SETH "FREAKIN" ROLLINS
RATING: 6/10
This was underwhelming. It wasn't bad, but should have been so much better. There were multiple callbacks to their 2016 match, and it seems like this story isn't over. Damian Priest came out halfway through the match to scare Seth Rollins but it backfired as he accidentally cost Finn Balor the match. It was a shame that the match was underwhelming, but it was still good. Hopefully Finn Balor takes the title at SummerSlam.
---
The Usos (Jey Uso and Jimmy Uso) defeated The Bloodline (Roman Reigns and Solo Sikoa) (with Paul Heyman). "Bloodline Civil War" tag team match
WINNER: THE USOS
OUR PREDICTION: THE BLOODLINE
RATING: 10/10
This was a masterpiece and probably the best tag team match of the year thus far. The Usos killed it, and it was nice seeing them portray babyfaces again. The match also showed good tension between Roman Reigns and Solo Sikoa with both of them seemingly disagreeing throughout many points of the match. After Solo Sikoa was taken out onto the outside, The Usos finally got the upper hand on Roman Reigns and they recreated the frog splash that was used to pin Roman for the first time ever all the way back in 2015. Jey Uso was the first person to pin Roman Reigns since 2019. This was amazing. Hopefully we get Roman vs Jey at SummerSlam.
---