WWE MONEY IN THE BANK 2023 PAY-PER-VIEW PREDICTIONS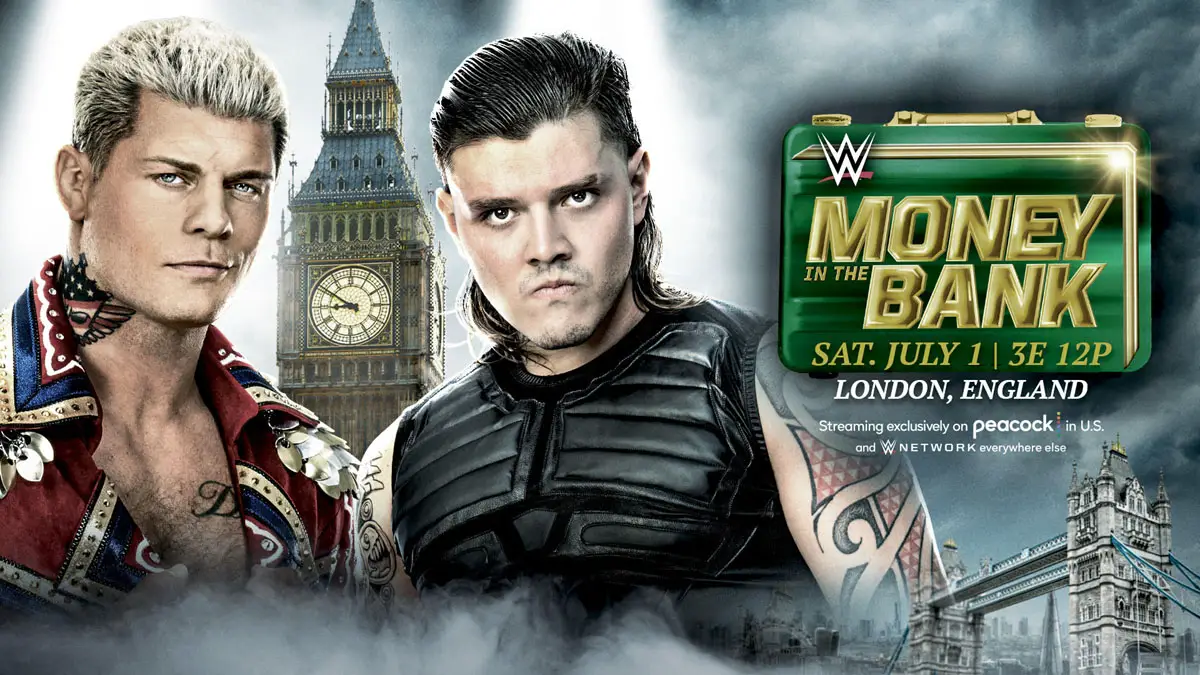 WWE MONEY IN THE BANK 2023 MATCH CARD
Ricochet vs. Shinsuke Nakamura vs. LA Knight vs. Santos Escobar vs. Butch vs. Damian Priest vs. Logan Paul. Money in the Bank ladder match for a men's championship match contract
LA Knight has to win. If it's not LA Knight, the only other valid choice they can make is Damian Priest. Sadly, the chances are that Logan Paul will win and cash in on the same night are very high. But we can only hope that doesn't happen. Bonus prediction is that Butch will be introduced as Pete Dunne in the match. Even though we believe Logan Paul will win, we're still going with LA Knight because it's the best outcome.
OUR PREDICTION: LA KNIGHT
---
Zelina Vega vs. Becky Lynch vs. Zoey Stark vs. Bayley vs. Iyo Sky vs. Trish Stratus. Money in the Bank ladder match for a women's championship match contract
So many people are saying Becky Lynch is going to win, but she doesn't need the briefcase. Iyo Sky would be great, but she doesn't need the briefcase to win the title. So, we think that after Backlash earlier this year, the perfect winner is Zelina Vega. It fits her character, and she most likely won't be winning a title without the briefcase. 
OUR PREDICTION: ZELINA VEGA
---
Cody Rhodes vs. Dominik Mysterio (with Rhea Ripley). Singles match
Dominik has to win. It would boost his character's ego so much, and Brock Lesnar can cost Cody the match so Cody doesn't look weak. The worst thing about this match in reality is that Rhea Ripley isn't defending her title. She hasn't had any credible challengers yet. Hopefully, she will face someone worthy at SummerSlam. As of right now though, Dominik Mysterio has to walk out victorious just so we can see what his character does on Monday Night RAW.
OUR PREDICTION: DOMINIK MYSTERIO
---
Seth "Freakin" Rollins (c) vs. Finn Bálor. Singles match for the World Heavyweight Championship
Don't be surprised if Logan Paul walks out as the World Heavyweight Champion after cashing in. But since we believe that LA Knight is winning that match, there won't be any cash in here. Seth Rollins and Finn Balor have been having a really special feud on Raw, and it's too early for Finn Balor to win, but if he won a rematch around SummerSlam that would truly be great as he deserves that title so much. As of right now though, Seth Rollins is that workhorse champion that WWE has needed for the past 3 years, and he needs to put on some more open challenges before losing that title. So as of right now, Seth Rollins should retain. 
OUR PREDICTION: SETH ROLLINS
---
The Bloodline (Roman Reigns and Solo Sikoa) (with Paul Heyman) vs. The Usos (Jey Uso and Jimmy Uso). "Bloodline Civil War" tag team match
This match has had the best storyline going into it, and it has to end with Roman standing tall. Not because The Usos don't deserve to win, but to really put into perspective how much of a threat Roman is. This is his first match in a long time where he doesn't have The Usos to help him, sure he has Solo, but he's almost on his own. You can still do Roman vs Jey at SummerSlam, but as of Money in the Bank, The Usos need to acknowledge Roman Reigns one last time before Jey Uso finally faces Roman Reigns at SummerSlam. Bonus prediction is that Solo Sikoa will turn on Roman Reigns after the match. 
OUR PREDICTION: THE BLOODLINE
---
Ronda Rousey and Shayna Baszler (c) vs. Liv Morgan and Raquel Rodriguez. Tag team match for the WWE Women's Tag Team Championship
This is the easiest match of the night to predict … Ronda Rousey and Shayna Baszler are going to retain their titles. They didn't win them too long ago, and Raquel Rodriguez is most likely going to move into a title program with Rhea Ripley so the pieces just align perfectly. It would be great to see Liv Morgan as a champion again but don't expect it to happen anytime soon. 
OUR PREDICTION: RONDA ROUSEY & SHAYNA BASZLER
---
Gunther (c) vs. Matt Riddle. Singles match for the WWE Intercontinental Championship
People don't like Riddle right now, but they have to remember that no matter how much you don't like him, he can still go in that ring and this match has the chance to be the match of the night. Gunther has to retain because he is so close to becoming the longest-reigning Intercontinental Champion ever. This match will be really good as all Gunther matches are. Hopefully he faces someone like Drew McIntyre at SummerSlam. 
OUR PREDICTION: GUNTHER
---