WWE NIGHT OF CHAMPIONS 2023 RECAP & REVIEW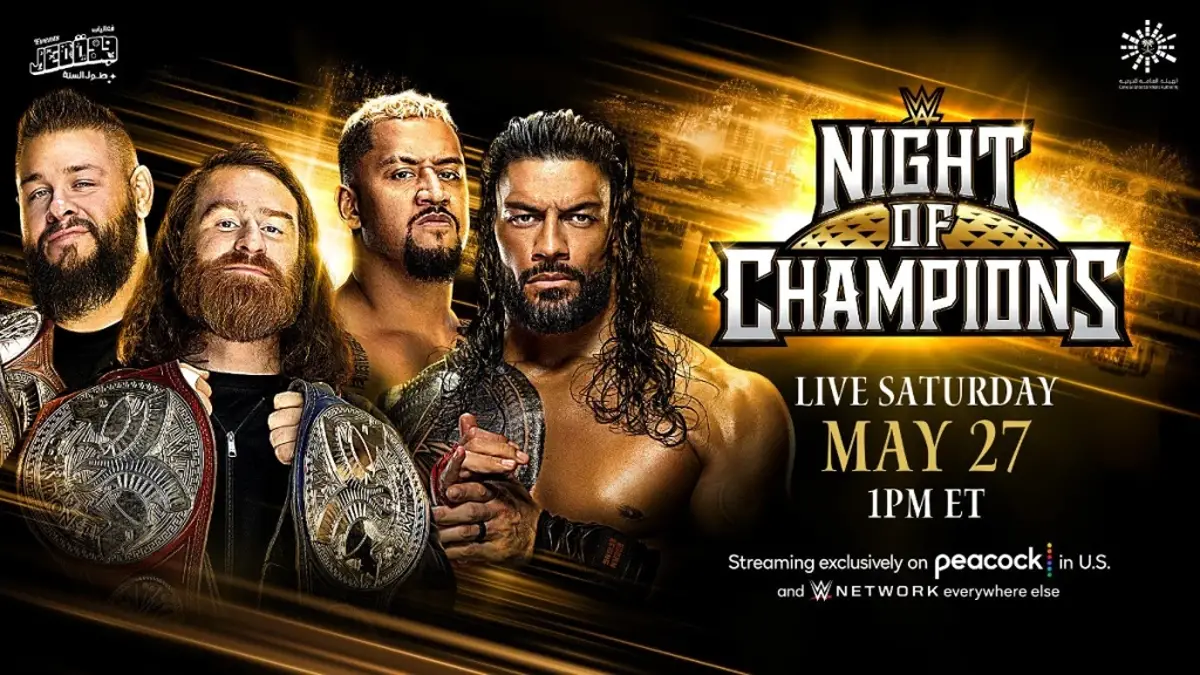 NIGHT OF CHAMPIONS 2023 MATCH CARD
Seth "Freakin" Rollins defeated AJ Styles. Tournament final for the inaugural World Heavyweight Championship
WINNER: SETH "FREAKIN" ROLLINS
OUR PREDICTION: SETH "FREAKIN" ROLLINS
RATING: 7/10
This was a good match, of course it was. When you put two guys as good as AJ Styles and Seth Rollins in the ring it's bound to be at least a 7/10. Sadly, it was only a 7/10. AJ Styles felt rusty, which isn't his fault since he was out due to injury for a while. Seth Rollins kayfabe injured his knee near the end of the match which prevented him from hitting a stomp leading to AJ Styles hitting Rollins with a Pedigree. This seemed to be the end of the match until Rollins reversed it to hit a stomp for the victory. It was a wonderful moment that included Triple H presenting the title to Seth Rollins at the end just made this one special. Good match to kick off the show with a great winner.
---
Trish Stratus defeated Becky Lynch. Singles match
WINNER: TRISH STRATUS
OUR PREDICTION: TRISH STRATUS
RATING: 5/10
The match was fine. Of course Becky Lynch carried the match, but throughout many points of the match, Trish Stratus couldn't keep up with the younger Lynch. Trish was fine though and somewhat held her own. The match was decently paced throughout but then had a great ending. Becky Lynch had the upper hand before tumbling out of the ring with Stratus, then out of nowhere Zoey Stark came from under the ring and hit Becky Lynch with a knee tossing her into the ring and straight into a Stratusfaction. This is huge for Zoey Stark and now she immediately looks like a star. We're probably going to get a rematch at SummerSlam so hopefully, that match is slightly better throughout.
---
Gunther (c) defeated Mustafa Ali. Singles match for the WWE Intercontinental Championship
WINNER: GUNTHER
OUR PREDICTION: GUNTHER
RATING: 8/10
This was a great match, it was one that many of us expected would be a squash match but instead, Mustafa Ali actually got in a good amount of offense, it even seemed like he would win at one point. Mustafa Ali dominated for a while before he ran right into a lariat from Gunther. After that, it was a straight-up slaughter. Gunther proceeded to hit one of the nastiest powerbombs ever and Mustafa Ali was down for the count. Honestly wouldn't mind seeing a rematch on Raw sometime, this was great stuff if only it was longer. Gunther is amazing.
---
Asuka defeated Bianca Belair. Singles match for the WWE RAW Women's Championship
WINNER: ASUKA
OUR PREDICTION: ASUKA
RATING: 8/10
This match was awesome. Bianca Belair really is one of the greatest women's wrestlers of all time, and so is Asuka. Now that Bianca Belair had hit the record as the longest reigning RAW Women's Champion there really was no reason for her to retain as she's beaten everyone there is to beat right now. After some good back and forth Asuka spit her mist into her hands and then rubbed it into Bianca's eyes while the ref wasn't looking. This lead to Asuka pinning Bianca Belair for the win. This was great stuff, and it's great that Asuka finally got her moment. 
---
Rhea Ripley (c) (with Dominik Mysterio) defeated Natalya. Singles match for the WWE SmackDown Women's Championship
WINNER: RHEA RIPLEY
OUR PREDICTION: RHEA RIPLEY
RATING: 2/10
Honestly, this was everything it needed to be. If anything, Saudi Arabia was blessed that they didn't have to watch a 15-20 minute Natalya match. It can't be rated highly due to the length though. Glad Ripley retained after one minute. 
---
Brock Lesnar defeated Cody Rhodes. Singles match
WINNER: BROCK LESNAR
OUR PREDICTION: BROCK LESNAR
RATING: 8/10
This was awesome. Way better than their Backlash match. The only problem was how strong they made Cody Rhodes look, he had Brock Lesnar using the Kimura Lock on his broken arm for a good 3-5 minutes before he passed out from exhaustion. Still, the match was really good and it even seemed like Cody was going to win at some points. Either way, we know that Cody Rhodes is going to win the eventual third match which hopefully has some form of stipulation. Great stuff, but they didn't have to make Cody Rhodes look like a superhero. 
---
Kevin Owens and Sami Zayn (c) defeated The Bloodline (Roman Reigns and Solo Sikoa) (with Paul Heyman) Tag team match for the Undisputed WWE Tag Team Championship
WINNER: KEVIN OWENS AND SAMI ZAYN
OUR PREDICTION: KEVIN OWENS & SAMI ZAYN
RATING: 10/10
Good thing they saved the best match of the night as the main event. It was all mind games up until the end with Sami Zayn fighting off Solo Sikoa while Kevin Owens had to deal with Roman Reigns. The action was pretty good but the match really picked up after The Usos came out. They came out and immediately dumped a table on top of Kevin Owens. After this, they attacked Sami Zayn before accidentally super kicking Solo Sikoa. Roman then proceeded to get mad at Jey Uso pushing him around before the inevitable happened, Jimmy Uso kicked Roman Reigns in the face leading to Sami Zayn pinning Solo Sikoa for the win after The Usos fled the ring. This was some great storytelling from everyone involved and Sami Zayn crumbled The Bloodline exactly like he said he would. Amazing.
---