WWE NIGHT OF CHAMPIONS PAY-PER-VIEW PREDICTIONS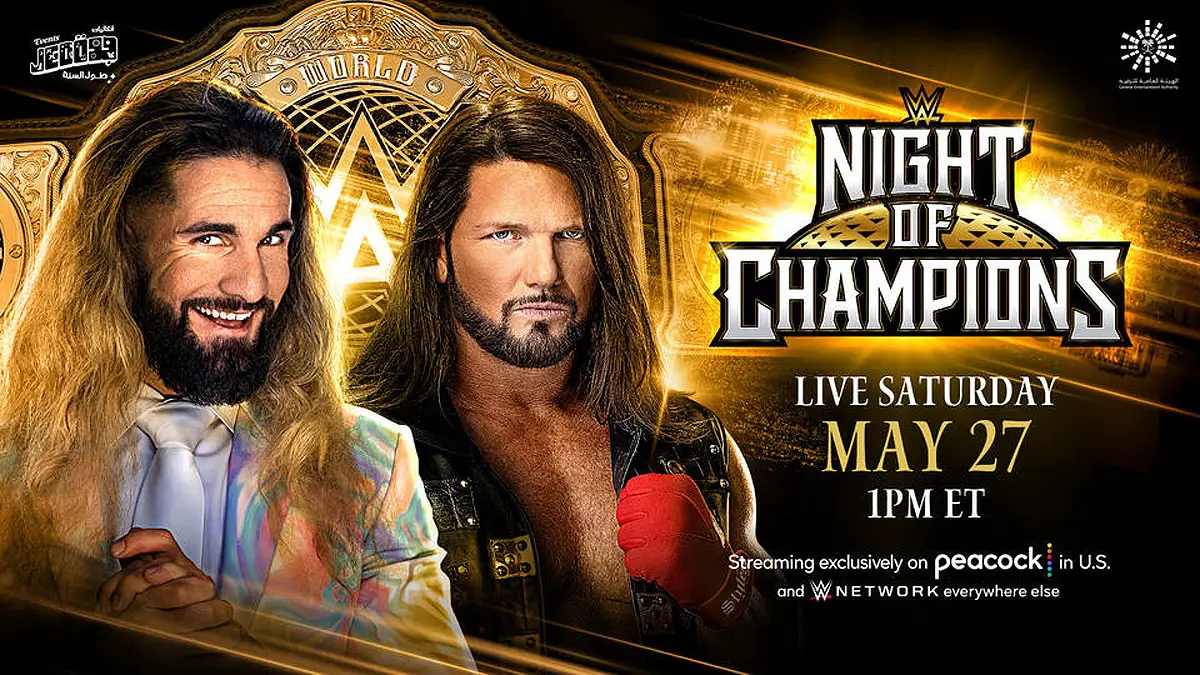 WWE NIGHT OF CHAMPIONS 2023 MATCH CARD
Seth "Freakin" Rollins vs. AJ Styles. Tournament final for the inaugural World Heavyweight Championship
This match seemed predictable when it was first announced, but now that we know Seth Rollins is going to be filming for the new Captain America movie he may need to take some time away from the ring. If that's the case there is a chance that AJ Styles will walk away with the World Heavyweight Championship. But we have to go with the objective right choice which is Seth Rollins walking away with the title. 
OUR PREDICTION: SETH "FREAKIN" ROLLINS
---
Cody Rhodes vs. Brock Lesnar. Singles match
The storyline going into this match is that Cody Rhodes has a kayfabe broken arm. This is most likely so that they can justify a Brock Lesnar win at the event. It's unlikely that this will be the last match in the rivalry, so Brock Lesnar should win here and they can have a tiebreaker at Money in the Bank or SummerSlam. Cody Rhodes doesn't need to win here so Brock Lesnar should walk out on top.
OUR PREDICTION: BROCK LESNAR
---
Kevin Owens and Sami Zayn (c) vs. The Bloodline (Roman Reigns and Solo Sikoa) (with Paul Heyman). Tag team match for the Undisputed WWE Tag Team Championship
This match really came out of nowhere, and it's pretty unpredictable. Solo and Roman could win the titles and hand them to The Usos the following Friday to embarrass them. The Usos could cost Roman Reigns and Solo Sikoa the match, or most importantly, Roman Reigns can be pinned for the first time since 2019. We believe that Sami Zayn and Kevin Owens are going to retain as The Usos accidentally cost Roman and Solo the match leading to them getting kicked out of The Bloodline. This match should be intense. 
OUR PREDICTION: KEVIN OWENS & SAMI ZAYN
---
Gunther (c) vs. Mustafa Ali. Singles match for the WWE Intercontinental Championship
In the most predictable match of the night, we all know that Gunther is going to win. Hopefully it isn't a squash match and Mustafa Ali gets his own chance to shine. The chances of Mustafa Ali winning the title though are about the same as CM Punk returning to WWE, it'll never happen. This might be the match of the night though.
OUR PREDICTION: GUNTHER
---
Bianca Belair (c) vs. Asuka. Singles match for the WWE Raw Women's Championship
This match is another possible match of the night contender. Asuka finally turning heel has added some much-needed intensity to this rivalry. It makes us believe that it's finally time for Bianca Belair to lose the title. There is no one left for Belair to face other than Charlotte Flair but chances are that she'll be out for a while. Asuka deserves a title reign after her character change and fans are going to turn on Bianca Belair if her reign goes on any longer. Asuka should win.
OUR PREDICTION: ASUKA
---
Rhea Ripley (c) vs. Natalya. Singles match for the WWE SmackDown Women's Championship
We don't really know how we're supposed to care about this match when all there hasn't been much buildup to the match. We have two backstage segments for this rivalry and that's it. Natalya isn't a credible challenger at all. We all know that she doesn't have a chance of winning. Maybe the match will be good, but it's really predictable. Rhea Ripley should be facing people with higher credibility, hopefully, she faces either Becky Lynch or Beth Phoenix next. Ripley should retain, maybe with a distraction from Dominik Mysterio.
OUR PREDICTION: RHEA RIPLEY
---
Becky Lynch vs. Trish Stratus. Singles match
This rivalry has arguably been the best heading into the event. Trish Stratus has been doing her best work on the mic ever, insulting Becky Lynch's kid was really funny. This is most likely the first match of a long rivalry so expect Trish Stratus to win the match, possibly with cheating. Becky Lynch will probably win the rivalry overall, but for now until the rematch Becky Lynch is going to lose.
OUR PREDICTION: TRISH STRATUS
---