WWE ELIMINATION CHAMBER 2023: RECAP & REVIEW
WWE's Elimination Chamber pay-per-view event took place on Saturday, February 18th, 2023. The event took place in Montreal, Canada at the Bell Centre and aired live on Peacock in the USA and the WWE Network internationally.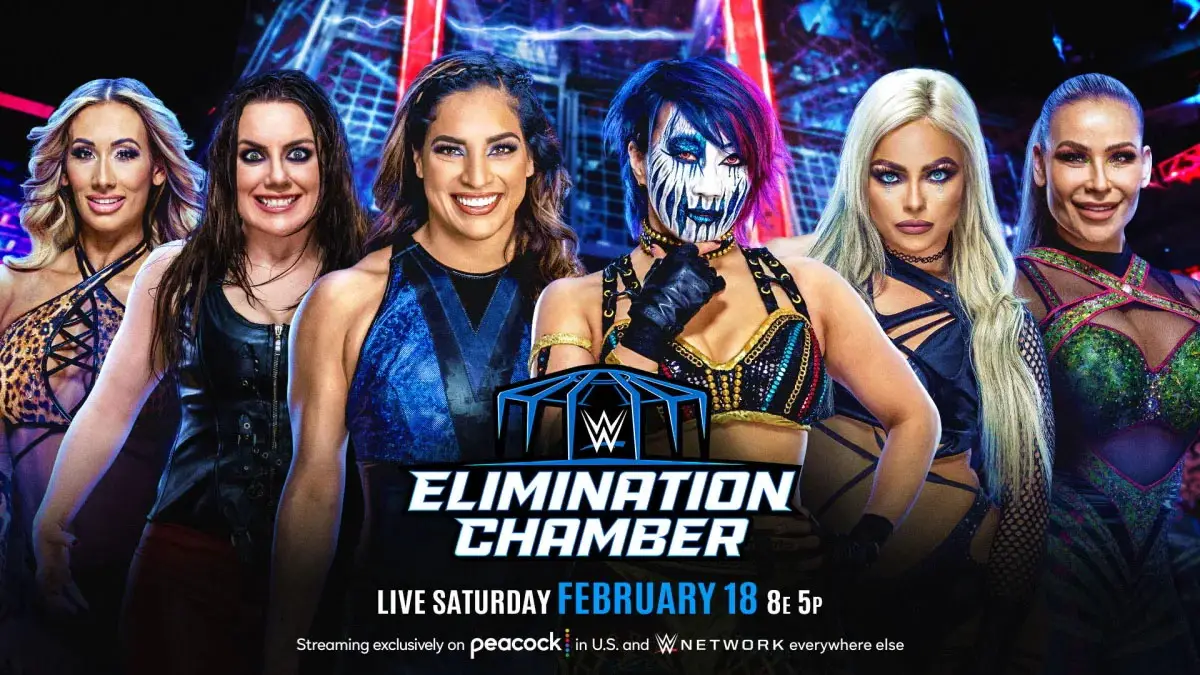 ELIMINATION CHAMBER 2023 MATCH CARD
Asuka defeated Carmella, Liv Morgan, Natalya, Nikki Cross, and Raquel Rodriguez. Elimination Chamber match for a WWE Raw Women's Championship match at WrestleMania 39
OUR PREDICTION: ASUKA
WINNER: ASUKA
RATING: 8/10
This was a really good match to start off the show. Natalya and Liv Morgan started the match and kept going up until Nikki Cross who was number four got eliminated by Raquel Rodriguez. There was a cool sunset powerbomb from Liv Morgan to Raquel Rodriguez, and Carmella had an interesting strategy of locking herself in the chamber pods. Asuka came into the chamber last and started clearing house. Liv Morgan was eliminated by submission after tapping out to Asuka and Natalya, then Natalya got pinned by Carmella. This left Raquel, Carmella, and Asuka with Raquel being double-teamed by Carmella and Asuka to be eliminated. After this Asuka then made quick work of Carmella. This was a really good match with the right choice of winner. Raquel also got a good showing which is always appreciated. The only downside was Liv Morgan being eliminated so early. 
---
Bobby Lashley defeated Brock Lesnar. Singles match
OUR PREDICTION: BROCK LESNAR
WINNER: BOBBY LASHLEY
RATING: 1/10
In the only actual low point of the show, Bobby Lashley defeated Brock Lesnar but by disqualification. The match didn't even last four minutes before Bobby Lashley got hit by Lesnar with a low blow. Boring match to end off this really good rivalry, but at least now we hopefully get to see Lashley vs Wyatt at WrestleMania. Not much to say, other than this was disappointing. 
---
Edge and Beth Phoenix defeated The Judgment Day (Finn Bálor and Rhea Ripley) (with Dominik Mysterio). Mixed tag team match
OUR PREDICTION: EDGE & BETH PHOENIX
WINNER: EDGE & BETH PHOENIX
RATING: 7/10
This was a really fun mixed tag team match. Dominik Mysterio also played his role beautifully when he was just acting like a little pest on the outside. Beth Phoenix was made to look really strong which in a way was an odd decision since she is semi-retired. They made Finn Balor take the pin here which was unfortunate but if anything it will set up one final match between Edge and Finn Balor at WrestleMania. After a fast-paced match, Edge and Beth Phoenix hit Finn Balor with a Shatter Machine for the win which was really cool. Hopefully Rhea Ripley wins the title at WrestleMania. 
---
Austin Theory (c) defeated Bronson Reed, Damian Priest, Johnny Gargano, Montez Ford, and Seth "Freakin" Rollins. Elimination Chamber match for the WWE United States Championship
OUR PREDICTION: MONTEZ FORD
WINNER: AUSTIN THEORY
RATING: 9/10
This was the best Elimination Chamber match we have seen in a long time. There were no botches and nothing wrong here – just six talented guys going out there and doing what they do best. Gargano and Rollins started the match which is crazy because that is a dream match in many peoples eyes. Then, Austin Theory came out and all six men were in the ring before the first elimination occurred. Bronson Reed was the first man eliminated; Reed had a great showing in this match as he had to be eliminated by everyone. Johnny Gargano then hit a crazy hurricanrana off of the top of the pod which was amazing but was eliminated swiftly after. Damian Priest was then eliminated by Montez Ford who was the star of this match. Theory then eliminated Ford leaving it down to Theory and Rollins. When Montez Ford was leaving the chamber, Logan Paul surprised everyone by coming out and costing Rollins the match letting Theory retain the title. This was an amazing match and it's a really good thing that Theory is still the United States Champion.
---
Roman Reigns (c) (with Paul Heyman) defeated Sami Zayn. Singles match for the Undisputed WWE Universal Championship
OUR PREDICTION: ROMAN REIGNS
WINNER: ROMAN REIGNS
RATING: 10/10
In the best match of Roman Reigns' title reign, this almost 35 minute match was perfect. The storytelling of Roman Reigns taunting Sami Zayn's family in the front row, and proceeding to beat Sami up in front of his own wife was amazing. There were so many points in this match where Roman Reigns was so close to losing the titles, but for every single time Sami Zayn knocked him down he would always get back up. After the referee got knocked down, Jimmy Uso came out to help Roman Reigns before Jey Uso stood up for Sami and stood against the Tribal Chief. Sami Zayn then accidentally hits Jey Uso with a spear and Roman Reigns capitalizes pinning Sami Zayn to win. This was a perfect match, the storytelling was amazing, the wrestling itself was amazing, and now it's time for Cody Rhodes to become the champion at WrestleMania.