WWE ELIMINATION CHAMBER 2023 PREDICTIONS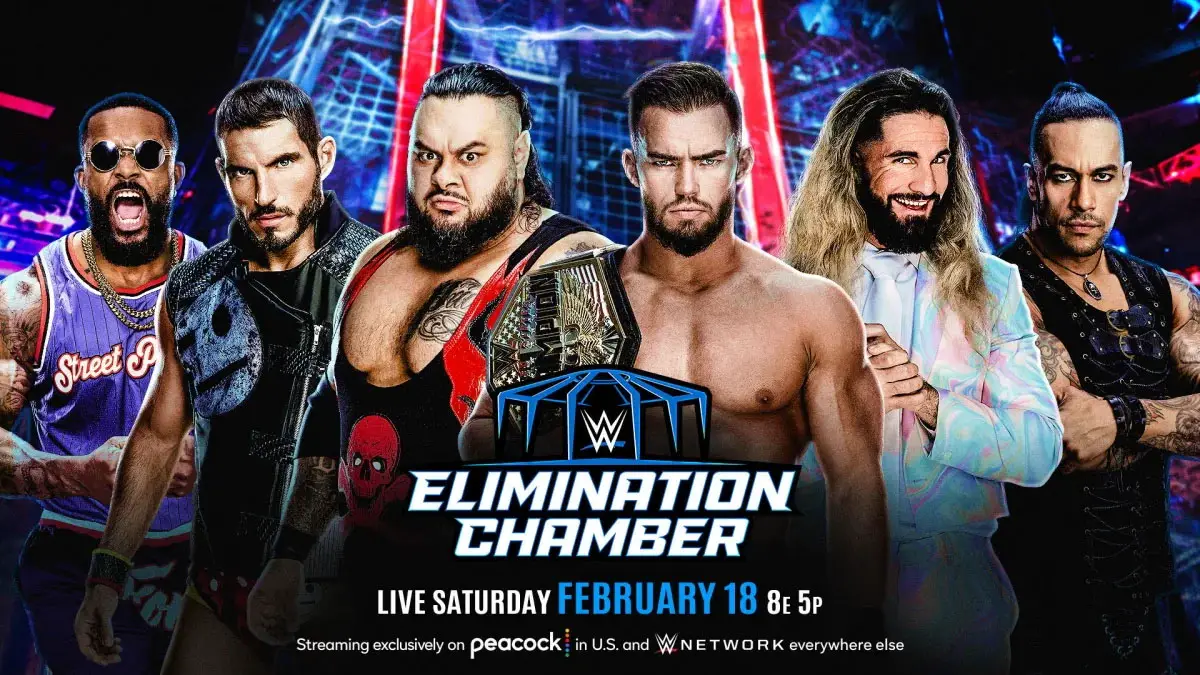 Austin Theory (c) vs. Seth "Freakin" Rollins vs. Johnny Gargano vs. Bronson Reed vs. Damian Priest vs. Montez Ford. Elimination Chamber match for the WWE United States Championship
This is a really unpredictable match as you never really know how they're going to end an Elimination Chamber match, but this match might possibly be the time for Montez Ford to win something big. Johnny Gargano, Damian Priest, and Bronson Reed have no chance of winning the title here, and Seth Rollins is most likely going to face Logan Paul at WrestleMania so that only leaves Austin Theory and Montez Ford. With the rumours of Theory vs Cena at WrestleMania it only makes sense to have Montez Ford win the title here and feud with Angelo Dawkins for the title in the future. Although it would be great to have Johnny Gargano win.
OUR PREDICTION: MONTEZ FORD
---
Asuka vs. Liv Morgan vs. Nikki Cross vs. Raquel Rodriguez vs. Natalya vs. Carmella. Elimination Chamber match for a WWE Raw Women's Championship match at WrestleMania 39
This is the easiest match to predict. We all know that Asuka is winning. She brought out her new character at the Royal Rumble and is now looking stronger than ever. Hopefully Raquel Rodriguez gets a good showing in this match as she is the only other potential winner in this match, but Asuka is still most likely to win and defeat Bianca Belair at WrestleMania. 
OUR PREDICTION: ASUKA
---
Roman Reigns (c) (with Paul Heyman) vs. Sami Zayn. Singles match for the Undisputed WWE Universal Championship
As much as we all want to see Sami Zayn win the titles, this isn't going to be that night. With Roman Reigns hitting 900 days as champion very recently, the chance of him not holding onto them until he hits 1000 days is very unlikely. Sami Zayn could win them at Money in the Bank or SummerSlam later this year, and that's only if Cody Rhodes doesn't win the titles at WrestleMania. Sadly, Jey Uso will most likely screw Sami Zayn out of the titles and Roman Reigns will remain the Tribal Chief.
OUR PREDICTION: ROMAN REIGNS
---
Edge and Beth Phoenix vs. The Judgment Day (Finn Bálor and Rhea Ripley) (with Damian Priest and Dominik Mysterio). Mixed tag team match
This match should be really good but it's hard to be able to tell where there are going with it. Because Edge and Beth Phoenix just came back but Rhea Ripley can't lose because then she won't look strong heading into WrestleMania. The best choice here is to have The Judgment Day win but since Edge and Beth just came back they will most likely be the ones picking up the victory.
OUR PREDICTION: EDGE AND BETH PHOENIX
---
Bobby Lashley vs. Brock Lesnar. Singles match
In their final match it seems that Bobby Lashley and Brock Lesnar are going to have an absolute show stealer, and the storyline leading up to this match has been lots of fun. Lashley needs the win more than Lesnar, but chances are that Brock Lesnar is going to win so he looks stronger heading into WrestleMania. They could have another match between these two at WrestleMania, but that would be a little redundant, so to finish their story Brock Lesnar is most likely to walk out the winner. 
OUR PREDICTION: BROCK LESNAR
---