WWE ROYAL RUMBLE 2023 MATCH PREDICTIONS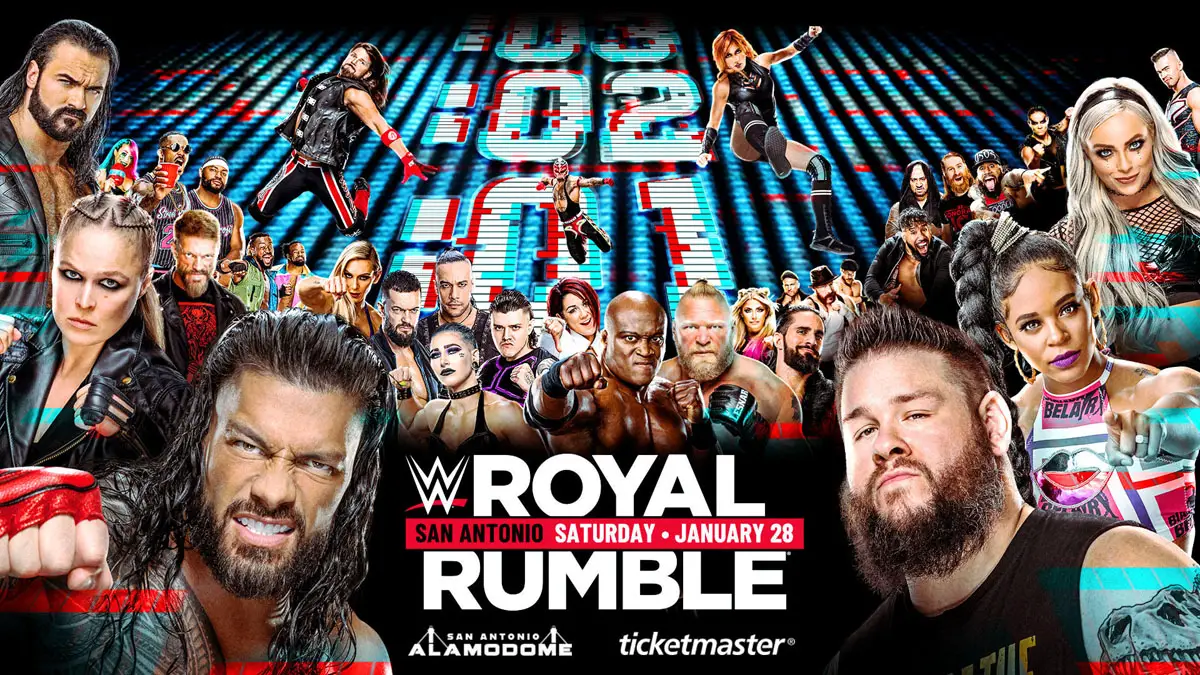 ROYAL RUMBLE 2023 MATCH CARD
Men's Royal Rumble match
The most anticipated match of the nMen's Royal Rumble matchr been this over in his career, and we all know that Cody Rhodes will eventually have his moment. So as of right now, the best pick to win the Royal Rumble is Sami Zayn.
OUR PREDICTON: SAMI ZAYN
---
Women's Royal Rumble Match
The only proper option to win this match is Rhea Ripley. She has been on fire lately and a main event match at WrestleMania against Bianca Belair could show the world why Rhea Ripley is one of the best in the world. Some surprise entrants could be a returning Naomi or Beth Phoenix, but don't expect either of them to win when Rhea Ripley is a participant.
OUR PREDICTION: RHEA RIPLEY
---
Roman Reigns (c) (with Paul Heyman) vs. Kevin Owens. Singles match for the Undisputed WWE Universal Championship
There is no chance that Roman Reigns loses the titles to Kevin Owens at this event. This is still a really interesting match though as the whole Sami Zayn storyline makes it a lot more interesting. Will Sami Zayn cost Kevin Owens the match? Or will he save Kevin Owens from a post match beatdown leading to The Bloodline turning on Sami. Either way we all know that Roman Reigns is walking out with both titles in his hands and walking straight to WrestleMania 39.
OUR PREDICTION: ROMAN REIGNS
---
Bray Wyatt vs. LA Knight. Mountain Dew Pitch Black match
With the odd choice of match, it only seems fitting that Bray Wyatt wins in his first televised match since his return. But we're actually predicting that LA Knight wins this one. Bray Wyatt and this Uncle Howdy character have been confirmed to be separate people and with the way the story is being told, what if Uncle Howdy costs Bray Wyatt the match to later on be revealed as Bray Wyatt's own brother, Bo Dallas? This could be setting up a Bray Wyatt vs Uncle Howdy match for WrestleMania. It seems farfetched but it could quite possibly happen.
OUR PREDICTION: LA KNIGHT
---
Bianca Belair (c) vs. Alexa Bliss. Singles match for the WWE Raw Women's Championship
This is another very predictable match. At this point in her title reign there is no reason for Alexa Bliss to win the title. Now she could win it and then lose it back to Bianca Belair in a month or two, but it seems like the final plan for the title is to have Bianca Belair vs Rhea Ripley at WrestleMania. So, sadly Alexa Bliss doesn't seem to fit in with those plans. Alexa Bliss could be joining up with Bray Wyatt again soon, but she doesn't need the title for that. Bianca Belair is most likely going to retain.
OUR PREDICTION: BIANCA BELAIR