WRESTLEMANIA 38: NIGHT TWO RECAP & REVIEW
WrestleMania 38: Night Two took place on Sunday April 3 2022. The event aired live on the Peacock Network in the USA and on the WWE Network internationally.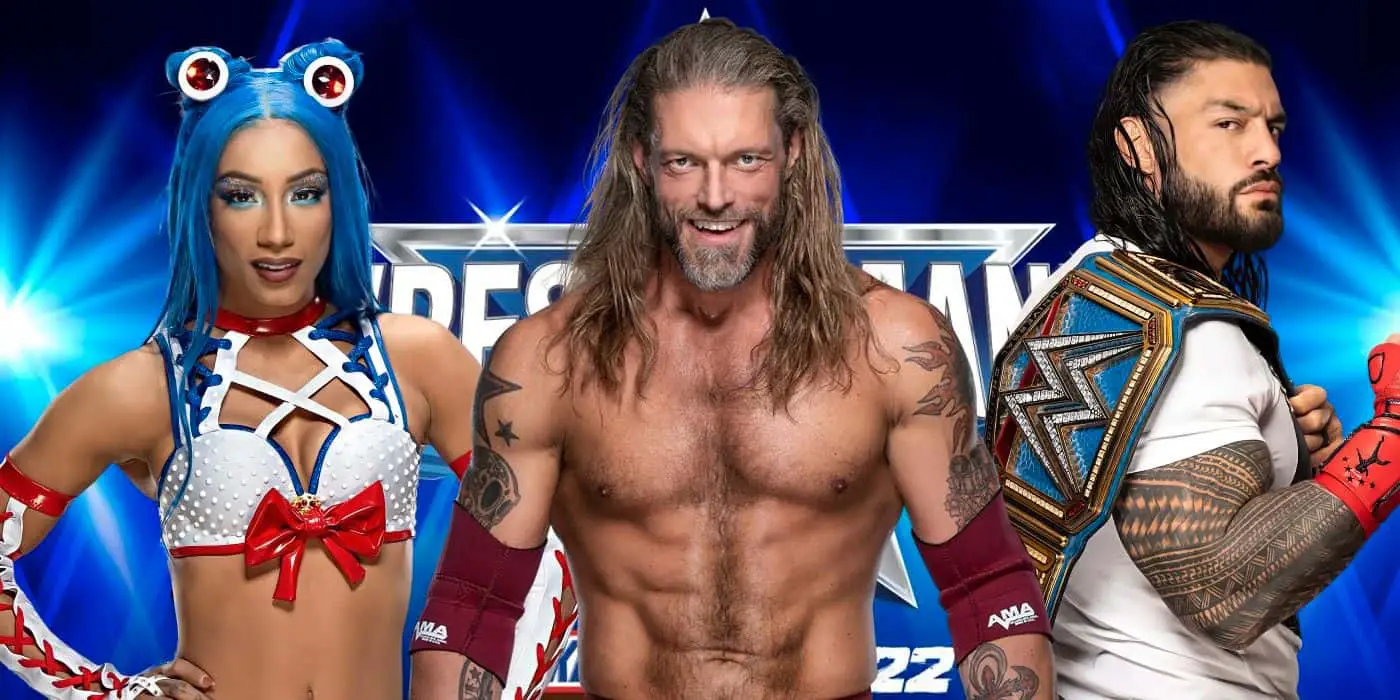 WRESTLEMANIA 38: NIGHT TWO MATCH CARD
RK-Bro (Randy Orton and Riddle) (c) defeated The Street Profits (Angelo Dawkins and Montez Ford) and Alpha Academy (Chad Gable and Otis). Triple threat tag team match for the WWE Raw Tag Team Championship
OUR PREDICTION: RK-BRO
WINNER: THE STREET PROFITS
RATING: 8/10
This was the perfect match to start off night two of WrestleMania. It was a fast-paced opening tag team match with six great performers just going all out and doing what they do best. I feel like a majority of people thought that The Street Profits were going to win the titles. But RK-Bro were the right choice in the end. There was a great RKO by Randy Orton which was the highlight of the match and after the match RK-Bro and The Street Profits shook hands. This was a great fast-paced opener and really set the tone for the night.
---
Bobby Lashley defeated Omos. Singles match
OUR PREDICTION: BOBBY LASHLEY
WINNER: BOBBY LASHLEY
RATING: 5/10
This was a wrestling match between two big wrestlers. That's all you can say about this match really. Was it good? No. Was it bad? No, it wasn't. The only great thing about this match is that Bobby Lashley won the match. The story of the match was Bobby Lashley realizing that Omos was too big to get trapped in The Hurt Lock so he had to find another way to defeat him. Omos would pick Lashley up and slam him multiple times in the match because it's one of the few moves he can do properly and eventually Bobby Lashley hit Omos with a spear for the win. A plain wrestling match between two big men is the best way to describe this match to someone.
---
Johnny Knoxville defeated Sami Zayn. Anything Goes match
OUR PREDICTION: SAMI ZAYN
WINNER: JOHNNY KNOXVILLE
RATING: 8/10
This was such an entertaining match. The best way to describe it is Home Alone as a wrestling match. Sami Zayn was taking bumps from a giant hand, a fire extinguisher and even some of Johnny Knoxville's friends from Jackass. The highlight of the match though was Sami Zayn being thrown onto a table that was covered in mouse traps. This match was genuinely a joy to watch and one of the best things on the entire WrestleMania weekend. Sami Zayn makes everything that WWE give him turn into gold and this was no exception. Great match and honestly would love to see Knoxville again.
---
Naomi and Sasha Banks defeated Carmella and Queen Zelina (c), Liv Morgan and Rhea Ripley, and Natalya and Shayna Baszler. by pinfall Fatal four-way tag team match for the WWE Women's Tag Team Championship
OUR PREDICTION: NAOMI & SASHA BANKS
WINNER: NAOMI & SASHA BANKS
RATING: 4/10
We hate to say it, but this match was really boring. It wasn't the fault of any of the performers, just the fault of the length of the match. What are eight wrestlers supposed to do in just over 10 minutes? There wasn't enough time for all of them to show off what they can do in that amount of time. We had a tower of doom spot which was nice but we feel like we get that almost every week now so it doesn't seem as special. The right team won though after a unique tag team finisher from Naomi and Sasha Banks as they pinned Carmella for the three count.
---
Edge defeated AJ Styles. Singles match
OUR PREDICTION: EDGE
WINNER: EDGE
RATING: 8/10
We know a lot of people complained about this match and said it was too slow, but not every wrestling match has to be fast paced. Just because something is slower doesn't mean it's boring and the match wasn't even slow throughout the whole thing. The suplex onto the apron was a great spot and the finish left us intrigued. Damian Priest coming out to join Edge was a great choice for an ending and made me want to watch RAW the next night. Edge winning was the right decision as he hasn't had the best win record since his return. This was a great match.
---
Sheamus and Ridge Holland (with Butch) defeated The New Day (Kofi Kingston and Xavier Woods). Tag Team Match
WINNER: SHEAMUS & RIDGE HOLLAND
RATING: 2/10
This match was one minute long and essentially a squash match. The best part of this match was the Big E tribute attires worn by The New Day. The match was short but Ridge Holland won fairly quickly for his team. This was a waste of time and we wish it just never got cut from the first night so it could have been given more time.
---
Pat McAfee defeated Austin Theory (with Mr. McMahon). Singles match
OUR PREDICTION: AUSTIN THEORY
WINNER: PAT MCAFEE
RATING: 7/10
Nobody was talking about this match before the show and now everyone is talking about it after it happened. This match was great. Two great in ring workers and the added suspense of Mr. McMahon watching really made this match feel special. Austin Theory should've won but we're still not mad with the outcome we got. What happened after this match was great too with Mr. McMahon and Steve Austin. Pat McAfee did really well for this being his third wrestling match as he hit a perfect Swanton Bomb onto Austin Theory. Pat McAfee won the match after a rollup onto Austin Theory. Great fast paced action to get you ready for the main event.
---
Roman Reigns (Universal Champion) (with Paul Heyman) defeated Brock Lesnar (WWE Champion). Winner Takes All match for the WWE Championship and WWE Universal Championship
OUR PREDICTION: ROMAN REIGNS
WINNER: ROMAN REIGNS
RATING: 4/10
This match really under delivered but it wasn't the performers' faults. Roman Reigns got injured early into the match so they had to wrap it up quickly. Our only complaint about this match is that it was just a finisher fest meaning that pretty much only finishers were used. Brock Lesnar was knocked into the referee and Roman won after that with a spear. Boring match but once again the performers are not at fault. Roman was the right choice to win the match and it was nice seeing him have both titles.
---