WRESTLEMANIA 38: NIGHT TWO PREDICTIONS
WrestleMania 38: Night Two takes place on Sunday April 3rd 2022 and airs live from Dallas Texas. Will Roman Reigns defeat Brock Lesnar? Will there be only one WWE Championship belt? Tune in to the Peacock Network in the US or the WWE Network internationally.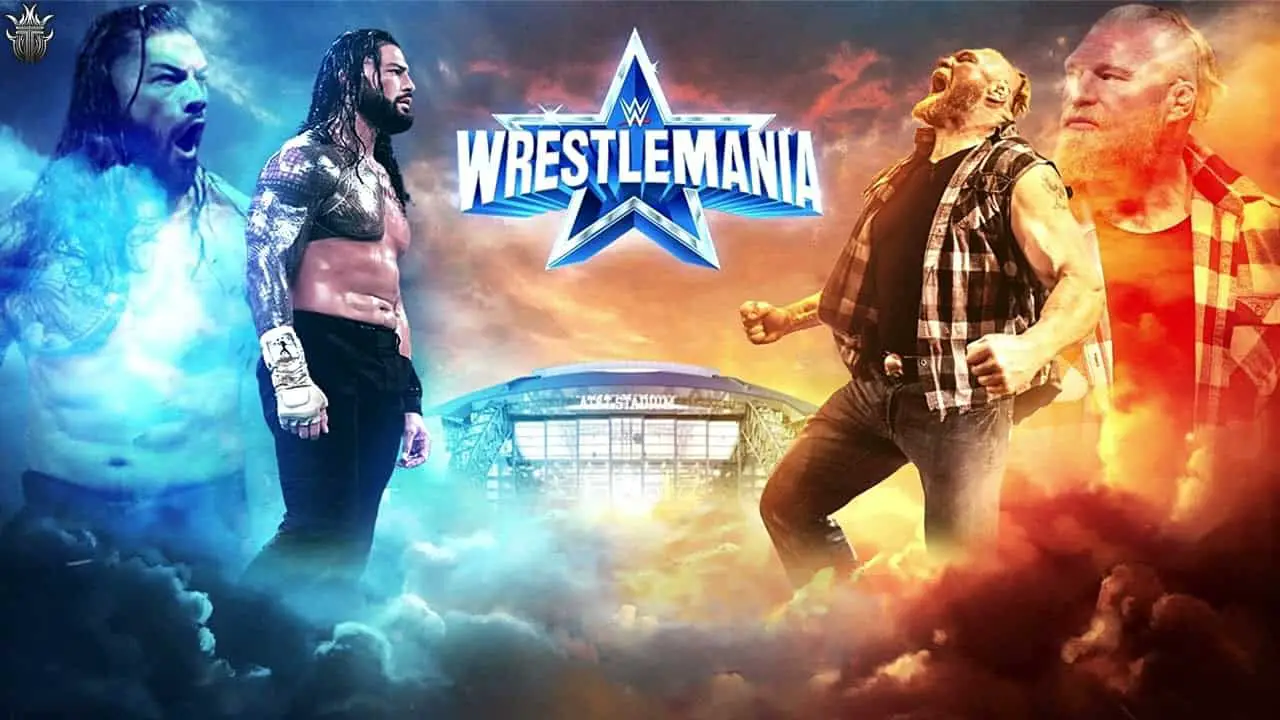 WRESTLEMANIA NIGHT TWO MATCH CARD
Queen Zelina and Carmella (c) vs. Sasha Banks and Naomi vs. Rhea Ripley and Liv Morgan vs. Natalya and Shayna Baszler. Fatal four-way tag team match for the WWE Women's Tag Team Championship
We think the only reason that this match is on the WrestleMania card is so that they can give Sasha Banks her first WrestleMania win. Sasha Banks deserves a win at WrestleMania but why here? Carmella and Zelina are the only actual women's tag team we have on the main roster. So, just have them retain and fight a team from NXT. Sasha Banks and Naomi will win though and even if it's the wrong choice, they still do deserve the moment.
OUR PREDICTION: SASHA BANKS & NAOMI
---
Johnny Knoxville vs. Sami Zayn. Anything Goes match
This is just going to be a fun match. Johnny Knoxville is probably going to do something crazy, but in the end Sami Zayn has to win here. We think the only reason they gave Ricochet the Intercontinental title was so that this match wasn't for the title. Sami Zayn will win the belt back after WrestleMania, so he needs to be built up to do so.
OUR PREDICTION: SAMI ZAYN
---
Pat McAfee vs. Austin Theory. Singles match
This match has been overlooked by fans, but we honestly believe that this could be one of the best matches over the WrestleMania weekend. Pat McAfee has shown that he is a good wrestler when he faced Adam Cole and participated in Wargames back in 2020. Austin Theory is going to win here though and will become the United States Champion soon. Austin theory would look pretty weak if he lost to Pat McAfee.
OUR PREDICTION: AUSTIN THEORY
---
RK-Bro (Randy Orton and Riddle) (c) vs. The Street Profits (Angelo Dawkins and Montez Ford) vs. Alpha Academy (Chad Gable and Otis). Triple threat tag team match for the WWE Raw Tag Team Championship
This match should have been a ladder match. There are two possible winners here. As much as we would love Alpha Academy to win because they deserve a longer reign, we just don't see it happening. The two options are RK-Bro and The Street Profits. The Street Profits turned heel recently and that's a huge reason we think they could win the titles and become two time RAW Tag Team Champions. But RK-Bro just won the titles, however, in the end we think The Street Profits are going to walk out as your new WWE RAW Tag Team Champions.
OUR PREDICTION: THE STREET PROFITS
---
Edge vs. AJ Styles. Singles match
The match that we all wanted to see is here. Edge hasn't had the best record since his return in 2020 and we think it's finally time we see that change due to his new character. This will be the best match of WrestleMania weekend but AJ Styles should take the loss here. There are also rumors that Edge will start a new faction after WrestleMania and a win over AJ Styles would be the perfect reason for people to join Edge's new faction. Sorry AJ, you're not winning here.
OUR PREDICTION: EDGE
---
Bobby Lashley vs. Omos. Singles match
We feel like this match is a bad situation no matter how it turns out because the loser is going to look weak. Everyone believes that Bobby Lashley is going to win, but this is the WWE we're talking about and Omos is tall and scary, and that's what WWE wants. This might be the worst match of the weekend but Omos is going to walk out victorious. Don't be surprised if he's carrying a championship by the end of the year too.
OUR PREDICTION: OMOS
---
Brock Lesnar (WWE Champion) vs. Roman Reigns (Universal Champion) (with Paul Heyman). Winner Takes All match to unify the WWE Championship and WWE Universal Championship
Roman Reigns is going to win. Roman has never beaten Brock Lesnar at WrestleMania before and this is finally the day it happens. Roman Reigns is going to retain his Universal Championship and become the new WWE Champion. We would assume after this they retire the Universal Championship and just continue the legacy of the WWE Championship.
OUR PREDICTION: ROMAN REIGNS
---