ELIMINATION CHAMBER RECAP & REVIEW
Elimination Chamber 2022 took place on Saturday February 19 at Jeddah Super Dome in Jeddah, Saudi Arabia. The Elimination Chamber pay-per-view event streamed live on Peacock in the US and on the WWE Network internationally.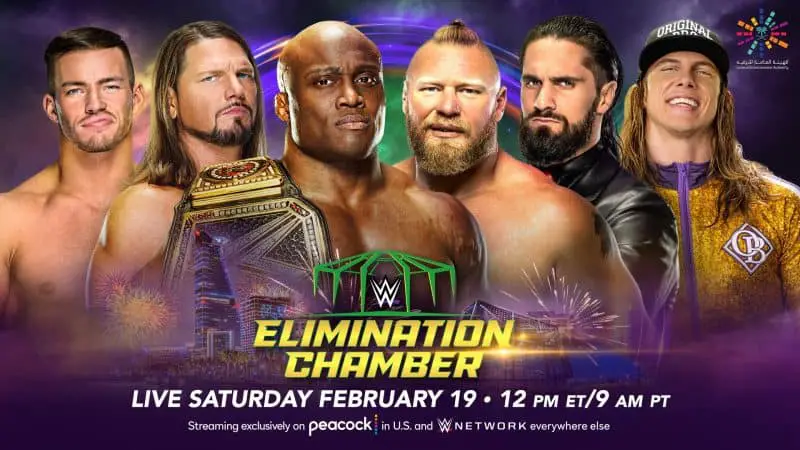 ELIMINATION CHAMBER – MATCH CARD
Roman Reigns (c) (with Paul Heyman) vs Goldberg. Singles match for the WWE Universal Championship
OUR PREDICTION: ROMAN REIGNS
WINNER: ROMAN REIGNS
RATING: 3/10
This match was just a reminder of how much Goldberg needs to retire. He didn't look good at all and was slower than usual. Roman Reigns did look strong in the end so we guess that makes it alright. But anyone else could have had this match against Reigns. They could have given us Sheamus vs Roman Reigns and instead we got this garbage. At least Roman retained and that's all that matters.
---
Bianca Belair vs Alexa Bliss, Doudrop, Liv Morgan, Nikki A.S.H., and Rhea Ripley. Elimination Chamber match for a WWE Raw Women's Championship match at WrestleMania 38
OUR PREDICTION: ALEXA BLISS
WINNER: BIANCA BELAIR
RATING: 5/10
WWE actually made the right choice here and didn't have Alexa Bliss win. At the end of the match Bianca Belair won last, eliminating Alexa Bliss. This match was nothing special and didn't even feel like an elimination chamber match. It could have been a regular match and felt the exact same. But overall the in ring action was fine and they had the right choice in the winner.
---
Naomi and Ronda Rousey vs Charlotte Flair and Sonya Deville. Tag team match
OUR PREDICTION: RONDA ROUSEY & NAOMI
WINNER: RONDA ROUSEY & NAOMI
RATING: 5/10
The reason this match was here was just to make Ronda Rousey look good and it did a good job at that. She had to wrestle the match with one arm tied behind her back and it worked. The only problem is that the match was just boring overall and nothing memorable. Ronda looked strong and she won by making Sonya Deville tap out.
---
Drew McIntyre vs Madcap Moss (with Happy Corbin)
OUR PREDICTION: DREW MCINTYRE
WINNER: DREW MCINTYRE
RATING: 7/10
This was a way better match than expected. Madcap Moss has so much talent and really deserves a better gimmick. Drew McIntyre is also just as good as he has always been. Sadly, this is setting up Happy Corbin vs Drew McIntyre at WrestleMania. The match had a bad spot where Madcap Moss landed on his head but other than that it was really good. Drew McIntyre also looked strong.
---
Becky Lynch (c) vs Lita. Singles match for the WWE Raw Women's Championship
OUR PREDICTION: BECKY LYNCH
WINNER: BECKY LYNCH
RATING: 8/10
This was a dream match and it lived up to the hype. Arguably, the best match of the night and was a great back and forth contest. Lita can still go in the ring and might even be better than she was before. Becky Lynch retaining was very obvious though and that really took away from the match because it was predictable. The match was still really good and probably the best of the night.
---
Brock Lesnar vs Bobby Lashley (c), AJ Styles, Austin Theory, Riddle, and Seth "Freakin" Rollins. Elimination Chamber match for the WWE Championship
OUR PREDICTION: BOBBY LASHLEY
WINNER: BROCK LESNAR
RATING: 8/10
This match was a really fun match. There was only one problem with it and that was the wrong person won. Brock Lesnar winning was the wrong decision. Anyone but him should have won because no one wants champion vs champion at WrestleMania. Either way the match was still really good and Austin Theory was made into a star and the in ring action was perfect. Amazing match.