EXTREME RULES 2021: OUR PREDICTIONS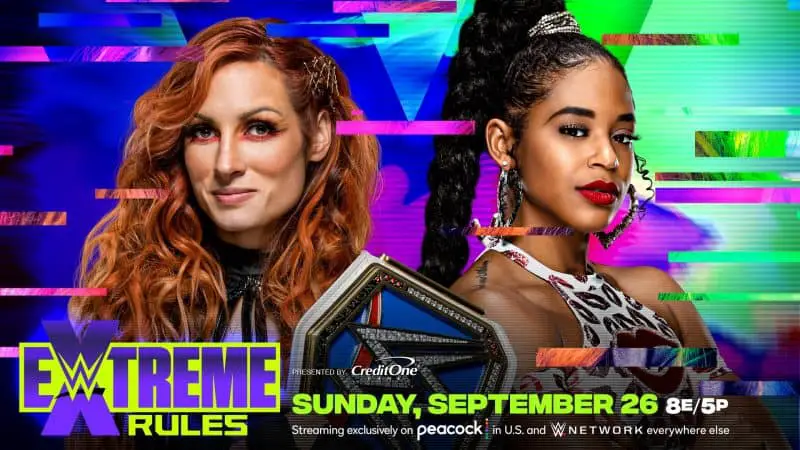 EXTREME RULES 2021 MATCH CARD
Becky Lynch (c) vs. Bianca Belair. Single match for the WWE SmackDown Women's Championship.
Becky Lynch is going to retain. She just won the title last month. Bianca Belair will hopefully put up a good fight this time though. Becky Lynch will probably win by some sort of cheating though. Not much to say about this match we all know what the outcome is going to be.
OUR PREDICTION: Becky Lynch wins
---
Damian Priest (c) vs. Jeff Hardy vs. Sheamus. Triple Threat match for the WWE United States Championship
Damian Priest is going to retain. Sadly, we feel they only added Jeff Hardy to this match so he could be the one to take the pinfall. This match will still be really good and could honestly be the match of the night. Damian Priest deserves a long run though.
OUR PREDICTION: Damian Priest wins
---
Charlotte Flair (c) vs. Alexa Bliss. Singles match for the WWE Raw Women's Championship
This is the only title change we see happening at Extreme Rules. WWE seems to love having Charlotte Flair win the title and then lose it soon after. We're not big fans of this Alexa Bliss character but giving her the championship would be interesting so we're not against it since RAW needs something new.
OUR PREDICTION: Alexa Bliss wins
---
Roman Reigns (c) (with Paul Heyman) vs. "The Demon" Finn Bálor. Extreme Rules match for the WWE Universal Championship
Roman Reigns will retain. But Brock Lesnar will come out and attack both men so that Finn doesn't look weak in defeat. This should still be a great match and these two could potentially steal the show. These men have been making SmackDown great every week so hopefully it pays off here.
OUR PREDICTION: Roman Reigns wins
---
The Usos (Jey Uso and Jimmy Uso) (c) vs. The Street Profits (Angelo Dawkins and Montez Ford). Tag Team match for the WWE SmackDown Tag Team Championship
This match could also be the match of the night as these are some of the best tag teams in the world right now. The Usos should hold onto those titles for a long time though. The Street Profits need to move to RAW in the WWE Draft, that's what we all want to see.
OUR PREDICTION: The Usos win
---
Liv Morgan vs Carmella. Singles Match
Liv Morgan will win. She needs momentum as she could be a big star in the women's division and has the fan support to do so. Carmella doesn't need this win as much either. It's really hard to care about this match though with the lackluster buildup.
OUR PREDICTION: Liv Morgan wins