NXT TAKEOVER 36 RECAP & REVIEWS
NXT TakeOver 36 was a professional wrestling pay-per-view and WWE Network event produced by WWE for its NXT and NXT UK brand divisions. It took place on August 22, 2021, and was broadcast from the Capitol Wrestling Center, hosted at the WWE Performance Center in Orlando, Florida.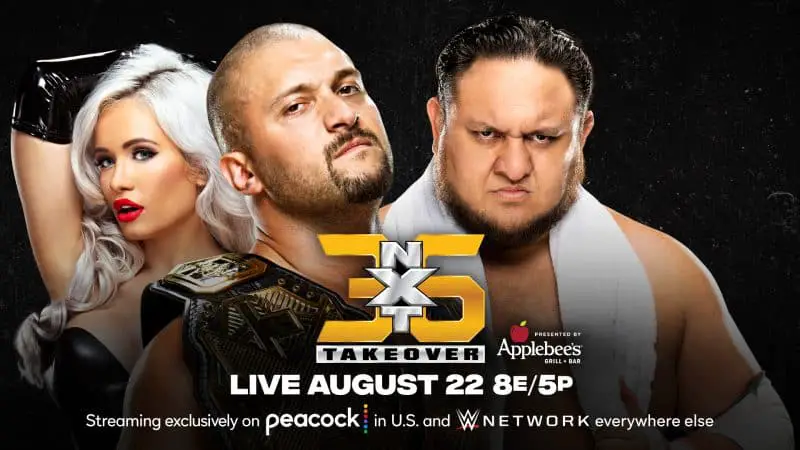 NXT TAKEOVER 36 MATCH CARD
Cameron Grimes (with Ted DiBiase) vs LA Knight (c). Singles match for the Million Dollar Championship
OUR PREDICTION: CAMERON GRIMES
WINNER: CAMERON GRIMES
OUR RATING: 5/10
This was a pretty good match to open the show. The problem was how predictable it was. We knew that Cameron Grimes was going to win because what would be the point of him losing a third time in a row? This match was more of the same though which was another problem that we had with it. We have seen this match multiple times and they still haven't done anything new with it. This was all about the moment of Grimes holding the championship. Overall this was a fine match and a fine opener but nothing special.
---
Raquel González (c) vs Dakota Kai. Singles match for the NXT Women's Championship
OUR PREDICTION: RAQUEL GONZALEZ
WINNER: RAQUEL GONZALEZ
OUR RATING: 5/10
This match was good but we couldn't help but feel underwhelmed about it. We expected so much more from such a personal rivalry. This match was also dragged down by the winner. Raquel should not have won this match – it was finally Dakota Kai's time to win a championship, and it didn't happen. The match ended with a big powerbomb to Kai for Raquel to win. Overall, it was an underwhelming match much like the first match of the night.
---
Ilja Dragunov vs Walter (c). Singles match for the NXT United Kingdom Championship
OUR PREDICTION: ILJA DRAGUNOV
WINNER: ILJA DRAGUNOV
OUR RATING: 9/10
This was the best match of the entire year – not just in NXT but in all of WWE, maybe even all of professional wrestling. The storytelling was amazing with Dragunov slowly trying to take down the much bigger Walter. This was a back and forth match with near fall after near fall. This was a very physical match especially with Walter's big chops on Dragunov's chest. This match was almost perfect in storytelling and actual wrestling moves. The only downside being the length – we think it should have gone on a bit longer.
---
Kyle O'Reilly vs Adam Cole 2–1. Two-out-of-three-falls match
OUR PREDICTION: KYLE O'REILLY
WINNER: KYLE O'REILLY
OUR RATING: 8/10
This match was awesome. the rivalry was getting very stale but this match was great regardless. The first fall went to Kyle O'Reilly with the second going to Adam Cole. The final fall was held in a steel cage and was the best part of the match. The only thing dragging down this match was the ending, Kyle O'Reilly locked Adam Cole in a submission while in handcuffs and it didn't look the best. Overall a great match though and a great ending to this story.
---
Samoa Joe vs Karrion Kross (c). Singles match for the NXT Championship
OUR PREDICTION: SAMOA JOE
WINNER: SAMOA JOE
OUR RATING: 5/10
This match wasn't anything special. It was pretty slow overall and could have been so much more. Every move had a lot of impact though due to the size of both men. The match ended with a Muscle Buster to Kross. Overall an okay match with a great choice in the winner.