SUMMERSLAM 2021 PREDICTIONS
WWE's biggest spectacle of the summer is upon us with WWE SummerSlam set to take place live on Saturday, August 21 from Allegiant Stadium in Las Vegas. The pay-per-view event is on the Peacock Network in the US starting at 7 PM and on the WWE Network internationally.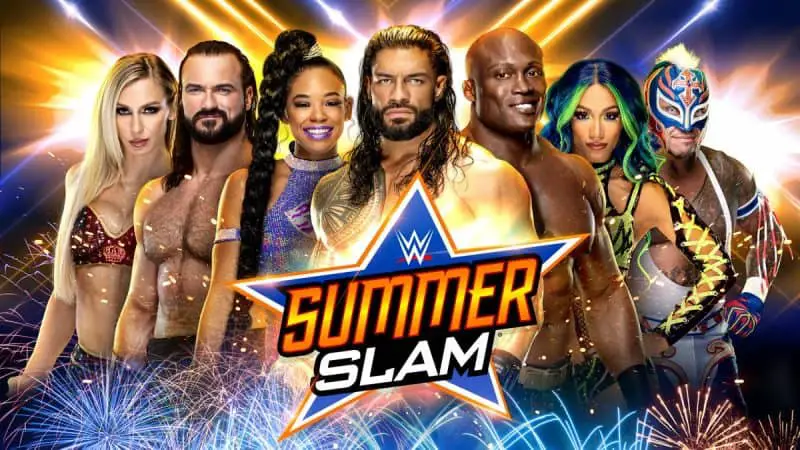 SUMMERSLAM 2021 MATCH CARD
Nikki A.S.H. (c) vs. Charlotte Flair vs. Rhea Ripley. Triple Threat match for the WWE RAW Women's Championship
Nikki A.S.H. is going to retain at SummerSlam. She just won the championship and deserves a longer reign. This should be a good match even though people are tired of Charlotte Flair and Rhea Ripley.
OUR PREDICTION: Nikki A.S.H. wins
---
Roman Reigns (c) (with Paul Heyman) vs. John Cena. Singles match for the WWE Universal Championship
This match will be amazing. Two icons facing off in a highly anticipated rematch. Roman Reigns is definitely going to retain though. Sadly, we don't believe that Cena has the schedule to be the Universal Champion due to his Hollywood career now. Roman Reigns is going to be champion for much longer so don't expect his reign to end here.
OUR PREDICTOIN: Roman Reigns wins
---
Bobby Lashley (c) (with MVP) vs. Goldberg. Singles match for the WWE Championship
Bobby Lashley is going to retain. Goldberg only wrestles two matches per year due to his contract so he won't win. This is going be a time suck with Bobby Lashley getting the big win.
OUR PREDICTION: Bobby Lashley wins
---
The Usos (Jey Uso and Jimmy Uso) (c) vs. Rey Mysterio and Dominik Mysterio. Tag team match for the WWE SmackDown Tag Team Championship
This is probably the most predictable match of the night. The Usos just won the championships last month over The Mysterio's, so they won't lose to them now.
OUR PREDICTION: The Usos win
---
Bianca Belair (c) vs. Sasha Banks. Singles match for the WWE SmackDown Women's Championship
We feel like Bianca Belair has so much more to do with her title reign. We can see this match going either way though. A very unpredictable match. Sasha Banks just returned and they might want her to win the championship again.
OUR PREDICTION: Sasha Banks wins
---
Edge vs. Seth Rollins. Singles match
A dream match is finally becoming reality this Saturday when Edge takes on Seth Rollins. This match could go either way but we think Seth Rollins is going to win here. They need to make Seth Rollins look good enough to be Roman Reigns' next challenger. This should be an absolutely amazing match though.
OUR PREDICTON: Seth Rollins wins
---
Sheamus (c) vs. Damian Priest. Singles match for the WWE United States Championship
We're really enjoying Sheamus's reign as champion, but we think that it is time for someone new to hold the belt. WWE is clearly high on Damian Priest and we think that he would be a great champion. This match could also go either way but we think Priest is gonna win.
OUR PREDICTION: Damian Priest wins
---
Drew McIntyre vs. Jinder Mahal. Singles match
This match is only here for Drew McIntyre to have a match at SummerSlam. Jinder Mahal is going to lose and this rivalry will most likely continue. Not much to say about this one overall but the buildup to the match has been decent. Jinder Mahal and Drew McIntyre both need to move onto something else though.
OUR PREDICTON: Drew McIntyre wins
---
Alexa Bliss vs. Eva Marie (with Doudrop). Singles match
This match is going to be a bathroom break match for most people. We don't blame them though, the build up to this match has been terrible and Eva Marie's in ring work is terrible. Not to mention the fact that we hate Alexa Bliss's gimmick after the Bray Wyatt release. Nothing against Alexa as she is just doing what she's told.
OUR PREDICTION: Alexa Bliss wins
---
AJ Styles and Omos (c) vs. RK-Bro (Randy Orton and Riddle). Tag Team match for the WWE Raw Tag Team Championship
RK-Bro is the most popular thing on RAW right now and they are going to win. Omos and AJ Styles need to move onto something else anyways. Not that their reign has been bad – we've enjoyed it quite a bit actually. RK-Bro is winning in the end though.
OUR PREDICTON: RK-BRO wins
---