WRESTLEMANIA BACKLASH RECAP & REVIEWS
WrestleMania Backlash was a professional wrestling pay-per-view and WWE Network event produced by WWE for its RAW and SmackDown brand divisions. It took place on May 16, 2021 and was broadcast from the WWE ThunderDome, hosted at the Yuengling Center in Tampa, Florida.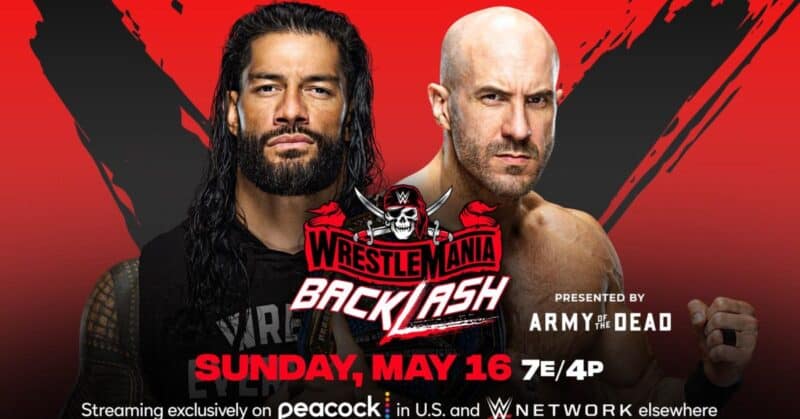 WRESTLEMANIA BACKLASH MATCHES
Rhea Ripley (c) vs Asuka vs Charlotte Flair. Triple threat match for the WWE RAW Women's Championship
OUR PREDICTION: CHARLOTTE FLAIR
WINNER: RHEA RIPLEY
RATING: 6/10
RECAP: This was a decent match. It's hard for a match to be interesting though when you just don't care. WWE did a really poor job building up this storyline and spots seemed sloppy. It just seems that these three should be capable of so much more since they've all had better performances. It wasn't bad though and did what it had to do. It set up Rhea Ripley vs Charlotte Flair. The match was a decent opener though and Ripley retaining was a good idea.
---
Rey Mysterio and Dominik Mysterio vs Dolph Ziggler and Robert Roode (c). Tag team match for the WWE SmackDown Tag Team Championship
OUR PREDICTION: REY MYSTERIO & DOMINIK MYSTERIO
WINNER: REY MYSTERIO & DOMINIK MYSTERIO
RATING: 7/10
RECAP: This match was built up around Rey Mysterio fighting Ziggler and Roode as Dominik Mysterio was taken out before the match. In the end, we knew that the Mysterios would win. Ziggler and Roode had the advantage most of the match until Dominik Mysterio came from the back and helped his dad win. It was the second longest match of the night which was a shock but it was far from bad and the result was welcomed. A bit dull in some spots and was very predictable.
---
Damian Priest vs The Miz (with John Morrison). Lumberjack match
OUR PREDICTION: DAMIAN PRIEST
WINNER: DAMIAN PRIEST
RATING: 6/10
RECAP: The lumberjacks were zombies to promote Batista's new movie. Now this might be an unpopular opinion but we think it was good. When WWE does stupid stuff like this we enjoy it because it doesn't happen too often. Granted due to the zombies, the in-ring actions were not as good as they should have been and some parts were sloppy. This was just dumb fun and had the right winner.
---
Bianca Belair (c) vs Bayley. Singles match for the WWE SmackDown Women's Championship
OUR PREDICTION: BIANCA BELAIR
WINNER: BIANCA BELAIR
RATING: 6/10
RECAP: This was a fine match – nothing too special and it did the job well. Hopefully these two get another chance to show off their skills in the ring together. The finish was also botched with the commentators not knowing if Bayley kicked out or not. Still, a fine match and hopefully we get a rematch at Hell in a Cell. A fine match with a botched finish and nothing memorable.
---
Bobby Lashley (c) (with MVP) vs Braun Strowman vs Drew McIntyre. Triple threat match for the WWE Championship
OUR PREDICTION: BOBBY LASHLEY
WINNER: BOBBY LASHLEY
RATING: 8/10
RECAP: This match surprised everyone. No one expected much from this match but it was fast paced and really well done. There were great spots such as McIntyre throwing Lashley through the LED boards on the stage and Strowman throwing McIntyre through the table. The right man won the match as well even though it was predictable.
---
Roman Reigns (c) (with Paul Heyman) vs Cesaro. Singles match for the WWE Universal Championship
OUR PREDICTION: ROMAN REIGNS
WINNER: ROMAN REIGNS
RATING: 9/10
RECAP: This was the match of the night as everyone expected. These two went for almost 30 minutes and we never felt bored. Just a good classic clean wrestling match. No outside interference either. Cesaro should get a title reign eventually. Everything about this match was great including the finish. They gave everyone hope that Cesaro was going to win but then Roman Reigns locked in the guillotine and won the match by submission. Overall a near perfect match and we need a rematch eventually.