Fastlane was a professional wrestling pay-per-view and WWE Network event produced by WWE for their RAW and SmackDown brand divisions. It took place on March 21, 2021, and was broadcast from the WWE ThunderDome, hosted at Tropicana Field in St. Petersburg, Florida.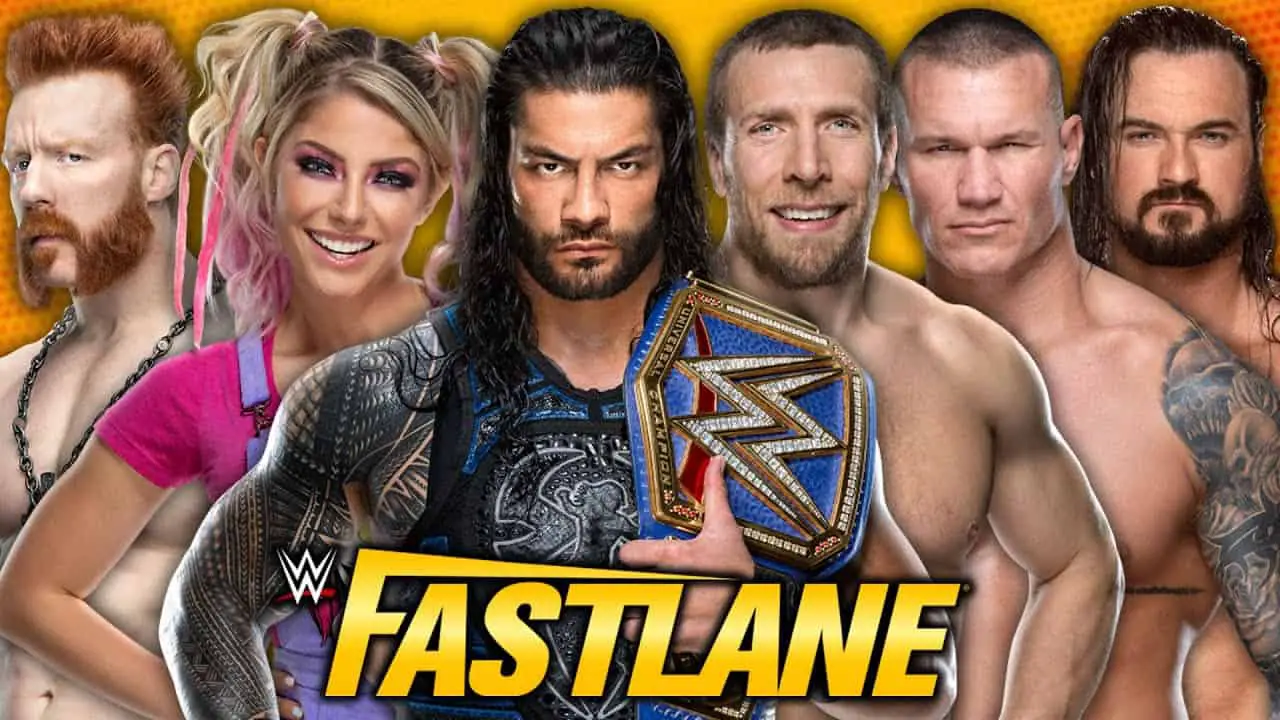 FASTLANE 2021 MATCHES
Nia Jax and Shayna Baszler (c) (with Reginald) vs Bianca Belair and Sasha Banks. Tag team match for the WWE Women's Tag Team Championship
OUR PREDICTION: NIA JAX & SHAYNA BASZLER
WINNER: NIA JAX & SHAYNA BASZLER
RATING: 3/10
This was a pretty forgettable match. It was boring overall and had a dumb finish with Reginald distracting the referee. This doesn't make your SmackDown Women's Championship match look better at WrestleMania either with both competitors looking as weak as they ever have.
---
Big E vs. Apollo Crews – Singles match for the WWE Intercontinental Championship
OUR PREDICTION: BIG E
WINNER: BIG E
RATING: 8/10
This was a really good match with a horrible ending. We can't tell if it was a botch or not or if the referee might have accidentally counted to three so Big E won the match. After watching the match a second time, it still looked really bad. Hopefully, we get some explanation or resolve on SmackDown this week. After the match, Apollo Crews attacked Big E as well so this feud is definitely going to continue.
---
Braun Strowman vs Elias – Singles match
OUR PREDICTION: BRAUN STROWMAN
WINNER: BRAUN STROWMAN
RATING: 2/10
This was a squash match. Elias was just a replacement for Shane McMahon who was injured while training. Worst match of the night by far but that's not really a surprise. Elias needs something to do. Maybe feud for the United States Championship but he is far too good to be wasted. Overall, a boring match that no one cared about.
---
Seth Rollins vs Shinsuke Nakamura – Singles match
OUR PREDICTION: SETH ROLLINS
WINNER: SETH ROLLINS
RATING: 7/10
The first great match of the night and could be considered the best match. Shinsuke Nakamura also looked pretty strong in a losing effort. There were a few bland spots but Seth Rollins won the short match after hitting Nakamura with the stomp.
---
Drew McIntyre vs Sheamus – No Holds Barred match
OUR PREDICTION: DREW MCINTYRE
WINNER: DREW MCINTYRE
RATING: 7/10
This was another really great match. These two men always have great chemistry in the ring and this match was absolutely brutal. Sheamus had a kendo stick poking into his eye, and there was an amazing suplex onto the hard floor. Overall, a great match and we recommend a watch.
---
Alexa Bliss vs. Randy Orton – Intergender match
OUR PREDICTION: ALEXA BLISS
WINNER: ALEXA BLISS
RATING: 4/10
This was a dumb match – if you can even call it that. Alexa Bliss made Randy Orton spit out black goo, have fire shoot at him and almost have a light fall on him as well. This all culminated in the best part of the match with The Fiend making his return all burnt up and hitting Orton with the Sister Abigail which led to Alexa Bliss' win. Overall, really dumb but it was great to see The Fiend return.
---
Roman Reigns (c) (with Paul Heyman) vs Daniel Bryan – Singles match for the WWE Universal Championship
OUR PREDICTION: ROMAN REIGNS
WINNER: ROMAN REIGNS
RATING: 8/10
This was definitely the Fastlane match of the night! These two had so many false finishes, reversals and submission holds. Roman and Daniel both had control at points as well. Daniel Bryan accidentally hit the ref which meant that Edge had to come in as the special guest referee. Edge followed all the rules until Jey Uso came out hitting Daniel Bryan and Edge with a chair. Then, Daniel Bryan made Roman Reigns tap out but Edge did not see it as he had just been knocked down. After Edge got up he was mad as he hit both Roman Reigns and Daniel Bryan with a steel chair before leaving the ring in anger. Roman then pinned Bryan for the win after a new referee came out to the ring. Overall a great match and better than their 2015 Fastlane match as well.
---