Mercedes Justine Kaestner-Varnado is a 30-year-old wrestler from Fairfield, California. Kaestner-Varnado wrestles for the WWE and performs on SmackDown under the ring name, Sasha Banks.
Kaestner-Varnado began training at Chaotic Wrestling in 2008 and made her in-ring debut for the promotion in 2010 under the ring name, Mercedes KV. On January 7, 2011,  KV earned her first victory when she and Roxx defeated Alexxis and Mistress Belmont in a tag team match. On December 2, she defeated Alexxis in a "I Quit" match to win the Chaotic Wrestling Women's Championship for the first time. She successfully defended the title in numerous matches and became the longest reigning Chaotic Wrestling Women's Champion in history with her reign lasting 259 days.
Kaestner-Varnado's WWE Tryout
In 2012, Kaestner-Varnado participated in a WWE tryout camp and on August 18, it was announced that she had signed a contract with the WWE. She was assigned to the WWE's developmental territory, NXT, and made her televised debut with her new ring name, Sasha Banks, in December 2012 losing against Paige.
At NXT TakeOver: Rival, Banks defeated Charlotte Flair, Bayley and Becky Lynch to win the NXT Women's Championship. She lost the title to Bayley, her friend and rival, at NXT TakeOver: Brooklyn on August 22 2015.
Sasha Banks' Main Roster Debut
In July 2015 alongside Becky Lynch and Charlotte Flair, Sasha Banks made her main roster debut and aligned herself with Naomi and Tamina to create Team B.A.D. Sasha Banks was aligned with Team B.A.D. until January 2016 when she claimed to have moved on from Team B.A.D. This resulted in a tag team match with Banks teaming with Becky Lynch to take on Naomi and Tamina.
After being drafted to RAW in 2016, Sasha Banks began feuding with Charlotte and they had multiple title matches resulting in multiple title changes. Banks won the title three times in 2016 with all three reigns lasting under 30 days.
Sasha Banks & Bayley Become WWE Women's Tag Team Champions
In 2017, Banks had another title reign after defeating Alexa Bliss. Then in 2019, Banks teamed with rival and friend Bayley and they competed at Elimination Chamber 2020 and became the first ever WWE Women's Tag Team Champions. After losing the titles, Banks vanished from television and came back later that year turning heel, and then aligned herself with Bayley.
In 2020, Sasha Banks and Bayley won their second Women's Tag Titles after defeating Alexa Bliss and Nikki Cross on SmackDown. They lost the titles to Nia Jax and Shayna Baszler at the pay-per-view event, PayBack, on August 30, 2020. Banks won the RAW Women's Championship for a fifth time after defeating Asuka and lost it back to her a month later.
Sasha Banks Wins SmackDown Women's Championship
At the Hell In A Cell pay-per-view event on October 25, 2020, Sasha Banks defeated Bayley to won the SmackDown Women's Championship. Banks lost the SmackDown Women's Championship to Bianca Belair at WrestleMania 37. Her title reign lasted 167 days.
Following WrestleMania 37, Sasha Banks was noticeably absent from WWE TV. She then returned on SmackDown's July 30th episode o help Bianca Belair fend off an attack by Carmela and Zelina Vega. She then turned on Belair to stake her claim to her former title.
Sasha Banks was supposed to compete at SummerSlam but was pulled from the event at the last minute. She was replaced by Becky Lynch who returned to WWE after her maternity leave. Banks made her second return of the year at Extreme Rules the following month. She ambushed Lynch and Belair in the midst of their SummerSlam rematch, thereby prompting a disqualification.
 A triple threat match between Banks, Lynch and Belair for the SmackDown Women's Championship was then scheduled for the Crown Jewel event in October. Banks was unsuccessful at regaining the title. In November, Sasha Banks was the captain of the SmackDown women's team at Survivor Series. She was eliminated via count out.
On January 2, 2022, Banks sustained a calcaneus injury during a house show match against Charlotte Flair. She made her return on the January 28 episode of SmackDown, where she declared for the Royal Rumble match. At Royal Rumble, Banks entered first, eliminating Melina and Kelly Kelly before being eliminated by Queen Zelina.
Sasha Banks & Naomi Reunite Team B.A.D.
On the February 25th episode of SmackDown, Naomi announced that her and Banks were going to challenge for the WWE Women's Tag Team Championship, thus reuniting Team B.A.D. as a duo. On the following episode of RAW, reigning champions Carmella and Queen Zelina accepted their challenge, consequently setting up the bout for WrestleMania 38.
At WrestleMania 38, Sasha Banks and Naomi competed in and won the WWE Women's Tag Team Championships. The match was a fatal 4-way with the Banks and Naomi facing Queen Zelina & Carmella, as well as the teams of Rhea Ripley & Liv Morgan and Shayna Baszler & Naomi.
WWE Suspends Sasha Banks & Naomi
On the May 16th episode of Monday Night RAW, Naomi and Sasha Banks refused to participate in a main event six-pack challenge. Sasha and Naomi left the building and WWE had to come up with a new main event for RAW. As a result, WWE announced that Naomi and Sasha Banks were suspended indefinitely. The duo were also stripped of their WWE Women's Tag Team Championship titles.
SHOW LESS
Sasha Banks Photos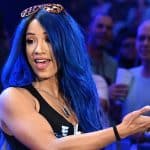 Career Championships and Accomplishments
Chaotic Wrestling

Chaotic Wrestling Women's Championship (1 time)

Independent Wrestling Entertainment

IWE Women's Championship (1 time)

Ring Wars Carolina

RWC No Limitz Championship (1 time)

World Wrestling Entertainment (WWE)

NXT Women's Championship (1 time)
WWE RAW Women's Championship (5 times)
WWE Women's Tag Team Championship (3 times)
NXT Year-End Award (1 time)
WWE SmackDown Women's Championship (1 time)