Andrew William Hankinson is a 39-year-old professional wrestler from Cumberland, Maryland. Hankinson is currently signed with World Wrestling Entertainment and performs under the ring name, Luke Gallows, on SmackDown. He is a member of The O.C. stable.
Early Wrestling Career
Andrew Hankinson began his wrestling career in West Virginia with Mason-Dixon Wrestling. He also wrestled for the Pennsylvania promotion, the World Star Wrestling Federation (AWA/World Star Wrestling). Hankinson also wrestled for Summit Wrestling Association of Southern Pennsylvania as well as Maryland-based wrestling promotions like the National Wrestling League and the Eastern Wrestling Alliance. His ring name was Dorian Deville. For West Virginia's Championship Pro Wrestling, he performed as a masked wrestler named Dargon. Hankinson also played college football at Fairmont State University.
WWE's Tough Enough
Hankinson was signed to a contract by World Wrestling Entertainment (WWE) after competing on the company's reality TV show, Tough Enough. Hankinson failed to make it as one of the final ten contestants but was assigned to WWE's developmental territory, the Deep South Wrestling (DSW).
While wrestling for DSW, he performed under the ring name Dorian "Deacon" Deville and changed it again to The Freakin' Deacon. His gimmick was to portray a deranged wrestler who was accompanied to the ring by his pet spider, Willow.
WWE Main Roster Debut
Hankinson made his WWE main roster debut on May 29th 2006 on RAW as an imposter Kane. He wore Kane's old mask and ring costume, and chokeslammed Kane during his match against Shelton Benjamin for the WWE Intercontinental Championship. This started a number of attacks against Kane by Hankinson and culminated in a match between Hankinson and Kane at the Vengeance pay-per-view. Hankinson defeated Kane using one of Kane's finishers. The storyline ended a night later when the real Kane attacked the Imposter Kane, removed his mask, and threw him out of the building. Hankinson then returned to Deep South Wrestling. He also started appearing at SmackDown! house shows.
In May 2007, Hankinson was repackaged as "Festus Dalton" and part of a tag team using a Southern gimmick, alongside a fellow WWE developmental talent, Ray Gordy. A month later though, WWE dropped the "Dalton Boys" gimmick. Both wrestlers were sent to Ohio Valley Wrestling instead and Hankinson changed his ring name to "Justice Dalton."
At the end of June 2007, WWE began airing vignettes hyping Jesse and Festus as a tag team. In October, Festus won his debut match alongside Jesse. In March 2008, Jesse and Festus had a chance to face John Morrison and The Miz for the WWE Tag Team Championship. Jesse and Festus lost to Morrison and The Miz. On April 15, 2009, Festus was drafted to WWE's RAW brand as part of the 2009 Supplemental Draft. As a result of the Draft, Festus was separated from his tag team partner Jesse, who remained on SmackDown.
Hankinson Becomes Luke Gallows
After a three-month hiatus from television, Hankinson returned on the November 27, 2009, episode of SmackDown. He was repackaged as a villain with the ring name, Luke Gallows. He began teaming with CM Punk and in December, they defeated Matt Hardy and R-Truth. CM Punk and Luke Gallows became known as The Straight Edge Society. They competed in, but were eliminated in a Triple Threat elimination tag team match between them, The Miz and Big Show and DX for the Unified WWE Tag Team Championship on February 8th, 2010.  At WrestleMania XXVI Luke Gallows competed in a dark 30-man battle royal, which was won by Yoshi Tatsu. On the September 16th episode of WWE Superstars, before a match with MVP, Gallows announced that he was no longer part of the Society and proclaimed he was his own man.
Luke Gallows began a slow face turn when he confronted CM Punk in a backstage segment on the September 24th episode of SmackDown. He stating that after defeating him, he would have a beer, but lost the match to Punk later that night. Officially a face in the WWE, Gallows wrestled and defeated Vance Archer on the November 4th episode of Superstars.  Two weeks later, Hankinson was released from his WWE contract on the same day, along with several other superstars.
Hankinson Joins The Independent Circuit
After being released from WWE, Hankinson began wrestling for various promotions like Japan's Inoki Genome Federation, NWA Rampage, World Wrestling Fan Xperience (WWFX), Pro Wrestling Noah, and Global Force Wrestling.
Hankinson then went on to join Total Nonstop Action Wrestling and worked for TNA Wrestling from 2011 to 2013. On November 11, 2013, New Japan Pro-Wrestling announced Hankinson as a participant in the 2013 World Tag League. He teamed with Karl Anderson as part of Bullet Club and established himself as a heel. Together, they won the IWGP Tag Team Championship on January 4, 2014 at Wrestle Kingdom 8 in Tokyo Dome by defeating K.E.S. (Davey Boy Smith Jr. and Lance Archer). Gallows and Anderson defended their titles successfully numerous times over the period of a year. They lost the titles on January 4th, 2015 at Wrestle Kingdom 9 in Tokyo Dome when they were defeated by Goto and Shibata.
Luke Gallows and Anderson regained the title from Goto and Shibata on February 11 at The New Beginning in Osaka. They lost the titles again to The Kingdom (Matt Taven and Michael Bennett) on April 5 at Invasion Attack 2015. They regained the titles from The Kingdom on July 5 at Dominion 7.5 in Osaka-jo Hall. On January 4, 2016, at Wrestle Kingdom 10 in Tokyo Dome, Gallows and Anderson lost the IWGP Tag Team Championship to Togi Makabe and Tomoaki Honma. A few hours after the event, it was reported that both Gallows and Anderson had given their notice to NJPW on the morning of January 4th, 2017, and that they were leaving the promotion for WWE.
Luke Gallows Returns to WWE
Luke Gallows and Karl Anderson made their debut on the April 11, 2016, episode of RAW, and attacked The Usos. A week later, they attacked WWE World Heavyweight Champion, Roman Reigns, following his promo with AJ Styles. At first, AJ Styles was reluctant to accept their help in his feud with Reigns. They wrestled their first WWE match on April 25th where they defeated The Usos.
As part of the WWE's draft in July, both Gallows and Karl Anderson were drafted to the company's RAW brand. AJ Styles, however, was drafted to SmackDown. At WWE's Battleground pay-per-view, The Club wrestled together for the final time, losing to John Cena and Enzo and Cass. Gallows and Anderson continued feuding with The New Day. At SummerSlam, Gallows and Anderson won by disqualification because of interference of show guest Jon Stewart and Big E. Then, at Clash of Champions, Gallows and Anderson failed to win the titles. In November, Gallows and Anderson competed for Team RAW at Survivor Series which they won.
Gallows and Anderson Win Gold
On the January 18th episode of RAW, Gallows and Anderson defeated Cesaro and Sheamus for the RAW Tag Team Championship, but the decision was reversed to a disqualification as Sheamus had hit the referee. Then, at the Royal Rumble pre-show, Gallows and Anderson, defeated Cesaro and Sheamus again but actually won the RAW Tag Team Championship.
At WrestleMania 33, Gallows and Anderson lost the titles in a fatal four-way tag team ladder match to the Hardy Boyz. For the remainder of 2017, Gallows and Anderson were not seen on television and only appeared on RAW sporadically.
On the January 1st 2018 episode of RAW, Gallows and Anderson turned face and joined former Bullet Club stablemate, Finn Balor, as his surprise tag team partners. After a short feud, they lost to The Revival at the Royal Rumble pre-show. At the WWE Draft in April 2018, both Gallows and Anderson were drafted to SmackDown.
Then, on the May 22nd episode of SmackDown, Gallows and Anderson defeated The Usos to become number one contenders for the SmackDown Tag Team Championship. Gallows and Anderson failed to win the title from The Bludgeon Brothers on the Money in the Bank pre-show. They also lost a rematch on the June 19th episode of SmackDown. At WrestleMania 35 in April 2019, Anderson and Gallows wrestled in their second André the Giant Memorial Battle Royal. Neither Gallows nor Anderson won.
 Gallows and Anderson Return to RAW
After WrestleMania, Gallows and Anderson began performing on WWE's RAW brand. In July 2019, they re-signed with WWE to five year contracts. On the July 22nd episode of Raw, The club was renamed The O.C., (Original Club). Gallows and Anderson became two-time RAW Tag Team Champions by defeating The Revival and The Usos in a triple threat tag team match on July 29. Their second title reign lasted only three weeks before they lost the titles to Seth Rollins and Braun Strowman.
At Crown Jewel, Gallows and Anderson defeated eight other teams to win the WWE Tag Team World Cup. Gallows competed in the men's Royal Rumble match entering at number 24 before being eliminated by Edge. Gallows and Anderson appeared at WrestleMania 36 during Styles' Boneyard match against The Undertaker. On April 15, 2020, Gallows and Anderson were released from their WWE contracts as part of budget cuts stemming from the COVID-19 pandemic.
Return to Independent Circuit
A few months after being released by WWE, Gallows and Anderson both announced they had signed two year contracts with Impact Wrestling. They appeared at Slammiversary known as "The Good Brothers." At Turning Point (2020), Gallows and Anderson defeated The North to win the Impact World Tag Team Championship for the first time.
Gallows and Anderson made their AEW debut at the end of AEW Dynamite New Year's Smash Night 1 on saving Kenny Omega from Jon Moxley and making the "Too Sweet" hand gesture along with Omega and The Young Bucks. In June 2021, it was announced that Gallows and Anderson would be returning to New Japan Pro Wrestling.
Gallows and Anderson Return to WWE
On October 10 2022, Gallows and Anderson made a surprise return to WWE as faces, saving AJ Styles from an attack by The Judgment Day. The O.C wrestled the Judgment Day on at Crown Jewel on November 5, 2022 but lost due to interference by Rhea Ripley.
SHOW LESS

STATS
Birth name: Drew Edward Hankinson
Born: December 22, 1983, Cumberland Maryland, USA
Height: 6 ft 8 in (203 cm)
Weight: 290 lb (132 kg)
Spouse: Dr. Bethany Hankinson
Children: 3
Ring name(s): Big XLG, Deacon Deville, D.O.C., Doc Gallows, Dorian Deville, Festus, Festus Dalton, The Freakin' Deacon, Imposter Kane, Isaiah Cash, Johnny 99, Justice Dalton, Keith Hanson, Luke Gallow, Luke Gallows, The Masked Assassin, Sex Ferguson, Super Festus, Tex Ferguson
Current Roster: WWE SmackDown
Finishing move(s): Chokeslam

Luke Gallows' Social Media:




Luke Gallows Photos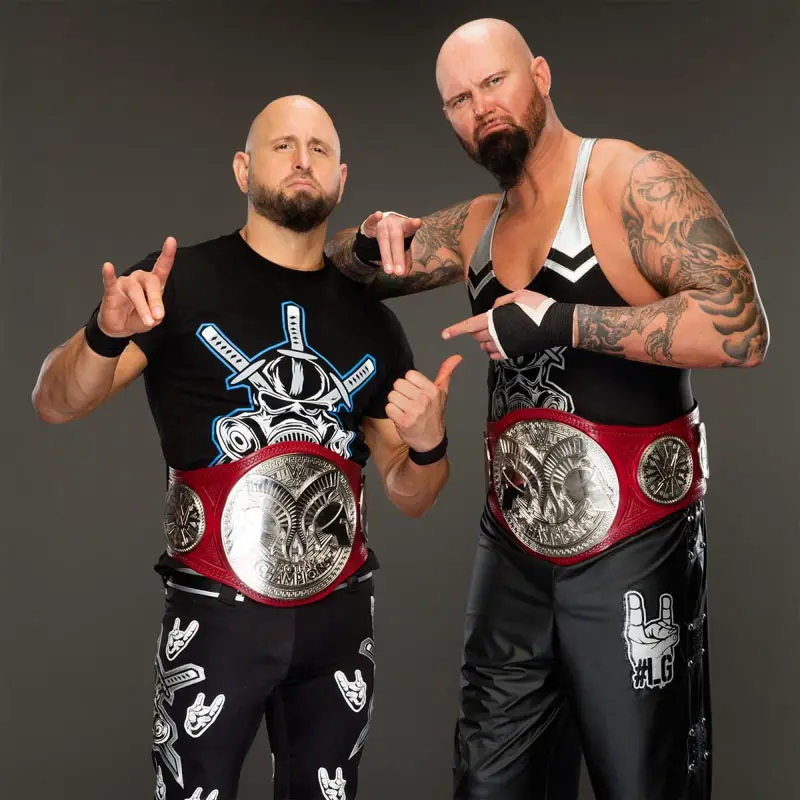 Career Championships & Accomplishments
American Pro Wrestling Alliance

APWA World Tag Team Championship (1 time)

Impact Wrestling

Impact World Tag Team Championship (3 times)
Impact Year End Awards (3 times)

Finishing Move of the Year (2020) – Magic Killer
Moment of the Year (2020) – The Good Brothers' Impact debut at Slammiversary
Tag Team of the Year (2021)

Lariato Pro Wrestling

Lariato Pro Tag Team Championship (1 time, current)

National Wrestling Alliance

NWA Southern Tag Team Championship (1 time)

National Wrestling League

NWL Heavyweight Championship (1 time)

New Japan Pro-Wrestling

IWGP Tag Team Championship (3 times)
World Tag League (2013)
NJPW Strong Tag Team Turbulence Tournament (2021)

Rampage Pro Wrestling

RPW Heavyweight Championship (1 time)

Pro Wrestling Illustrated

Ranked No. 65 of the top 500 wrestlers in the PWI 500 in 2016

River City Wrestling

RCW Tag Team Championship (1 time)

Southern Fried Championship Wrestling

SFCW Heavyweight Championship (1 time)

Vanguard Championship Wrestling

VCW Heavyweight Championship (1 time)

World Wrestling Entertainment (WWE)

WWE Raw Tag Team Championship (2 times)
WWE Tag Team World Cup (2019)