John Felix Anthony Cena Jr. is a 45-year-old professional wrestler from West Newbury, Massachusetts. He is also an actor, rapper and television presenter. Cena is currently signed with the WWE to a part-time deal and performs on SmackDown.
John Cena began his professional wrestling career in 1999 for Ultimate Pro Wrestling (UPW). He held the UPW Heavyweight Championship for 27 days in April 2000 and wrestling with UPW until March 2001.
John Cena's WWF Contract
Cena signed with the WWF in 2001 but was initially assigned to the company's developmental territory, Ohio Valley Wrestling (OVW). During his time there, Cena wrestled under the ring name, The Prototype, and held the OVW Heavyweight Championship for three months and the OVW Southern Tag Team Championship with Rico Constantino for two months. Throughout 2001, Cena had several tryouts for the WWF's main roster and he wrestled at WWF house shows and dark matches.
In 2002, Cena made his WWE television debut on June 27 on an episode of SmackDown by answering Kurt Angle's Open Challenge. Cena lost the match but earned kudos from wrestlers Billy Kidman, Faarooq, Rikishi, and The Undertaker. He then began a feud with Chris Jericho and defeated him at the pay-per-view event, Vengeance.
John Cena: Doctor of Thuganomics
Cena also took on a new gimmick and adapting the persona of a rapper known as The Doctor of Thuganomics and he would rap free-style before each of his matches.
In 2004, Cena won his first singles title, the United States Championship by defeating Big Show at WrestleMania. Cena dropped his 'rapper persona' around this time becoming a clean-cut hero type face for the WWE.
At Wrestlemania 21, Cena defeated John "Bradshaw" Layfield (JBL) and won his first world championship. In October 2007, John, who was on his third reign as WWE Champion by this time, suffered a legitimate torn pectoral muscle in a match against Mr. Kennedy. He was forced to vacate his title and underwent surgery and rehab.
Cena made his return the following year as the last competitor in the Royal Rumble match Wrestlemania 24. Cena won the match after eliminating Triple H. At SummerSlam that year, Cena suffered a herniated disk in his neck and had to undergo surgery again. He made his in-ring return at Survivor Series where he defeated Chris Jericho to win his first World Heavyweight Championship.
John Cena's Championships
Over the years, Cena's wrestling accomplishments have included winning the United States Championship five times, he has won the tag team championship four times, and is a 16-time world champion. He is tied with Ric Flair for the most world championship reigns in WWE history. He is also the record holder for the most WWE Championship (13) reigns which is the current record for that title. John Cena has also won the Royal Rumble twice and has won the Money in the Bank title once.
John Cena is currently signed to the WWE but is not a full-time performer. After a seven month hiatus, Cena appeared on the company's SmackDown brand in February 2020 where he was challenged to a match by Bray Wyatt at Wrestlemania 36. Bray Wyatt defeated Cena and following the match, Cena's body mysteriously vanished from the ring.
John Cena Returns to WWE
Due to the COVID-19 pandemic, John Cena was unable to appear at WrestleMania 37. This marked the first time he missed a WrestleMania in nearly 20 years as he had wrestled or at least appeared at the event every year since his first appearance at WrestleMania XIX in 2003.
After 15 months, Cena finally made his return to WWE programming at the Money in the Bank pay-per-view on July 18, 2021. He confronted Roman Reigns after the latter had retained his Universal Championship in the main event. Cena had a brief stare down with Reigns before giving his "You Can't See Me" gesture at Reigns to end the show.
The following night on Monday Night RAW, John Cena claimed Reigns, who had since become a heel, brought him back to WWE. He said he would put Reigns in his place and challenged him for the Universal Championship at SummerSlam.
At the SummerSlam main event, Reigns defeated Cena after a back-and-forth contest. After the event went off-air, a returning Brock Lesnar delivered multiple German suplexes and an F-5 to Cena.
SHOW LESS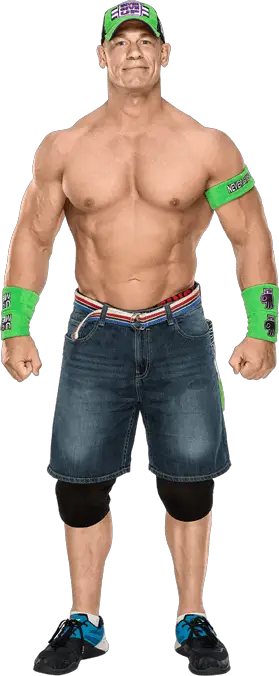 STATS
Birth Name: John Felix Anthony Cena Jr.
Born: April 23, 1997, West Newbury, Massachusetts, USA
Height: 6 ft 0.5 in (184 cm)
Weight: 251 lb (114 kg)
Ring Name(s): John Cena, Juan Cena, The Prototype, Mr. P
Current Roster: WWE SmackDown
Finishing Move(s): Attitude Adjustment

John Cena's Social Media:




John Cena Photos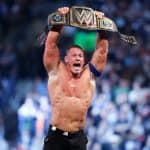 Career Championships and Accomplishments
Ohio Valley Wrestling

OVW Heavyweight Championship (1 time)
OVW Southern Tag Team Championship (1 time)

World Wrestling Entertainment (WWE)

WWE Championship (13 times)
World Heavyweight Championship (3 times)
WWE United States Championship (5 times)
WWE Tag Team Championship (2 times)
World Tag Team Championship (2 times)
Money in the Bank (2012 – WWE Championship contract)
Royal Rumble (2008, 2013)
WWE Championship No. 1 Contender's Tournament (2003), 2005)
Other Awards/Honors

Springfield College Athletic Hall of Fame inductee (Class of 2015)
Make-A-Wish Foundation Chris Greicius Celebrity Award
Make-A-Wish Foundation Special Recognition Award (for being the first to grant 300 wishes)
2014 Sports Social TV Entertainer of the Year
2014 Susan G. Komen Race for the Cure Grand Marshal
2016 USO Legacy of Achievement Award