Allen Neal Jones is a 46-year-old wrestler from Jacksonville, North Carolina. Jones is currently signed with the WWE and performs on SmackDown under the ring name, A.J. Styles.
Since childhood, Jones has been a fan of professional wrestling but was unable to watch it because his family couldn't afford cable television. He attended Anderson University on a partial wrestling scholarship but left to try professional wrestling.
AJ Styles' Early Wrestling Career
Jones made his wrestling debut in 1998 in a promotion known as National Championship Wrestling (NCW) where he wrestled as the masked wrestler, Mr. Olympia. He lost his first match to a wrestler known as Michael Brooks.
In December 1999, when the NCW merged with NWA Georgia to form NWA Wildside, Jones took on the ring name, A.J. Styles. He signed with NWA-TNA appearing sporadically. AJ Styles won the NWA Georgia Heavyweight Championship in December 2001.
Atlanta-based World Championship Wrestling offered Styles a contract in early 2001 and he was placed in a tag team with Air Paris called Air Raid. A.J. Styles also had a tryout for the WWF in July 2001 but did not make the cut. He made two more appearances for the WWF in 2002 and was offered a developmental deal contract that required him to relocate to Cincinnati, Ohio but he declined.
A.J. Styles Joins World Wrestling All-Stars
Instead, Styles began wrestling for Australian promotion, World Wrestling All-Stars (WWA) and then traveled to the UK to debut in Frontier Wrestling Alliance and then came back to the US to wrestle for IWA: Mid-South. In 2002, he joined Ring of Honor and quickly became a main event attraction. He teamed with Amazing and together they won the ROH Tag Team Championship and then became the ROH Pure Wrestling Champion.
A.J. Styles also began wrestling exclusively for Total Nonstop Action Wrestling (TNA) in 2002. Styles' career at TNA was impressive with him winning the TNA X Division Championship six times, the TNA World Tag Team Championship twice, the TNA World Heavyweight Championship two times and many other titles.
From 2003 to 2005, A.J. Styles also wrestled on the independent circuit and in the coming years he then began working for New Japan Pro-Wrestling and various independent promotions including Combat Zone Wrestling, Revolution Pro Wrestling and Pro Wrestling Guerrilla.
A.J. Styles' WWE Contract
After weeks of speculation and rumors, it was confirmed in January 2016 that A.J. Styles had signed a contract with WWE. Styles made his re-debut with the WWE at 2016's Royal Rumble pay-per-view event. He entered as competitor #3 and lasted just under 29 minutes before eliminated by Kevin Owens.
In April 2016, Styles became the number one contender for Roman Reigns' WWE World Heavyweight Championship. Styles however failed to capture the title at PayBack. At SummerSlam 2016, Styles wrestled and defeated John Cena. He declared that he was 'the new face for the WWE.' Styles' win over Cena at SummerSlam earned him another opportunity at the title at Backlash against Dean Ambrose.
WWE World Champion
At Backlash in September, A.J. Styles defeated Dean Ambrose to become the WWE World Champion, his first championship in the WWE. He successfully defended his title for 140 days until losing to Cena at the 2017 Royal Rumble. Styles then became the number one contender for the United States Championship. He won the title after he beat Kevin Owens at a house show. A few weeks later, he lost the title back to Owens at the pay-per-view event, Battleground. He won it back on SmackDown two days later. A.J. Styles' United States Championship reign lasted 75 days.
In October 2017, Styles began a rivalry with then WWE Champion, Jinder Mahal, who he defeated to win the WWE Championship for the second time at a SmackDown episode filmed in England. For the next year, Styles successfully defended the title making him the eighth man to have held the WWE Championship for a continuous reign of a full year.
On the November 13th episode of SmackDown, Styles lost his title to Daniel Bryan following a low blow, ending his reign at 371 days. Styles had a rematch with Bryan at TLC: Tables, Ladders and Chairs but failed to regain the title.
At WrestleMania 35, A.J. Styles defeated Randy Orton but suffered a hip injury leaving him sidelined for a month. In the Superstar Shake-up, Styles was drafted to RAW and he earned the number one contender's spot for Seth Rollins' Universal Championship. At Money in the Bank 2019, A.J. Styles was defeated by Seth Rollins.
A.J. Styles Becomes United States Champion
Styles didn't return to television until the June 24th episode of RAW due to injuries suffered at Money in the Bank. He then challenged Ricochet for the United States Championship but lost. At Extreme Rules, AJ Styles defeated Ricochet to win the United States Championship for a third time. He lost the title in November to Rey Mysterio, ending his reign at 134 days.
In January 2020, Styles participated in the Royal Rumble as entrant #18 but was eliminated by Edge. The following month at Super ShowDown, A.J. Styles was defeated last in a gauntlet match for the Tuwaiq Trophy by The Undertaker. At WrestleMania 36, Styles faced the Undertaker in a boneyard match in the main event. After WrestleMania, Styles took a brief hiatus but returned in May and was traded to SmackDown.
On the June 12th episode of SmackDown, Styles defeated Daniel Bryan to win the Intercontinental Championship for the first time. Styles successfully defended his title for several weeks but lost it to Jeff Hardy at the end of August ending his reign at 70 days.
A.J. Styles Drafted to RAW
At the 2020 WWE Draft in October, A.J. Styles was drafted to RAW. He then debuted his new bodyguard, Omos, on the October 19th episode of RAW where he defeated Riddle. At Survivor Series, A.J. Styles was the captain of Team RAW and led them to victory against Team SmackDown.
Shortly after Survivor Series, A.J. Styles began feuding with WWE Champion Drew McIntyre. At TLC: Tables, Ladders & Chairs, Styles faced McIntyre for the title in a TLC match but failed to win as the The Miz unsuccessfully cashed in his Money in the Bank briefcase during the match.
At the Royal Rumble, Styles competed in his third rumble match but was eliminated by Braun Strowman. In February, at the Elimination Chamber, Styles unsuccessfully challenged for the WWE Championship inside the steel structure after being the final man eliminated by current champion Drew McIntyre. Following The New Day's record-breaking 11th Tag Team Championship victory, Styles and Omos challenged the duo to a Championship match at WrestleMania 37 which The New Day accepted.
AJ Styles & Omos Win Tag Team Titles
At WrestleMania 37, Styles and Omos easily captured the RAW Tag Team Championship and in the process, Styles also became the twenty-second WWE Grand Slam Champion, and the first to achieve both the WWE and TNA/Impact Grand Slam.
A.J. Styles and Omos lost the RAW Tag Team Championship titles at SummerSlam 2021 to Randy Orton and Riddle (RK-Bro). At Extreme Rules, Styles and Omos teamed with Bobby Lashley to take on The New Day in a 6-man tag team match, in which Styles, Omos and Lashley lost. After this, it was announced that Styles and Omos would face RK-Bro in a rematch for the tag team titles at Crown Jewel. At the event, Styles and Omos once again lost to RK-Bro. At Survivor Series in November, Styles and Omos took part in a cross-brand battle royal, which Omos won.
AJ Styles Feuds With Edge
After a number of losing matches, Omos turned on Styles at the December 20th episode of RAW, thus ending their tag team partnership. As a result, AJ Styles turned face for the first time since 2019.
At the Royal Rumble on January 29, 2022, Styles entered at number one and eliminated six wrestlers before being eliminated by Madcap Moss. Styles then challenged for the WWE Championship at Elimination Chamber, inside the namesake structure, where he failed to win the title after being eliminated by the winner, Brock Lesnar.
On the February 28 episode of RAW, Styles accepted an open challenge from Edge for a match at WrestleMania 38. As a result, Edge attacked him afterward and him in the head with a chair several times. On the second night of the event, Styles lost to Edge. On the April 18 episode of RAW, Edge challenged Styles to a rematch at WrestleMania Backlash, which Styles accepted. Styles then aligned himself with former Bullet Club stablemate Finn Bálor and Liv Morgan. Together, they challenged the newly formed faction called The Judgment Day, which consisted of Edge, Priest and Ripley to a six-person mixed tag team match at Hell In a Cell on June 5th. Styles and his team lost to the The Judgment Day at the event.
On the July 4th episode of RAW, AJ defeated The Miz and was attacked by him and Ciampa after the match, starting a feud between them. At SummerSlam on July 30th, Styles distracted Miz by attacking Ciampa, causing him to lose his match against Logan Paul. On the August 1st episode of RAW, Styles defeated Miz and Mustafa Ali in a triple threat match but lost to Ciampa later that night. As a result, he failed to earn an opportunity at the United States Championship. On the following episode of RAW, Styles defeated The Miz in a no disqualification match to end their feud. 
AJ Styles Rekindles Feud with Judgement Day
In the following weeks, Styles rekindled his feud with The Judgment Day (which now included Bàlor and Dominik Mysterio), turning down numerous offers by Bàlor to join them. On the October 10th episode of RAW, Styles pretended to join The Judgment Day. As a result, this led to Luke Gallows and Karl Anderson returning to WWE to help Styles in attacking them, reforming The O.C.. At Crown Jewel on November 5, The O.C. lost to The Judgment Day after interference from Ripley.
Three weeks later at Survivor Series WarGames on November 26, Styles defeated Bálor. On the following episode of RAW, The O.C. were defeated by The Judgment Day in an eight-person mixed tag team match to end their feud. On December 31st, 2022, Styles announced that he had suffered a broken ankle during a house show three days prior. Styles would be out of action though the injury would not require surgery. As part of the 2023 WWE Draft, Styles was drafted to the SmackDown brand.
Show Less

STATS
Birth name: Allen Neal Jones
Born: June 2, 1977, Jacksonville, North Carolina, USA
Height: 5 ft 11 in (180cm)
Weight: 218 lb (99 kg)
Spouse: Wendy Jones
Children: 4
Ring Name(s): Air Styles, A.J. Styles, Mr. Olympia
Current Roster: WWE SmackDown
Finishing Move(s): Styles Clash, Phenomenal Forearm

A.J. Styles' Social Media:




Photos of A.J. Styles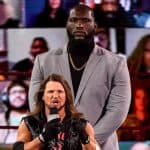 Career Championships and Accomplishments
All Access Wrestling

AAW Heavyweight Championship (1 time)

Ballpark Brawl

Natural Heavyweight Championship (1 time)

Christian Wrestling Federation/Entertainment

CWF/CWE Heavyweight Championship (1 time)

Family Wrestling Entertainment

FWE Heavyweight Championship (1 time)

Independent Professional Wrestling

IPW Heavyweight Championship (4 times)

Independent Wrestling Association Mid-South

IWA Mid-South Heavyweight Championship (1 time)

International Wrestling Cartel

IWC Super Indies Championship (4 times)

Independent Wrestling Revolution

IWR King of The Indies Championship (1 time)

Maximum Pro Wrestling

Max-Pro Cruiserweight Championship (1 time)

Midwest Pro Wrestling

MPW Universal Heavyweight Championship (1 time)

New Japan Pro-Wrestling

IWGP Heavyweight Championship (2 times)

New Korea Pro Wrestling Association

NKPWA Junior Heavyweight Championship (1 time)

NWA Wildside

Wildside Heavyweight Championship (1 time)
NWA Wildside Television Championship (3 times)

NWA: Total Nonstop Action/Total Nonstop Action Wrestling

World Heavyweight Championship (3 times)
NWA World Tag Team Championship (4 times)
TNA Legends/Global/Television Championship (2 times)
World Heavyweight Championship (2 times)
TNA World Tag Team Championship (2 times)
TNA X Division Championship (6 times)

Pennsylvania Premiere Wrestling

PPW Tag Team Championship (1 time)

Pro Wrestling Guerrilla

PWG World Championship (1 time)

Revolution Pro Wrestling

RPW British Heavyweight Championship (1 time)

Ring of Honor

ROH Pure Championship (1 time)
ROH World Tag Team Champions (1 time)

World Wrestling All-Stars

WWA International Cruiserweight Championship (1 time)

WWE – World Wrestling Entertainment

WWE Championship (2 times)
RAW Tag Team Championship (1 time)
WWE Intercontinental Championship (1 time)
WWE United States Championship (3 times)
---