Shinsuke Nakamura is a 43-year-old professional wrestler from Kyōto, Japan. He is currently signed with the WWE and performs on RAW.
Nakamura started his wrestling career in 2002 for the promotion New Japan Pro-Wrestling and quickly impressed both NJPW officials and fans with his excellent combination of strength, speed, and technical skill. Shinsuke was called "The Super Rookie." He then began training in Vale Tudo, which is an unarmed full-contact combat sport with relatively few rules that uses techniques from martial arts. He had his first MMA fight on December 31, 2002, and was defeated by Daniel Gracie via submission. His PRO MMA record is 3-1-1, 1 NC (Win-Loss-Draw).
Nakamura the Youngest IWGP Heavyweight Champion
On December 9, Nakamura defeated Hiroyoshi Tenzan for the IWGP Heavyweight Championship, becoming the youngest wrestler in history to win the title. In February 2004, Nakamura had to vacate the title due to injury. He returned a few months later for a title shot, but was defeated by Bob Sapp. Nakamura wrestled for New Japan Pro-Wrestling until 2016. He held numerous titles during his time for the promotion including the IWGP 3rd Belt Championship, the IWGP Heavyweight Championship, IWGP Intercontinental Championship and the IWGP Tag Team Championship among others.
Shinsuke Nakamura's WWE Contract & Debut
In 2016, Nakamura signed with World Wrestling Entertainment and made his NXT debut at NXT TakeOver: Dallas defeating Sami Zayn. Just a few months later, on August 20 at NXT TakeOver: Brooklyn II, Nakamura defeated Samoa Joe to win the NXT Championship for the first time. In November, he lost it back to Joe at NXT TakeOver: Toronto and then won it back from Joe on an NXT Live Event in Japan to become the second ever two time NXT Champion. At NXT TakeOver: San Antonio, he lost the title to Bobby Roode and was unsuccessful in reclaiming the championship a few months later in a rematch.
On the SmackDown episode following WrestleMania 33, Shinsuke made an appearance interrupting The Miz and Maryse. He made his main roster in-ring debut at Backlash 2017, defeating Dolph Ziggler. From there he had matches against Jinder Mahal for the WWE Championship, but was unsuccessful. In 2018, Shinsuke Nakamura won the Royal Rumble and announced that he would face A.J. Styles for the WWE Championship at WrestleMania 34. He lost the match at WrestleMania and turned heel.
Shinsuke Becomes United States Champion
Nakamura had a few more matches against A.J. Styles, but never won the title. Later that year he became the United States Champion defeating Jeff Hardy, and then lost it to Rusev, only to win it back and lose it again to R-Truth. In 2019, Nakamura defeated Finn Balor for the Intercontinental Championship and enjoyed a lengthy title run with his new manager Sami Zayn by his side. Nakamura lost the title to Braun Strowman in January 2020 ending his reign at 201 days.
Shinsuke & Cesaro Tag Team Champions
Following WrestleMania 36, Shinsuke Nakamura began teaming with Cesaro frequently and together they won the SmackDown Tag Team Championships in July at The Horror Show at Extreme Rules by defeating Kofi Kingston and Big E in a tables match.
On the October 9th episode of Friday Night SmackDown, Cesaro and Shinsuke Nakamura lost the WWE SmackDown Tag Team Championship titles to Kofi Kingston and Xavier Woods.
Shinsuke Becomes King of the Ring
On the January 8, 2021 episode of SmackDown, Nakamura competed in a Gauntlet match to determine the challenger for the WWE Universal Championship at the Royal Rumble, defeating Rey Mysterio, King Corbin, and Daniel Bryan.
At Royal Rumble, Shinsuke entered at number 7 and scored zero eliminations before being eliminated by King Corbin. In March, Nakamura became involved in Cesaro's feud with Seth Rollins after Rollins took Cesaro out of action. This led to a match between Nakamura and Rollins at Fastlane where Nakamura was defeated.
On the May 7th special "Old School" Smackdown episode, he teamed with Kevin Owens, Big E and the Street Profits in a losing effort against the team of Sami Zayn, Apollo Crews, The Alpha Academy and the returning King Corbin. After Corbin hit Nakamura with the End of Days for the win.
On the final Smackdown before Wrestlemania Backlash, he lost to King Corbin in about 3 minutes, when Nakamura locked in an arm bar and Corbin countered by stacking him for the pin. After the match, he kicked the crown off Corbin and beat him down. Nakamura put on the crown with a segment later on showing himself in the mirror being almost mesmerized by the crown, teasing a new King of the Ring tournament and the possible crowning of King Nakamura. On the June 18 episode of Smackdown, Nakamura defeated Corbin in a "Battle For The Crown" match to become the new King.
King Nakamura Becomes Intercontinental Champion
On the August 13 episode of Friday Night SmackDown, King Nakamura defeated Apollo Crews to become the Intercontinental Champion for his second reign. Nakamura lost the Intercontinental Championship on February 11, 2022 to Sami Zayn.
At WrestleMania 38, Boogs and Nakamura faced The Usos for the SmackDown Tag Team Championship, but lost. During the match, Boogs suffered a torn quadriceps/patellar tendon injury, requiring surgery. On the June 3rd episode of SmackDown, Nakamura teamed with Riddle against the Usos for the titles, but lost.
On the June 3 episode of SmackDown, he teamed with Riddle to face the Usos for the titles, but lost. Nakamura then failed to qualify for Money in the Bank when he lost to Sami Zayn on the June 24 episode of SmackDown, and in a last chance battle royal on the following episode of RAW. On the August 12th episode of SmackDown, he faced Gunther for the Intercontinental Championship in a losing effort.
On the October 18th episode, Nakamura made his first NXT appearance in over five years as Tony D'Angelo's hand-picked opponent against Channing "Stacks" Lorenzo, whom he would end up defeating. After six months away from WWE programming, Nakamura made his return on the April 14, 2023, episode of SmackDown, defeating Madcap Moss. As part of the 2023 WWE Draft, Nakamura was drafted to the RAW brand.
SHOW LESS

STATS
Birth name: Shinsuke Nakamura 中邑 真輔
Born: February 24, 1980, Mineyama, Kyōto, Japan
Height: 6 ft 2 in (188 cm)
Weight: 229 lb (104 kg)
Spouse: Harumi Maekawa
Ring Name(s): Nakamura, Shinsuke Nakamura, King Nakamura
Current Roster: WWE RAW
Finishing Move(s): Kinshasa

Shinsuke Nakamura's Social Media:




Shinsuke Nakamura Photos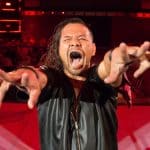 Career Championships and Accomplishments
New Japan Pro-Wrestling

IWGP 3rd Belt Championship (1 time)
Heavyweight Championship (3 times)
IWGP Intercontinental Championship (5 times)
Tag Team Championship (1 time)
IWGP U-30 Openweight Championship (1 time)
NWF Heavyweight Championship (1 time)
10,000,000 Yen Tag Tournament (2004)
G1 Climax (2011)
G1 Tag League (2006)
National District Tournament (2006)
New Japan Cup (2014)
Teisen Hall Cup Six Man Tag Team Tournament (2003)
Yuko Six Man Tag Team Tournament (2004)
Heavyweight Tag MVP Award (2005)
New Wave Award (2003)
Tag Team Best Bout (2004)
Technique Award (2004)
World Wrestling Entertainment (WWE)

NXT Championship (2 times)
WWE Intercontinental Championship (2 times)
SmackDown Tag Team Championship (1 time)
WWE United States Championship (2 times)
Men's Royal Rumble (2018)
NXT Year-End Award (2 times)
King of the Ring Crown (2021)