Ronda Jean Rousey is a 36-year-old professional wrestler, actress, former judoka and mixed martial artist from Riverside, California. She is currently signed with World Wrestling Entertainment (WWE) and performs on the company's RAW brand.
At the age of 11, Ronda Rousey began judo lessons with her mother (who won a World Judo Championship in 1984). At the age of 17, Rousey was the youngest judoka to qualify for the 2004 Olympic Games in Athens. She lost her first match at the Olympic Games but she went on to win a gold medal at the World Junior Judo Championships in Hungary. In April 2006, she became the first female US judoka in almost 10 years to win an A-level tournament. She then went on to win the bronze medal at the Junior World Championships. The following year, Rousey won the silver medal at the 2007 World Judo Championships and gold medal at the 2007 Pan American Games. In 2008, Rousey won a bronze medal at the Olympic Games in Beijing.
Rousey retired from judo after the Olympics and began her MMA training. She made her mixed martial arts debut as an amateur on August 6, 2010 defeating Hayden Munoz. The match ended in 23 seconds by submission due to an armbar. She joined Strikeforce and became their last Women's Bantamweight Champion until it was acquired by UFC.
In November 2012, Ronda Rousey became the first female fighter to sign with Ultimate Fighting Championship. She became the UFC's inaugural Women's Bantamweight Champion and holds the record for most UFC title defenses by a female. Rousey retired from MMA in 2016 and was the first female fighter inducted into the UFC Hall of Fame in 2018.
Ronda Rousey's Professional Wrestling Appearances
In August 2014, Ronda Rousey, alongside Shayna Baszler, Jessamyn Duke and Marina Shafir were seen in the front row at WWE's SummerSlam event. They called themselves "The Four Horsewomen," a play on The Four Horsemen professional wrestling stable (with the blessing of members Ric Flair and Arn Anderson).
At WrestleMania 31 in March 2015, the Four Horsewomen were seated in the front row again. During an in-ring argument between The Rock and The Authority (Stephanie McMahon and Triple H), Stephanie slapped the Rock and ordered him to leave "her ring." She taunted him saying he would not hit a woman. He left, paused and walked over to Rousey to a loud ovation.
The Rock then helped Rousey into the ring and said that she would be happy to hit McMahon for him. After a staredown, The Rock attacked Triple H. When he stumbled toward Rousey, she tossed him out of the ring. McMahon tried to slap her, was blocked and Rousey grabbed her arm, teasing an armbar, before throwing her out of the ring. Rousey and The Rock celebrated in the ring, while the Authority retreated. 
On July 13, 14, and September 12, 2017, the Horsewomen appeared in the audience at the Mae Young Classic to support Shayna Baszler, who was making her WWE debut in the tournament. During the event, all four Horsewomen also had a face-off with Charlotte Flair, Becky Lynch, and Bayley.
Ronda Rousey Signs With WWE
In 2017, Rousey signed with the WWE on a full-time basis and began training at the WWE Performance Center in Orlando. She made a surprise appearance at the Royal Rumble in January 2018. At the Royal Rumble, Rousey confronted Women's RAW Champion Alexa Bliss, SmackDown Women's Champion Charlotte Flair and Asuka, winner of the inaugural women's Royal Rumble match.
At the Elimination Chamber pay-per-view event on February 25, Rousey made another appearance. Rousey got into another in-ring altercation with Triple H and Stephanie McMahon. She then signed her contract (storyline), making her part of the WWE's RAW brand. Rousey made her WWE in-ring debut at WrestleMania 34 where she teamed with Kurt Angle in a mixed tag team match against Triple H and Stephanie McMahon. At the event, Rousey submitted McMahon with her trademark armbar submission hold to secure the win for her team.
Rousey Wins RAW Women's WWE Championship
Ronda Rousey was given her first opportunity at the RAW Women's Championship at Money in the Bank in June 2018. She won the match by disqualification after interference by Alexa Bliss, who attacked Rousey and Nia Jax and cashed in her Money in the Bank contract to win the title instead. As a result, Rousey started her first feud as part of WWE with Alexa Bliss over the title. She was slapped with a 'kayfabe' suspension after attacking Bliss, Kurt Angle and other officials. After her suspension was up, Rousey was given a RAW Women's Championship match against Alexa Bliss at SummerSlam. At the event, Rousey defeated Bliss easily to win her first WWE Championship. In a rematch between the two that took place a month later on September 16 at Hell in a Cell, Rousey once again submitted Bliss.
During her championship reign, Rousey successfully defended her title against various superstars including Nikki Bella, Mickie James, Nia Jax, Natalya and Sasha Banks. In November 2018, Rousey was supposed to battle Becky Lynch at the Survivor Series pay-per-view in an interbrand champion vs champion match. Lynch however was legitimately injured during an invasion angle just minutes after she attacked Rousey backstage. Instead, Rousey faced Charlotte Flair and won via disqualification after Flair attacked her with a kendo stick and steel chairs.
One month later, on December 16, at TLC: Tables, Ladders & Chairs, Rousey had her revenge against both Flair and Lynch. During the match, Rousey pushed them both off a ladder during their match helping Asuka win the SmackDown Women's Championship. Rousey retained her title on the January 28 2019 episode against Bayley and restarted her feud with Lynch.
Rousey continued her feud with Becky Lynch after the latter chose to challenge her in a title match at WrestleMania 35.
Ronda Rousey Turns Heel
On the March 4 episode of RAW, Rousey turned heel for the first time in her career when she attacked both Charlotte Flair and Becky Lynch. At Fastlane, Becky Lynch faced Flair in a match where if Lynch won, she would be inserted back into the RAW Women's Championship match at WrestleMania. Rousey attacked Lynch during the match, giving Lynch the disqualification victory and thus the WrestleMania triple-threat match between Rousey, Flair and Lynch was made official.
On March 25, WWE announced Rousey's title defense against Lynch and Flair would be the main event of WrestleMania 35. This match would be the first women's match to close WrestleMania. At the event, in what was changed to a "Winner takes all" for Rousey's RAW and Flair's SmackDown Women's Championships. Becky Lynch controversially pinned Rousey to win both titles. This gave Rousey her first loss in WWE and ended her championship reign at 231 days.
Rousey's Return to WWE
On January 29, 2022, at the Royal Rumble, Ronda Rousey returned to WWE as a face. She entered at #28 in the Women's Royal Rumble match and eliminated Brie Bella, Nikki A.S.H, and Shotzi. She won by last eliminating Charlotte Flair. Rousey's win earned her a championship match at WrestleMania 38 which she chose to challenge Flair for the SmackDown Women's Championship.
At Elimination Chamber, Rousey teamed with Naomi to defeat Flair and Sonya Deville. On the March 4 edition of Smackdown, Rousey wrestled her first match on the brand, where she defeated Sonya Deville. Rousey's rift with Flair continued over the next few weeks, and on Night 1 of WrestleMania 38, Flair defeated Rousey to retain the title. Rousey would however challenge Flair to a rematch on the April 8 episode of SmackDown in form of an "I Quit" match for the title at WrestleMania Backlash, which was later made official the next day.
Rousey Wins Gold At Backlash
On May 8 2022, Ronda Rousey defeated Charlotte Flair in an epic "I Quit" match at WrestleMania Backlash to win the Women's SmackDown Championship. On the May 13 episode of SmackDown, she issued an open challenge for her newly won title, which was answered by Raquel Rodríguez. Rousey successfully retained her title.
On the June 3rd episode of SmackDown, Natalya won a six-pack challenge for the opportunity to face Rousey for the title at Money in the Bank. At the event, Rousey retained her title against Natalya. But after the match, Liv Morgan successfully cashed in her Money in the Bank contract on Rousey. This ended Rousey's reign at 55 days. 
On July 8, it was announced that Rousey would challenge Morgan for the title at SummerSlam. Rousey lost to Morgan at SummerSlam in controversial fashion. Morgan won by pinfall despite submitting to Rousey's armbar while her shoulders were down. After the match, Rousey attacked Morgan and the referee, turning heel for the first time since 2019. As a result of attacking a referee, Rousey was suspended from WWE.
Rousey Wins WWE SmackDown Championship
On the September 9th episode of SmackDown, Ronda Rousey won a fatal five-way elimination match earning a rematch against Liv Morgan at Extreme Rules. The following week, Morgan challenged Rousey to an Extreme Rules match for the title, which Rousey accepted. At the event on October 8, Morgan lost the SmackDown Women's Championship back to Rousey.
At the final SmackDown of 2022, Ronda Rousey dropped the Women's SmackDown Championship to Charlotte Flair who returned from a 7 month hiatus. Ronda's reign lasted 83 days.
After a brief hiatus, Rousey returned on the February 10 episode of RAW to help Baszler attack Liv Morgan and Tegan Nox. This move officially beginning an alliance between the two. On Night 2 of WrestleMania 39, Rousey and Baszler won the women's WrestleMania Showcase fatal four-way tag team match. As part of the 2023 WWE Draft, Rousey was drafted to the RAW brand.
On the May 29th episode of RAW, Ronda Rousey and Shayna Baszler won a fatal four-way tag team match for the vacant WWE Women's Tag Team Championship. At Money in the Bank pay-per-view event on July 1st, Rousey and Baszler lost the titles to Liv Morgan and Raquel Rodriguez.
SHOW LESS
Photos of Ronda Rousey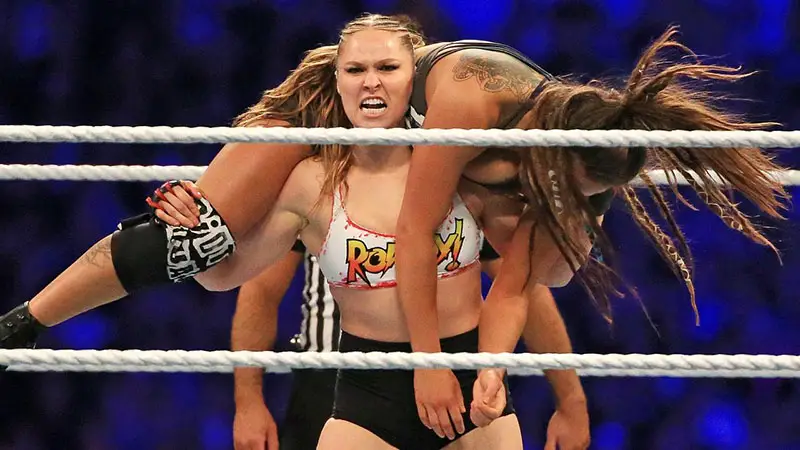 Career Championships & Achievements
Judo
International Judo Federation

2008 World Cup Senior Gold Medalist
2008 Belgian Ladies Open Senior Bronze Medalist
2007 Jigoro Kano Cup Senior Silver Medalist
2007 Finnish Open Senior Gold Medalist
World Judo Championships Senior Silver Medalist (2007)
2007 German Open Senior Bronze Medalist
2007 Pan American Games Senior Gold Medalist
Pan American Championships Senior Bronze Medalist (2007)
2007 World Cup Senior Gold Medalist
2007 British Open Senior Gold Medalist
2006 Finnish Open Senior Bronze Medalist
2006 Swedish Open Senior Gold Medalist
World Judo Championships Junior Bronze Medalist (2006)
2006 Rendez-Vous Senior Gold Medalist
Pan American Championships Senior Silver Medalist (2006)
2006 World Cup Senior Gold Medalist
Belgian Ladies Open Senior Gold Medalist (2006)
2005 Ontario Open Senior Gold Medalist
Rendez-Vous Senior Gold Medalist (2005)
2005 Pan American Championships Senior Gold Medalist
2004 Ontario Open Senior Gold Medalist
2004 Ontario Open Junior Gold Medalist
World Judo Championships Junior Gold Medalist (2004)
2004 Rendez-Vous Senior Bronze Medalist
2004 Pan American Championships Senior Gold Medalist
2003 Rendez-Vous Senior Gold Medalist
2001 Coupe Canada Senior Cup Gold Medalist
Summer Olympic Games

2008 Summer Olympics Senior Bronze Medalist
USA Judo

USA Senior National Championship (2004, 2005, 2006, 2007, 2008, 2010)
Senior USA Olympic Team Trials Winner (2004, 2008)
2007 US Open Senior Gold Medalist
US Open Senior Gold Medalist (2006)
2006 USA Fall Classic Senior Gold Medalist
US Open Junior Gold Medalist (2006)
2005 US Open Senior Gold Medalist
2005 US Open Junior Silver Medalist
2004 US Open Senior Bronze Medalist
2003 US Open Senior Silver Medalist
2003 USA Fall Classic Senior Gold Medalist
2002 US Open Junior Gold Medalist
Mixed martial arts
Ultimate Fighting Championship

UFC Hall of Fame (first female inductee)
UFC Women's Bantamweight Championship (one time, inaugural)

Fight of the Night (two times) vs. Miesha Tate and Holly Holm
Submission of the Night (one time) vs. Miesha Tate
Performance of the Night (four times)
First female UFC Champion
First Olympic medalist to win a UFC championship
Fastest women's title fight victory in UFC history (fourteen seconds; vs Cat Zingano)
Longest title fight finish streak in UFC history (6)
Most armbar finishes in UFC/WEC/Pride/Strikeforce history (9)
Most consecutive armbar finishes in UFC/WEC/Pride/Strikeforce history (8)
Tied (with Valentina Shevchenko) for second-most title defenses by a woman in UFC history (six)
Won the first ever women's fight in UFC history

Strikeforce

Strikeforce Women's Bantamweight Championship (one time; last)

One successful title defense

2x Female Submission of the Year (2011, 2012)
Professional Wrestling
World Wrestling Entertainment (WWE)

WWE SmackDown Women's Championship (2 times)
RAW Women's Championship (1 time)
Women's Royal Rumble (2022)