Randal Keith Orton is a 43-year-old professional wrestler from Knoxville, Tennessee. He is currently with the WWE and performs on Monday Night RAW under the ring name, Randy Orton.
Orton is a third-generation wrestler. His grandfather Bob Orton, father Bob Orton Jr., and uncle Barry Orton were all professional wrestlers.
In high school, Randy was an amateur wrestler and after graduating, he enlisted with the Marines. He was discharged from the Marines in 1999 after going AWOL on two occasions for disobeying an order from a commanding officer.
Orton started his wrestling career in 2000 at Mid-Missouri Wrestling Association-Southern Illinois Conference Wrestling (MMWA-SICW) and was trained by staff and his father, Bob Orton Jr. He only wrestled for the promotion for one month.
Randy Orton's WWF Contract
In 2001, Randy signed with WWE, working for their developmental brand, Ohio Valley Wrestling (OVW). While wrestling for OVW, he won the OVW Hardcore Championship twice in 2001. He also began wrestling at WWE house shows and dark matches for the remainder of 2001.
Randy Orton's first televised match was on April 25, 2002 on SmackDown, defeating Hardcore Holly. In September, he was drafted to RAW. Within weeks of his draft to RAW, he suffered a shoulder injury putting him out of action for several months.
Orton returned to action and joined the Evolution stable alongside Batista, Triple H, and Ric Flair. He proclaimed himself to be the "Legend Killer" and the future of professional wrestling. It was during this time that he developed his finishing move, "The RKO," a jumping cutter named after his initials. In December 2003, he defeated Rob Van Dam for the Intercontinental Championship. He lost the title in July at the Vengeance pay-per-view event.
After losing the Intercontinental Championship, Randy became the number one contender for the World Heavyweight Championship after winning a 20-man battle royal at the end of July. At SummerSlam, Orton defeated Chris Benoit for the championship becoming the youngest world champion in the WWE at the age of 24.
Randy Orton's Championships
Randy Orton went on to have 14 world title runs, two runs as a tag team champion and held the United States Championship as well. He won two Royal Rumbles (2009, 2017) and headlined several WrestleMania main events. He formed stables such as The Legacy alongside Cody Rhodes and Ted DiBiase Jr, and also joined The Wyatt Family.
Randy Orton had several memorable feuds with Triple H, Edge, Undertaker, Seth Rollins, Bray Wyatt, John Cena, Jeff Hardy and others.
Randy Orton Becomes WWE Champion
At Hell In A Cell on October 25th, 2020, Randy Orton defeated Drew McIntyre to win the WWE Championship. On Monday, November 16th's episode of RAW, Orton dropped the title back to Drew McIntyre in the show's main event.
Randy Orton began feuding with The Fiend (Bray Wyatt) and defeated him at the December 2020 pay-per-view, Tables, Ladders and Chairs in a FireFly Inferno match. Yet despite his victory of The Fiend, Randy Orton had to deal with the repercussions of his win by dealing with Alexa Bliss (who had aligned herself with The Fiend). Their match ended in a no contest after Orton faced The Fiend in a No Holds Barred match where Alexa Bliss interfered.
At the Royal Rumble on January 31, Randy Orton entered as the second participant and continued his feud with Edge, who entered as the first participant. Due to injuries inflicted on him by Edge, Orton left the match to be tended to by medical personnel without actually being eliminated. Orton returned to the match at the very end to eliminate Edge, but was then himself eliminated. The following night on Monday Night RAW, Orton challenged Edge to one final match to again try and end his wrestling career but was defeated by him due to the interference of Bliss.
Randy Orton's Feud With Alexa Bliss
At Elimination Chamber in February, Orton competed in the RAW Elimination Chamber match for Drew McIntyre's WWE Championship. He was the first man eliminated by Kofi Kingston. After Bliss harassed and distracted him over the weeks, causing him to lose matches, Bliss challenged Orton to an Intergender Match at Fastlane on March 21. Orton accepted in the hopes of ridding Bliss from his life.
At the event, Bliss attacked him with supernatural powers like making a lighting rig fall and almost land on him and launching a fireball at him. At the end, The Fiend, now with a new gross look with charred skin as a result of being set on fire, returned and attacked Orton, allowing Bliss to get the pinfall victory. 
On the following episode of RAW, The Fiend attacked Orton again and a match between them was scheduled for WrestleMania 37. On Night 2 of the event on April 11, Orton defeated The Fiend after Bliss seemingly turned on The Fiend by distracting him, allowing Orton to land the RKO and pin him for the win.
RK-Bro Is Formed
On the Monday Night RAW episode after WrestleMania, Orton interfered in a segment between Drew McIntyre, Braun Strowman, MVP, and WWE Champion Bobby Lashley. A triple threat match was scheduled for later that night, in which the winner would receive a shot for the championship against Lashley at WrestleMania Backlash. Drew McIntyre went on to win. 
On the April 19th episode of RAW, Riddle interrupted a backstage interview by Orton to suggest a tag team formation. Orton dismissing the idea by leaving. A match was scheduled later between them; Riddle won with a roll-up. The following week on RAW, Orton agreed to form a team with Riddle. The newly labeled RK-Bro defeated Cedric Alexander and Shelton Benjamin.
On the May 3 episode of RAW, RK-Bro defeated Elias and Jaxson Ryker. The following week, RK-Bro teamed up with The New Day to defeat AJ Styles, Omos, Elias, and Ryker, giving the duo a 3–0 record. On the June 21 episode of RAW, Orton battled John Morrison in a Money in the Bank qualifier but was defeated. The following week, he was scheduled to face Styles and McIntyre in a last chance match, but was pulled for unknown reasons. He was replaced by Riddle, who lost the match.
After a seven-week absence, Orton returned on the August 9 episode of RAW and dissolved his team with Riddle. Later in the night, Orton defeated AJ Styles in a match following assistance from Riddle. Afterwards, he pretended to hug Riddle but then hit him with an RKO as his own unique way of showing gratitude. The following week, Orton officially reunited the team after Riddle saved him from an attack at the hands of Styles and Omos.
RK-BRO Wins RAW Tag Team Championship
At SummerSlam, RK-Bro defeated AJ Styles and Omos to become the WWE RAW Tag Team Champions. At Survivor Series, RK-Bro defeated SmackDown Tag Team Champions The Usos (Jey and Jimmy Uso). With this match, Orton broke Kane's record for wrestling the most PPV matches in WWE history.
On the January 10, 2022 episode of RAW, RK-Bro lost the titles to Alpha Academy (Chad Gable and Otis). RK-Bro's reign ended at 142 days. Less than two months later, RK-Bro regained the WWE RAW Tag Team Championship titles on March 7th's episode of Monday Night RAW in a triple threat match against Alpha Academy and Seth Rollins and Kevin Owens.
On the May 20th episode of SmackDown, RK-Bro lost the RAW Tag Team Championships to The Usos. A few days after this match, it was revealed that Orton was injured.
SHOW LESS
Randy Orton Photos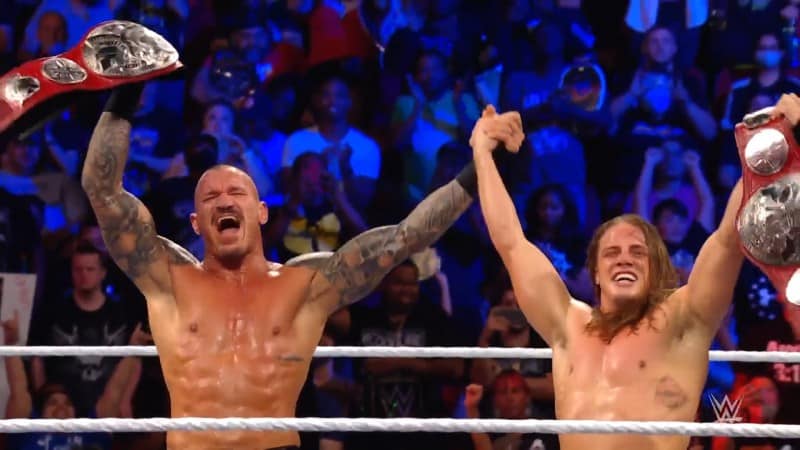 Career Championships and Accomplishments
Ohio Valley Wrestling

OVW Hardcore Championship (2 times)
World Wrestling Entertainment (WWE)

World Heavyweight Championship (4 times)
RAW Tag Team Championship (2 times)
World Tag Team Championship (1 time)
WWE Championship (10 times)
Intercontinental Championship (1 time)
SmackDown Tag Team Championship (1 time)
WWE United States Championship (1 time)
Money in the Bank (2013)
Royal Rumble (2009, 2017)
Seventeenth Triple Crown Champion
Tenth Grand Slam Champion
Slammy Award for Hashtag of the Year (2014)
WWE Year-End Award for Shocking Moment of the Year (2018)