John Anthony Nicholas Gargano is a 36-year-old professional wrestler from Cleveland, Ohio. Gargano is currently signed with World Wrestling Entertainment (WWE) and performs on Monday Night RAW under the ring name, Johnny Gargano.
Johnny Gargano's Early Wrestling Career
While studying at St. Edward High School, Gargano decided to join CAPW's professional wrestling school. He made his professional wrestling debut for CAPW in 2005. In his first match, Gargano competed in the AIW Gauntlet For The Gold Battle Royal which was won by Michael Hutter.
The following October, Gargano won his first Championship in a four-way match for the CAPW Junior Heavyweight Championship. Gargano wrestled for CAPW until August 5 2007.
Gargano also wrestled from promotions including Total Nonstop Action Wrestling, Ring of Honor, Absolute Intense Wrestling (2006 – 2016), Pro Wrestling Ohio/Prime Wrestling (2007 – 2013), Chikara, Dragon Gate USA and Evolve (2009–2016), Dragon Gate and Pro Wresting Guerrilla.
Johnny Gargano's Career with WWE
In June 2015, Gargano participated in a WWE tryout camp. He also wrestled at the June 18 NXT tapings where he lost to Uhaa Nation in a dark match. At the time, Gargano did not sign with WWE but continued to make appearances on NXT.
Gargano's first televised NXT match took place on September 16 2015. He teamed with Tommaso Ciampa in the Dusty Rhodes Tag Team Classic tournament. They defeated the team of Bull Dempsey and Tyler Breeze in the first round. They were eliminated from the tournament, however, the next week by Baron Corbin and Rhyno.
Gargano continued working for NXT in early 2016. On April 2, it was confirmed that Gargano had signed with WWE earlier that week. His NXT contract was a so-called "Tier 2" contract, which allowed him to continue working independent dates alongside his now regular NXT bookings.
On June 23, Gargano entered the Cruiserweight Classic tournament. In the first round, he defeated his tag team partner Tommaso Ciampa. In the next round, he was eliminated from the tournament by T.J. Perkins. On July 21st, WWE reported that Johnny Gargano had signed a new, full-time NXT deal, which would prevent him from taking further independent bookings.
Gargano & Ciampa Form DIY
On August 20th at NXT TakeOver: Brooklyn II, Gargano and Ciampa unsuccessfully challenged The Revival for the NXT Tag Team Championship. Now billed as "DIY" (often stylized as #DIY), Gargano and Ciampa received another title shot in a two-out-of-three falls match on November 19 at NXT TakeOver: Toronto. DIY defeated The Revival to become the new NXT Tag Team Champions.
DIY went on to successfully defend their championships against the teams of Tajiri and Akira Tozawa and TM61 in Japan and Australia. They also defeated The Revival in a rematch on the January 11, 2017 episode of NXT. After their match however, DIY was attacked by The Authors of Pain. At NXT TakeOver: San Antonio, they lost the titles to The Authors of Pain. DIY received their rematch on the March 1 episode of NXT. The match ended in a no contest after The Revival interfered and attacked both teams. This led to a triple threat elimination match between all three teams for the NXT Tag Team Championship at NXT TakeOver: Orlando. DIY failed to regain the titles after being the first team eliminated.
Ciampa Turns on Gargano
On May 20 at NXT TakeOver: Chicago, DIY faced The Authors of Pain in the first-ever ladder match for the NXT Tag Team Championship and lost. After the match, Ciampa turned on Gargano to end the partnership.
At the next NXT event, NXT TakeOver: Philadelphia, Gargano unsuccessfully challenged Andrade for the NXT Championship. After the match, Ciampa attacked Gargano from behind with a crutch. Gargano faced Almas for the NXT Championship again on the February 21 episode of NXT. As a result of interference by Ciampa, Gargano lost the title and was forced to (kayfabe) leave NXT. At NXT TakeOver: New Orleans, he defeated Ciampa in an unsanctioned match to be reinstated to NXT.
On the April 25th episode of NXT, Gargano was once again attacked by Ciampa while he was making his entrance for his NXT Championship match against Aleister Black. This led to a Chicago Street Fight that was scheduled between them at NXT TakeOver: Chicago II. Ciampa won the match. At the NXT July 25th episode, Gargano interfered in Ciampa's NXT Championship match against Black and inadvertently caused Ciampa to win the championship.
Johnny Gargano Wins NXT North American Championship
At NXT TakeOver: Phoenix, Gargano defeated Ricochet to capture the NXT North American Championship. Later in the night, after Ciampa successfully defended his NXT Championship against Black, Gargano reunited with his former tag-team partner. Together, they raised their belts in unison on stage as the show went off air.
The following night, Johnny Gargano made his first WWE main roster appearance at the Royal Rumble event, entering at number 6 in the Royal Rumble match. He lasted over 13 minutes and eliminated Jinder Mahal before getting eliminated by Dean Ambrose. On January 30th, Gargano defended the North American Championship against Velveteen Dream during the NXT tapings. WWE decided, however, to tape two endings for the match – one with Gargano retaining the title and the other with Dream winning. On February 20, 2019, the ending where Gargano lost the title was aired.
Johnny Gargano's Main Roster Debut
Gargano made his main roster debut on the February 18, 2019, episode of RAW. Gargano, along with three other NXT stars – Ricochet, Ciampa and Black, made their debuts together. In his main roster debut, Gargano and Ciampa defeated former rivals RAW Tag Team Champions The Revival in a non-title match. The next night on their SmackDown debut, Gargano and Ciampa defeated The Bar (Cesaro and Sheamus).
After Gargano and Ciampa were eliminated from the Dusty Rhodes Classic in March, Ciampa attacked Gargano again. This attack was similar to Ciampa's original betrayal at TakeOver: Chicago two years prior. But Gargano reversed it and attacked Ciampa, thus turning face. On the March 20 episode of NXT, Triple H revealed that Gargano and Ciampa were to compete at NXT TakeOver: New York for the NXT Championship. But due to Ciampa needing real-life neck surgery, he was removed from the match and forced to vacate the title. Gargano would still be in the match and his opponent would be Adam Cole.
Johnny Gargano Wins NXT Championship
At the event, Gargano defeated Cole in a two-out-of-three falls match to win the NXT Championship for the first time in his career. This win also made him the first ever NXT Triple Crown Champion. At the end of the show, Ciampa came out to celebrate Gargano's successful title win with Candice LeRae. On the April 17th episode of NXT, Gargano was attacked by The Undisputed Era while celebrating his championship victory. A rematch was scheduled between Gargano and Cole to take place at NXT TakeOver XXV. At the event, Gargano lost the title, ending his reign at 57 days.
At NXT TakeOver: Toronto, Gargano had his rematch in another two-out-of-three falls match. Each wrestler was also allowed to pick a stipulation, with William Regal deciding the final fall's stipulation. At the event, Gargano won the second fall, but was unsuccessful in regaining the title after losing the final fall. The final fall was in a steel cage match, after both men fell from the top of the cage through a table.
Johnny Gargano Reunites with Tommaso Ciampa
On the October 23rd episode of NXT, Johnny Gargano reunited with Ciampa once again, only to be attacked by The Undisputed Era and surprise NXT returnee Finn Bálor. He suffered a legitimate neck injury when Bálor performed his signature move 1916 on Gargano on the entrance ramp, sidelining him indefinitely. He returned on the December 18 episode of NXT, distracting Bálor during his NXT Championship match against Adam Cole, causing him to lose. Gargano then attacked Bálor with a steel chair post-match.
Gargano Forms The Way
On the January 8, 2020 episode of NXT, Bálor challenged Gargano to a match at NXT TakeOver: Portland. Gargano accepted the challenge but at the same time, he and Ciampa teamed up again to form DIY. At Worlds Collide, DIY defeated NXT UK's Moustache Mountain. At TakeOver, Gargano was defeated by Bálor.
Later that same night, Gargano interfered in the main event between Cole and Ciampa for the NXT Championship. He attacked Ciampa with the title belt while the referee was unconscious. Cole pinned Ciampa and this broke up DIY for the second time. Gargano justified his actions by stating that Ciampa stole his moment and put him through hell for two years. This culminated in an Empty Arena No Holds Barred match between them on the April 8, 2020 episode of NXT. Gargano defeated Ciampa after Candice gave Ciampa a low blow and Gargano hit Ciampa with the Fairytale Ending.
On the April 29th episode of NXT, Gargano accompanied LeRae to the ring in her successful match against Kacy Catanzaro. Gargano and LeRae began appearing together more frequently as a power couple. They feuded with Mia Yim and Keith Lee. At TakeOver: In Your House, Gargano challenged Lee for the NXT North American Championship but was unsuccessful.
Gargano Wins NXT North American Championship Again
On October 28 at NXT: Halloween Havoc, Gargano defeated Damian Priest in a Devil's Playground match to become the first-ever two-time NXT North American Champion. He lost the title to Leon Ruff on the November 11th episode of NXT ending his second reign at just 14 days. He regained it at NXT TakeOver: WarGames in a triple threat match, involving Priest, to become the first-ever three-time North American Champion.
Gargano then revealed on the December 9th episode of NXT that he had formed a villainous faction with LeRae, Indi Hartwell and Austin Theory called, "The Way." On the December 30th episode of NXT, Gargano successfully retained his title against Ruff, finally breaking his championship "curse". At NXT TakeOver: Vengeance Day, Gargano successfully retained the title against Kushida. He retained the title against Bronson Reed as well at NXT Takeover: Stand & Deliver. On the May 18 episode of NXT, he lost the title to Reed in a steel cage match. His third reign lasted 163 days.
Gargano Fights for NXT Championship
 At NXT TakeOver: In Your House, Gargano failed to capture the NXT Championship in a Fatal Five Way Match. The match involved Adam Cole, Karrion Kross, Kyle O'Reilly, and Pete Dunne. On the July 13 episode of NXT, Gargano faced Kross for the NXT Championship but was defeated again.
On the October 19th episode of NXT, Johnny Gargano turned face when he confronted NXT North American Champion Carmelo Hayes and Trick Williams. At Halloween Havoc, Gargano and Lumis lured Hayes and Williams to Dexter Lumis' haunted house where Hayes's NXT North American Championship was hidden. On the November 23rd episode of NXT 2.0, Gargano faced Hayes and Pete Dunne in a triple threat match for the title. Hayes retained the title due to interference from Tony D'Angelo.
After the match, Gargano, Dunne, Tommaso Ciampa, and L. A. Knight brawled with Hayes, D'Angelo, Bron Breakker and Grayson Waller leading to a WarGames match at NXT WarGames. But before that, on the November 30 episode of NXT 2.0, Gargano faced Breakker in a WarGames advantage ladder match and was defeated. At the event, Gargano's team, known as Team Black & Gold would also defeated by Team 2.0.
Johnny Gargano's WWE Contract Expires
On the following episode of NXT 2.0, Gargano cut a farewell promo where he thanked his fans, friends, and family before being attacked by Grayson Waller. This would be Gargano's final appearance in NXT as his contract expired on December 10 2021. Johnny Gargano chose not to renew his contract because he and Candice LeRae became first time parents to their son, Quill, and Johnny wanted to take time off to raise him.
Gargano Returns to WWE
After an almost 10 month long hiatus, Gargano made his return to WWE on the August 22nd episode of RAW in Toronto, Canada. During his speech, he was attacked by Theory but he vowed that Johnny Wrestling was back in WWE.
SHOW LESS

STATS
Birth name: John Anthony Nicholas Gargano
Born: August 14 1987, Cleveland, Ohio, USA
Height: 5 ft 10 in (178 cm)
Weight: 199 lb (90 kg)
Spouse: Candice LeRae
Children: 1
Ring name(s): Cedrick Von Haussen, Joey Gray, Johnny Gargano
Current Roster: WWE RAW
Finishing move(s): One Final Beat (Slingshot DDT)

Johnny Gargano' Social Media:




Johnny Gargano Photos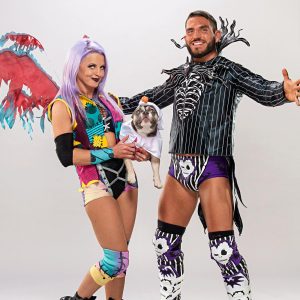 Career Championships & Accomplishments
Absolute Intense Wrestling

AIW Absolute Championship (1 time)
AIW Intense Championship (2 times)
Gauntlet for the Gold (2012)
Jack of All Trios (2010) – with Flip Kendrick and Louis Lyndon

CBS Sports

Feud of the Year (2018) vs. Tommaso Ciampa
Feud of the Year (2019) vs. Adam Cole
Match of the Year (2019) vs. Adam Cole at NXT TakeOver: New York
NXT Match of the Year (2018) vs. Andrade Cien Almas at NXT TakeOver: Philadelphia
WWE Male Wrestler of the Year (2018)

Championship Wrestling Experience

CWE Undisputed Championship (1 time)

Chikara

Chikara Campeonatos de Parejas (2 times)
The Countdown Showdown (2010)

Cleveland All–Pro Wrestling

CAPW Junior Heavyweight Championship (1 time)

DDT Pro-Wrestling

Ironman Heavymetalweight Championship (1 time)

Dragon Gate USA/Evolve Wrestling

Evolve Tag Team Championship (1 time, inaugural)
Open the Freedom Gate Championship (2 times)
Open the United Gate Championship (1 time)
CITIC Cup (2014)
Evolve Tag Team Championship Tournament (2016)

International Wrestling Cartel

IWC Super Indy Championship (1 time)
IWC Tag Team Championship (1 time)

Legacy Wrestling

Legacy Championship (1 time)

Pro Wrestling Ohio/Prime Wrestling

PWO/Prime Heavyweight Championship (3 times)

Smash Wrestling

Smash Wrestling Championship (1 time)

Wrestling Cares Association

Race for the Ring Tournament (2014)

World Wrestling Entertainment (WWE)

NXT Championship (1 time)
NXT North American Championship (3 times)
NXT Tag Team Championship (1 time) – with Tommaso Ciampa
First NXT Triple Crown Champion
NXT Year-End Award (5 times)