Cody Garrett Runnels Rhodes is a 38-year-old professional wrestler from Charlotte, North Carolina. He is currently signed with WWE and performs on Monday Night RAW.
Rhodes is a second generation wrestler; his father was the highly successful professional wrestler Virgil Runnels, known professionally as Dusty Rhodes. In high school, he had a successful high school wrestling career. He placed sixth in the 171 lb (78 kg) division as a sophomore and then as a junior, he won the Georgia State tournament at 189 lb in 2003. He was champion again in his senior year.
Cody planned to wrestle collegiately at Penn State University, but decided to become a professional wrestler instead. After graduating high school, he also attended an acting school.
Cody Rhodes' Wrestling Career
When Rhodes was just 12 years old, his dad, Dusty Rhodes, started training Cody by teaching him some simple fundamentals and how to take bumps. From there, he was trained by Al Snow, Danny Davis, Randy Orton and Ricky Morton. He then began wrestling in May 2006 for Ohio Valley Wrestling (OVW) under the ring name, Cody Runnels. His first match was at an OVW live event in Indiana on May 13th where he lost to Pat Buck.
Cody then formed a tag team with Shawn Spears in August 200. They started a feud with The Untouchables over the OVW Southern Tag Team Championship. In October 2006, Runnels and Spears won the championship. The following month, the OVW Southern Tag Team Championship was vacated after a match between The Untouchables and Runnels and Spears ended in a draw. Runnels and Spears defeated Deuce 'n Domino in a street fight to win the championship for the second time that December.
In February 2017, Cody Runnels went on to win the OVW Heavyweight Championship from Paul Burchill at a house show. Runnels' reign lasted only one day though as he lost it back to Burchill. A few months later in April, Runnels and Spears lost the Southern Tag Team Championship to Justin LaRouche and Charles Evans.
Shortly after, Runnels and Spears became involved in a scripted rivalry with each other. Spears became jealous of Runnels' success as a singles wrestler. Runnels defeated Spears on July 6 to become the new OVW Television Champion. One week later, he lost the championship to Spears in a Lumberjack match. Runnels' last televised match in OVW ended in a no contest as him and Shawn Spears fought in a steel cage.
Cody Rhodes Joins WWE
In his first appearance on WWE television, Rhodes inducted his father into the WWE Hall of Fame Class of 2007 the night before WrestleMania 23. He made his RAW television debut in July 2007 and then his in-ring debut the following week where he was defeated by Randy Orton. Rhodes and Orton began feuding over Randy's disrespect towards his father, Dusty. He also feuded with The World's Great Tag Team (Charlie Haas & Shelton Benjamin).
Three weeks later, Rhodes began a feud with Hardcore Holly and lost three consecutive matches to him. Eventually, he earned Holly's respect, impressing Holly during their matches with his persistence and several near-falls, and the two formed a tag team. They earned a shot at the World Tag Team Title by defeating Paul London and Brian Kendrick and The Highlanders. Rhodes and Holly fought against the Tag Team Champions Lance Cade and Trevor Murdoch at Survivor Series but were not successful.
Rhodes & Hardcore Holly Win Tag Team Championships
On the November 19th episode of RAW, Rhodes faced Holly for a fourth time and won. On the RAW 15th Anniversary special episode, Rhodes alongside Holly, defeated Lance Cade and Trevor Murdoch for the World Tag Team Championship. This marked Rhodes' first championship in WWE. They also defeated Cade and Murdoch in a rematch for the championships on the following episode of RAW.
Cody Rhodes participated in his first Royal Rumble match in 2008. He entered as competitor #13 and lasted over 23 minutes before being eliminated by Triple H. In May 2008, Ted DiBiase began feuding with Rhodes and Holly. DiBiase threatened to take their titles in his first match as part of the RAW brand. At the pay-per-view event, Night of Champions on June 29, Rhodes turned on Holly. He revealed that he was now Ted DiBiase's partner and helped him win the match becoming a two-time World Tag Team Champion.
After holding the championship for just over a month, Rhodes and DiBiase lost the titles to John Cena and Batista on August 4 2008. They regained the championship though the following week on RAW and successfully defended their titles until October 27th when they lost to Kofi Kingston and CM Punk. Later that year, Cody Rhodes, Randy Orton and Manu formed an alliance and dubbed themselves The Legacy. They debuted in a two-on-three handicap match against Batista and Triple H. A few weeks later, Legacy members Manu and Sim Snuka were kicked out of the alliance by Orton. Ted DiBiase joined the Legacy a few months later. The Legacy then began a feud with the McMahon family and Triple H.
The Legacy Dissolves
Rhodes was elevated to main event status as a result of joining the Legacy, competing in handicap and six-man tag team matches against Randy Orton's opponents and rivals. In 2010, tension amongst The Legacy became apparent when Rhodes attempted to interfere in Orton's match for the WWE Championship and several other matches in the next few months. This led to a triple threat match at WrestleMania XXVI where Orton defeated Rhodes and DiBiase in a triple threat match.
As part of the 2010 WWE supplemental draft, Rhodes was drafted to the SmackDown brand. He made his debut for the brand on the April 30th episode of SmackDown, by defeating John Morrison. The following week on SmackDown, Rhodes participated in a tournament for the vacant WWE Intercontinental Championship, but lost to Christian in the semi-finals.
Cody Rhodes Wins Intercontinental Championship
At the August 9th tapings of the August 12th SmackDown, Rhodes defeated Ezekiel Jackson to win the Intercontinental Championship. Rhodes successfully defended his title at the Night of Champions against Ted DiBiase. At the same time, Cody Rhodes began feuding again with Randy Orton with both wrestlers trading wins back and forth. At Survivor Series, Rhodes was sole survivor alongside Team Captain Wade Barrett in their traditional Survivor Series match against Team Orton.
Rhodes participated in the 2012 Royal Rumble and lasted over 40 minutes. During the Royal Rumble, he eliminated the most wrestlers before being eliminated by Big Show. At Elimination Chamber, Rhodes defeated Big Show in the World Heavyweight Championship Elimination Chamber match. He then spent the following weeks highlighting Big Show's embarrassing moments in previous WrestleManias. At WrestleMania XXVIII, Rhodes lost the Intercontinental Championship to Big Show. His reign lasted 233 days. Following the loss at WrestleMania, Rhodes went on a brief losing streak. Four weeks after losing the title, Rhodes regained it at Extreme Rules by defeating Big Show in a Tables match.
Rhodes Loses Intercontinental Title
At WWE's Over the Limit, Rhodes lost the Intercontinental Championship to the returning Christian. In a rematch for the title at No Way Out, Rhodes failed to retain the title. On the June 29th episode of SmackDown, Rhodes and David Otunga were defeated by Christian and United States Champion Santino Marella in a Money in the Bank qualification match for the World Heavyweight Championship. After the match, Rhodes claimed that he had not lost and demanded another chance. 
Four days later on Super SmackDown Live, the WWE Board of Directors granted Rhodes another shot. He defeated Christian to earn a spot in the match. At Money in the Bank however, he was unsuccessful and the match was won by Dolph Ziggler. He also lost to The Miz at Night of Champions in a fatal-four-way match for the Intercontinental Championship, also involving Rey Mysterio and Sin Cara.
Cody Rhodes Allies with Goldust
As punishment for speaking out against Chief Operating Officer Triple H's rule, Rhodes was forced to put his job on the line at the September 2nd RAW when he faced WWE Champion Randy Orton in a non-title match. Rhodes lost and was duly "fired". This storyline was put in place to give Rhodes time off for his marriage and honeymoon to Brandi Reed, known on-screen as Eden. Over the next few weeks, Rhodes' brother Goldust also lost to Orton with Cody's reinstatement on the line, while his father Dusty Rhodes was knocked out by Big Show while pleading for his sons to get their jobs back. In return, the vengeful Rhodes brothers gatecrashed RAW by attacking The Shield.
Rhodes and Goldust won their jobs back at Battleground when they defeated the WWE Tag Team Champions, Roman Reigns and Seth Rollins in a non-title match. The Rhodes brothers then beat Reigns and Rollins with the help of Big Show in a no disqualification match on the October 14 edition of RAW, capturing the tag team title championships. They successfully defended the championships in a triple threat match at Hell in a Cell against the Usos and The Shield. At Survivor Series, Team Rhodes, now known as The Brotherhood, lost in the traditional five-on-five elimination tag team match against Team Shield. 
Goldust & Stardust Lose Titles
At the Royal Rumble in 2014, Rhodes and Goldust lost the tag titles to The New Age Outlaws. In the Royal Rumble match itself, Goldust accidentally eliminated Rhodes right before Roman Reigns eliminated Goldust. Goldust and Rhodes faced the Outlaws in a rematch on RAW after the Royal Rumble, which ended in a no contest after Brock Lesnar attacked them both. The championship rematch was then rescheduled for the February 3 RAW in a steel cage, which The New Age Outlaws won. At Elimination Chamber, The Brotherhood defeated the RybAxel.
At WrestleMania XXX Rhodes participated in the first ever Andre the Giant Memorial Battle Royal but was unsuccessful. The Brotherhood then started another losing streak. After losing to Curtis Axel and Ryback at Payback, Cody told Goldust to find a better tag team partner and left his brother. Following Payback, Rhodes tried to find a new partner for his brother, getting Sin Cara, R-Truth, and Kofi Kingston to replace him in the team.
Cody Rhodes Becomes Stardust
On the June 16th episode of RAW, Rhodes debuted a new character called Stardust with face paint, a body suit and mannerisms similar to those of Goldust. That night, he teamed with his brother to defeat RybAxel and then at both Money in the Bank and on RAW. On the August 18 Raw, Stardust and Goldust defeated the WWE Tag Team Champions The Usos in a non-title match. This led to a rematch on the August 25 Raw, where Stardust and Goldust defeated The Usos via countout, but did not win the titles. After the match, both Stardust and Goldust attacked The Usos.
At Night of Champions, Stardust and Goldust defeated the Usos to become WWE Tag Team Champions for their second reign. At Hell in a Cell, they successfully retained against The Usos. They lost the titles though to Damien Mizdow and The Miz in a fatal four-way tag team match also involving The Usos and Los Matadores the next month at Survivor Series. The next night on RAW, they lost again in a rematch.
In early February 2015, Goldust and Stardust were defeated by The Ascension and once again began tensions with Stardust showing his frustrations at Goldust. After the match, Goldust called Stardust "Cody" and Stardust responded by telling Goldust to never refer to him by that name again.
Stardust Crosses Goldust
On the February 16 RAW, Stardust performed the Cross Rhodes on Goldust after a tag match, dissolving the team. He then explained to his father that Cody Rhodes was dead and Dusty may as well be too. This led to a match between Goldust and Stardust at Fastlane, which Goldust won. Afterwards, Stardust attacked Goldust backstage, while exclaiming to his father that he had killed Cody Rhodes. Stardust also attacked Goldust after Goldust won a match against Adam Rose. The feud officially concluded when Stardust became involved in the Intercontinental Championship ladder match at WrestleMania 31.
On the April 6th episode of RAW, Stardust answered John Cena's United States Championship open challenge but lost the match. Stardust lost to R-Truth at the 2015 King of the Ring and at the Payback pre-show. Eventually, the Stardust character evolved to resemble a comic book supervillain. This led to him entering a storyline rivalry with actor, Stephen Amell. After confronting Amell on the May 25th episode of RAW, Stardust renamed his finishing maneuver The Queen's Crossbow, after Oliver Queen, Amell's character from Arrow. 
Stardust Feuds with Neville
After taking a brief hiatus following the death of his father, Stardust returned on the July 13 episode of RAW. He defeated Neville thus starting a new rivalry between the two. Stardust then went on a winning streak defeating R-Truth, Zack Ryder and Fandango. Stardust attacked Neville following his match with King Barrett. He also attacked guest star Stephen Amell, leading to Amell attacking Stardust. At SummerSlam, Stardust and Barrett were defeated in a tag team match by Amell and Neville. In January 2016, he defeated Fandango on the January 12th episode of Main Event to qualify for the 2016 Royal Rumble match. At the Royal Rumble, Stardust competed in the 30-Man event but was unsuccessful as Triple H won the match.
At WrestleMania 32, Stardust competed in a seven-man ladder match for the Intercontinental Championship, which was won by Zack Ryder. Post-WrestleMania, Stardust lost to Apollo Crews four times on television. He then lost to Zack Ryder on the May 20th episode of Superstars.
Cody Rhodes Released by WWE
On May 21, 2016, Rhodes revealed on Twitter that he had requested his release from WWE. He requested was granted the following day. Rhodes also mentioned his frustrations with WWE's creative department and his position within the company as the reasons for requesting his release.
Following Rhodes' release from WWE, he continued wrestling under his real name on the independent circuit. He wrestled for promotions including Ring of Honor, Total Nonstop Action Wrestling/Impact Wrestling, and New Japan Pro-Wrestling.
On January 1 2019,  All Elite Wrestling (AEW) was unveiled during a conference in Jacksonville, with Cody revealing that he, along with Matt and Nick Jackson of The Young Bucks and Kenny Omega, would serve as Executive Vice Presidents, as well as on-air talent. During his career with AEW, Cody Rhodes won the promotion's TNT Championship three times, as well as the 2020 AEW TNT Championship Tournament.
Rhodes Returns to WWE
On January 26 2022, at AEW's Beach Break event, Rhodes wrestled his last match to Guevara in a highly acclaimed ladder match, losing the TNT Championship. Several sources at the time were reporting that he and his wife Brandi had left the promotion as they were unable to come to terms on a new contract.
On March 18, 2022, it was reported by multiple sources that Rhodes had signed a contract with WWE. At WrestleMania 38 Night 1 on April 2, 2022, Rhodes was revealed as Seth "Freakin" Rollins' opponent, making his return to WWE after six years away, and defeated Rollins.
SHOW LESS

Stats
Birth name: Cody Garrett Runnels
Born: June 30, 1985, Charlotte, North Carolina, USA
Height: 6 ft 2 in (188 cm)
Weight: 220 lb (100 kg)
Spouse: Brandi Rhodes
Children: 1
Ring name(s): Cody, Cody R, Cody Rhodes, Fuego 2, Stardust
Current Roster: WWE RAW
Finishing move(s): Cross Rhodes

Cody Rhodes' Social Media:




Cody Rhodes Photos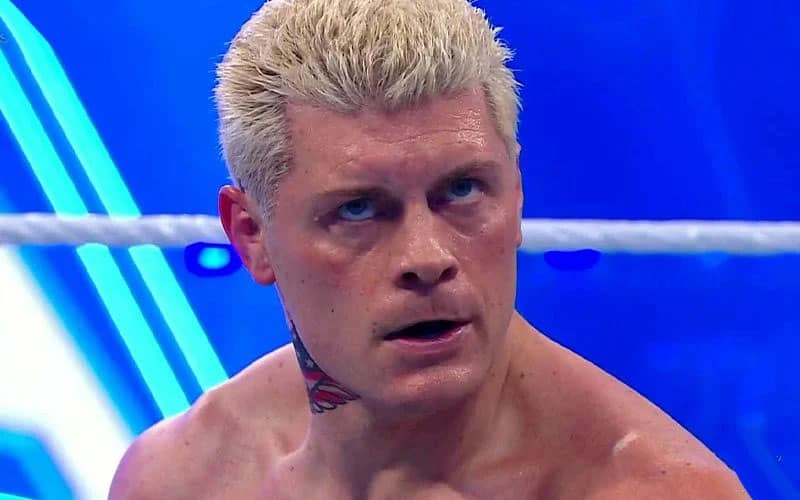 Career Championships & Accomplishments
Amateur wrestling
Georgia State Tournament

Champion at 189 pounds (86 kg) weight class (2003, 2004)

Professional wrestling
All Elite Wrestling

AEW TNT Championship (3 times)
TNT Championship Tournament (2020)
AEW Dynamite Award for Best Moment on the Mic (2021)

Alpha-1 Wrestling

A1 Tag Team Championship (1 time)

Bullet Proof Wrestling

BPW Championship (1 time)

CBS Sports

Promo of the Year (2019)
Smack Talker of the Year (2019)

Global Force Wrestling

GFW NEX*GEN Championship (1 time)

National Wrestling Alliance

NWA World Heavyweight Championship (1 time)

New Japan Pro-Wrestling

IWGP United States Heavyweight Championship (1 time)

Northeast Wrestling

NEW Heavyweight Championship (1 time)

Ohio Valley Wrestling

OVW Heavyweight Championship (1 time)
Television Championship (1 time)
OVW Southern Tag Team Championship (2 times)
Fourth OVW Triple Crown Champion

Ring of Honor

ROH World Championship (1 time)
World Six-Man Tag Team Championship (1 time)
ROH Year-End Award (2 times)

What Culture Pro Wrestling

WCPW Internet Championship (1 time)

World Wrestling Entertainment (WWE)

WWE Intercontinental Championship (2 times)
WWE Tag Team Championship (3 times)
World Tag Team Championship (3 times)
WWE Tag Team Championship No. 1 Contender's Tournament (2012)
Slammy Award (2 times)

Outstanding Achievement of Baby Oil Application (2010)
Tag Team of the Year (2013) – with Goldust