Joseph Coffey is a 33-year-old professional wrestler from Glasgow, Scotland. He is currently signed to the WWE and performs on NXT UK under the ring name, Joe Coffey.
Coffey made his wrestling debut on February 6, 2011 for Insane Championship Wrestling. He debuted at ICW's "The Notorious ICW" event in a match where he teamed with Vinnie James in a defeat against The Bucky Boys.
The Coffey Brothers
At Up In Smoke! in May 2012, Coffey teamed with his brother Mark Coffey to defeat Andy Wild and Noam Dar in the First Round match of the ICW Tag Team Championship tournament. The Coffey Brothers were defeated in the semi-finals match of the tournament.
In July 2016, Coffey defeated Big Damo for the ICW World Heavyweight Championship only for Wolfgang to cash in his Square Go contract and win the title. Coffey did win the title for a second time the following year on April 16 at BarraMania where he defeated Trent Steven. Coffey had several successful defenses of his title against Jack Jester, Pete Dunne, NXT's Kassius Ohno. He lost the ICW World Heavyweight Championship against BT Gunn at Fear and Loathing X. Coffey left ICW the following day after Fear and Loathing X.
From 2016 to 2018, Coffey wrestled for What Culture Pro Wrestling (WCPW) and then returned to ICW on April 29 2018 at Barramania 4 and challenged his brother Mark to an ICW Zero-G Championship match at Shugs House Party 5, which was later rescheduled for Fear and Loathing XI due to a conflict with WWE NXT UK tapings. At Fear and Loathing XI, Joe defeated Mark to win the championship.
Joe Coffey Signs with WWE
In May 2018, Joe Coffey was one of 16 competitors for WWE NXT UK's one-night tournament for the WWE United Kingdom Championship. He won the first two rounds but was defeated by Travis Banks in the semi-finals.
Joe Coffey, alongside his brother Mark and Wolfgang, formed the stable known as Gallus. At the NXT TakeOver: Blackpool event in January 2019, Joe fought NXT UK Champion Pete Dunne for the title but was unsuccessful.
In June 2020, after allegations against Joe Coffey surfaced accusing him of sexual harassment, WWE suspended him and has been out of action while investigations continue.
In June 2020, WWE suspended Joe Coffey after allegations of sexual harassment surfaced. Coffey returned to WWE in November 2020. In early 2021, Joe Coffey wrestled various competitors successfully. He defeated Ed Harvey, Danny Jones, and Eddie Dennis. Coffey also traded wins with Jordan Devlin in the fall of 2021.
On March 10, 2022, Joe Coffey fought Noam Dar for the NXT UK Heritage Cup and lost.
Joe Coffey Photos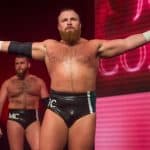 Career Championships and Accomplishments
Discovery Wrestling

Y Division Championship (1 time)

Insane Championship Wrestling

ICW World Heavyweight Championship (2 times)
ICW Zero-G Championship (1 time)
ICW "Iron Man" (2014, 2015)
Wrestler of the Year Award (2014, 2016)
Male Wrestler of the Bammy Year Award (2015)
Square Go! (2017)

Pro Wrestling Elite
Scottish Wrestling Alliance

Scottish Heavyweight Championship (2 times)
SWA Laird of the Ring Championship (2 times)
Battlezone Rumble (2014, 2015, 2016)

Target Wrestling

Target Wrestling Championship (1 time)

World Wide Wrestling League

W3L Tag Team Championship (1 time)

WrestleZone

WrestleZone Undisputed Championship (1 time)