Thomas Pestock is a 39-year-old professional wrestler and former professional football player from Lenexa, Kansas. He is currently signed to WWE and performs on the company's SmackDown brand under the ring name, Baron Corbin.
At the age of 23, Pestock was a two-time Kansas-Missouri Golden Gloves regional champion in amateur boxing. In 2008, he participated in the Golden Gloves National Tournament of Champions where he defeated Chaen Chess in the preliminaries but lost to Andrae Cathron in the quarter-finals.
Pestock attended NCAA Division II college Northwest Missouri State University playing offensive guard and was a starter in his junior year. He was named honorable mention at all-MIAA in 2007 and first team with all-MIAA in 2008. In 2009, he signed with the NFL team, The Indianapolis Colts but was released and re-signed a few times that year. He also signed with the Arizona Cardinals in 2010 but was released and re-signed twice before being let go permanently in September 2011.
Pestock Signs WWE Contract
Pestock signed with WWE in 2012 and began training with the company's developmental brand, NXT. He made his in-ring debut for NXT at a house show. He then worked for several NXT events as a jobber. After a multi-year absence, he returned to NXT in September 2014 at NXT TakeOver Fatal 4-Way and stayed on the NXT roster until 2016.
Pestock made his main roster debut at WrestleMania 32 and won the André the Giant Memorial Battle Royal by last eliminating Kane. The following night on Monday Night RAW, Corbin assaulted Dolph Ziggler starting a feud that would last until June.
Baron Corbin Wins Money in the Bank
The following year, Corbin competed in Money in the Bank and won the match earning him a world title match at the time of his choosing. Corbin attempted to cash in his Money in the Bank opportunity but failed to defeat Jinder Mahal in August 2017.
In October 2018, Corbin pinned Tye Dillinger at the pay-per-view event, Hell In A Cell, to win the United States Championship. Corbin's reign lasted 70 days before he lost the title to Dolph Ziggler.
Winner of King of the Ring 2019
Corbin competed in the King of the Ring 2019 tournament and made it to the final round where he defeated Chad Gable. Corbin's King of the Ring victory prompted his new ring name, King Corbin.
At WrestleMania 36, King Corbin lost to Elias after a roll-up pin on Night 1 of the event. At the end of April 2020, he qualified to compete in the Money in the Bank match but failed to win the contract after he and A.J. Styles fought over the briefcase and dropped it to Otis unintentionally.
King Corbin feuded with Rey and Dominik Mysterio and Murphy between November 2020 and February 2021. He formed a short term partnership with Wesley Blake and Steve Cutler but this disbanded after Cutler and Blake were released by WWE.
On the June 18th episode of SmackDown, Corbin lost to Shinsuke Nakamura in a Battle for the Crown match. As a result to losing his crown to Nakamura, this ended his King gimmick.
King Corbin Ring Name Change
Corbin began sporting dirty clothes, an unkempt beard and an unshaved head on the July 16th episode of SmackDown. He revealed that, after losing his crown, he had lost his car, his investments, his savings, his home was to be foreclosed upon, and his wife left with their daughter. He then revealed his own version of a GoFundMe campaign, called CorbinFund.com, asking fans and fellow wrestlers to donate to his cause. The next month, on August 13, Corbin stole the Money in the Bank briefcase from Big E and fled the arena. At SummerSlam, Corbin lost to Big E, who regained the briefcase.
On the August 27th episode of SmackDown, after turning his misfortunes around in Las Vegas, he drove into the arena in a Bentley, declaring himself "filthy rich" and demanding to be called "Happy Corbin." On the September 24 episode of SmackDown, Corbin debuted his new talk show "Happy Talk", Corbin then gained a new ally in Madcap Moss as they joined forces to attack Kevin Owens.
Happy Corbin & Madcap Moss Ally
Happy Corbin and Moss got into a feud with Shinsuke Nakamura and Rick Boogs over the Intercontinental Championship. Corbin defeated Nakamura in a Championship Contenders match, and both Corbin and Moss defeated Nakamura and Boogs in a Trick or Street Fight, but Corbin never received an Intercontinental Championship match.
Corbin and Moss then got into a feud with Drew McIntyre. Happy Corbin accompanied Moss to the his matches with McIntyre at WWE Day 1 and Elimination Chamber, with Moss losing both matches. Corbin and Moss participated in the Royal Rumble match but they were both eliminated by Drew McIntyre, continuing their feud. Happy Corbin lost to Drew McIntyre on the first night of WrestleMania 38.
On the April 8th episode of SmackDown, Corbin blamed his loss on Moss before attacking him. This ended their alliance and beginning a feud between the two. This led to a match at WrestleMania Backlash, which Moss won. At Hell in a Cell, the two competed in a No Holds Barred match, which Corbin lost.
On the June 17th episode of SmackDown, Corbin lost to Moss in a Last Laugh match. This ended their feud. After the match, Corbin confronted commentator Pat McAfee, who had been making fun of Corbin. After Money in the Bank went off the air, Corbin attacked McAfee at ringside. McAfee accepted his challenge for a match at SummerSlam. Corbin lost to McAfee at SummerSlam when McAfee hit him with a low blow while referee Charles Robinson was down. On the August 19th episode of SmackDown, Corbin unsuccessfully competed in a fatal five way match to determine the #1 contender for the Intercontinental Championship.
Baron Corbin Ring Name
Corbin returned under the Baron Corbin name with his new manager JBL on the October 17th episode. He started a winning streak until losing to Drew McIntyre on the November 21 episode of RAW. At the Royal Rumble event in January 2023, Corbin entered the Royal Rumble match in 14th place but was attacked by Brock Lesnar. He was then eliminated by Seth "Freakin" Rollins, ending his time in the Rumble at seven seconds.
On the February 6th episode of RAW, after losing to Dexter Lumis, JBL ended his association with Corbin. Corbin then began a losing streak until a live event on April 29, where he defeated Rick Boogs.
Corbin Joins NXT
At the 2023 WWE Draft in May, it was announced that Corbin was one of the selected superstars who signed a free agent contract. This would allow him to appear on both RAW, SmackDown, and NXT as an active roster member whenever he desired.  On May 30th, he appeared on NXT and attacked NXT Champion Carmelo Hayes. Corbin made it clear that he would go after the NXT Championship at Gold Rush on June 27th. At Gold Rush, Corbin brought back his original Lone Wolf character, entrance music, and attire. Hayes defeated him to retain the NXT Championship.
The following week on NXT, a vignette aired showing Corbin burning various items associated with his past characters, including his Lone Wolf jacket, the vest he wore as the Constable of RAW, his King of the Ring Crown, and his Happy Corbin hat. At the Great American Bash, Corbin debuted a new look and entrance, and wrestled the debuting Gable Steveson to a double countout.
SHOW LESS

STATS
Birth name: Thomas Pestock
Born: September 13, 1984, Lenexa, Kansas, USA
Height: 6 ft 8 in (203 cm)
Weight: 285 lb (129 kg)
Spouse: Rochelle Roman
Children: 1
Ring Name(s): Baron Corbin, Constable Corbin, King Corbin
Current Roster: WWE NXT
Finishing Move(s): The End Of Days

King Corbin's Social Media:




Baron Corbin Photos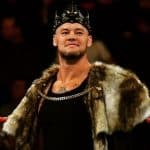 Career Championships and Accomplishments
World Wrestling Entertainment (WWE)

WWE United States Championship (1 time)
André the Giant Memorial Trophy (2016)
King of the Ring (2019)
Money in the Bank (Men's 2017)
WWE Year-End Award for Most Hated of the Year (2018)