Óscar Gutiérrez is a 45-year-old professional wrestler from Chula Vista, California. He is signed to the WWE and performs on RAW under the ring name, Rey Mysterio.
Gutiérrez began his wrestling career at 14 years old in Mexico and he was trained by his uncle, Rey Misterio Sr. It was in Mexico where Gutiérrez learned the Lucha Libre high-flying style that he is known for in the ring. Gutiérrez had several ring names before his uncle gave him the ring name, Rey Misterio Jr.
In 1995, Mysterio signed with Extreme Championship Wrestling (ECW) and a year later, he made his debut on World Championship Wrestling (WCW). He defeated Dean Malenko on WCW's Monday Night Nitro to win his first Cruiserweight Championship. His first reign lasted three months. In 1997, he won the Cruiserweight Championship a second time at Halloween Havoc but lost the title in November '97. Rey Mysterio held the Cruiserweight Championship title a total of five times in WCW and also held the Cruiserweight Tag Team Championship once and the WCW World Tag Team Championship three times.
After WCW was sold to WWE, Mysterio wrestled independently in Mexico. In 2001, he returned to the US and wrestled for independent promotions like IWA Mid-South, the Xcitement Wrestling Federation and the Heartland Wrestling Association.
In 2002, he signed with the WWE and dropped the "Jr." from his ring name. Mysterio also donned his mask again after Vince McMahon insisted he wear it (Mysterio had unmasked during his time in WCW). Rey Mysterio made his debut on SmackDown on July 25 2002 in a winning match against Chavo Guerrero.
Mysterio teamed with Edge to form a tag team and in November 2002, the duo won their first Tag Team Championship. The team's title reign ended a few weeks later at Survivor Series. In 2003, Mysterio defeated Matt Hardy to win the Cruiserweight Championship, his first singles championship. Mysterio held the title until September when he lost to Tajiri. Mysterio held the Cruiserweight Championship title two more times during his career so far.
From 2004 to 2007, Rey Mysterio won the Tag Team Championship title three times separately with Rob Van Dam, then Eddie Guerrero and finally, Batista. At WrestleMania 22, Rey Mysterio defeated Kurt Angle and Randy Orton in a triple threat match to win the World Heavyweight Championship. In 2010, at WrestleMania XXV, he beat JBL to become the Intercontinental Champion. Mysterio also won the World Heavyweight Championship at the on June 4 2010 at a royal rumble match for the second time.
In 2015, Rey Mysterio was released from his WWE contract and he returned to Lucha Libre AAA Worldwide and worked for the independent circuits until 2018.
Rey Mysterio returned to the WWE in 2018 as a surprise entrant in the Royal Rumble. In September it was confirmed that he had signed a two year contract. At Money in the Bank in 2019, Mysterio defeated Samoa Joe to win the United States Championship making him the twenty-first WWE Grand Slam Champion. Unfortunately, he had to vacate the title due to an injury from a post-match beating by Samoa Joe.
Mysterio returned to in-ring action the following month and in November he defeated A.J. Styles for the United States Championship. His reign lasted 31 days.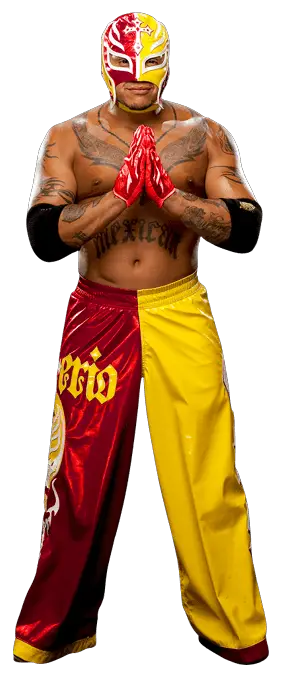 Stats
Birth Name: Óscar Gutiérrez
Born: December 11, 1974, Chula Vista, California, United States
Height: 5 ft 6 in (168 cm)
Weight: 175 lb (79 kg)
Spouse: Angie Gutiérrez
Children: 2, including wrestler Dominik Mysterio
Ring name(s): Colibri, El Nino, Rey Misterio II, Rey Misterio Jr., Rey Mysterio, Rey Mysterio Jr., Super Nino
Current Roster: WWE RAW
Finishing Move(s): 619
Career Championships and Accomplishments
Asistencia Asesoría y Administración / Lucha Libre AAA Worldwide

Mexican National Trios Championship (1 time)
Mexican National Welterweight Championship (1 time)
Lucha Libre World Cup (2015)
AAA Hall of Fame (Class of 2007)
Técnico of the Year (2015)

Catch Wrestling Europe

CWE World Grand Prix (2017)

Cauliflower Alley Club
The Crash

The Crash Heavyweight Championship (1 time)

DDT Pro-Wrestling

Ironman Heavymetalweight Championship (1 time)

Destiny World Wrestling

DWW Championship (1 time)

Hollywood Heavyweight Wrestling

HHW Light Heavyweight Championship (1 time)

International Wrestling All-Stars

IWAS Tag Team Championship (1 time)

Lucha Underground

Lucha Underground Trios Championship (1 time)

World Championship Wrestling

WCW Cruiserweight Championship (5 times
WCW Cruiserweight Tag Team Championship (1 time)
WCW World Tag Team Championship (3 times)

World Wrestling Association

WWA Lightweight Championship (3 times)
WWA Tag Team Championship (1 time)
WWA Welterweight Championship (3 times)

World Wrestling Council

WWC World Junior Heavyweight Championship (1 time)

World Wrestling Entertainment/WWE

World Heavyweight Championship (2 times)
WWE Championship (1 time)
WWE Cruiserweight Championship (3 times)
WWE Intercontinental Championship (2 times)
WWE Tag Team Championship (4 times)
WWE United States Championship (2 times)
Royal Rumble (2006)
Bragging Rights Trophy (2010)
Twenty-first Triple Crown Champion
Twenty-first Grand Slam Champion