Savelina Fanene is a 36-year-old Australian-American professional wrestler and model signed to the WWE. Her ring name is Nia Jax. Fanene is a relative of Dwayne "The Rock" Johnson as her father was a first cousin of Peter Maiva.
Fanene was signed by WWE in 2014 and was sent to the company's developmental territory, NXT. In May 2015, she made her in-ring debut for NXT at a house show under the ring name, Zada. Two months later, her ring name was changed to Nia Jax. She made her television debut on an episode of NXT in a singles match where she defeated Evie.
Nia Jax turned heel shortly after her debut and went on a winning streak defeating various NXT talent. In December, Jax earned a title match at NXT TakeOver: London, but was unsuccessful. In July 2016, Nia Jax was drafted to the main roster and began a winning streak on RAW. From her debut on the main roster to 2018, Jax feuded with various talent and competed in events like the Royal Rumble and Survivor Series.
At Wrestlemania 34, Nia Jax defeated reigning Women's RAW Champion Alexa Bliss making this her first title win of her career. She lost the title back to Bliss in June at Money in the Bank. At Elimination Chamber in 2019, Nia Jax teamed with Tamina in a six team Elimination Chamber match to determine the inaugural holders of the WWE Women's Tag Team Championship. Jax and Tamina did not win the match but did compete at WrestleMania 35 in a fatal four way match for the Women's Tag Team Championship that was eventually won by the Ilconics.
Nia Jax underwent surgery in 2019 to repair tears of the anterior cruciate ligament in both knees. Jax returned to in-ring action on April 6, 2020 on Monday Night RAW. In August, Jax was suspended indefinitely from WWE for attacking an official.
Despite her suspension, Jax showed up on August 17 2020 where she attacked Shayna Baszler during her tag team match with Asuka against Sasha Banks and Bayley. The following week on RAW, Jax and Baszler had another confrontation with Bayley and Sasha Banks which led to WWE announcing that Bayley and Banks would defend the Women's Tag Team Championships against Jax and Baszler at PayBack on August 30, 2020.
At Payback, Nia Jax and Baszler won both the match and the titles, giving Nia Jax her first tag team championship..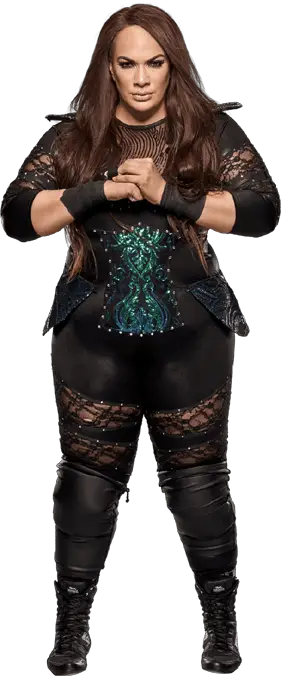 Stats
Birth Name: Savelina Fanene
Born: May 29, 1984, Sydney, New South Wales, Australia
Height: 6 ft 0 in (183 cm)
Weight: 272 lb (123 kg)
Ring Name(s): Lina, Nia Jax, Zada
Current Roster: WWE RAW
Finishing Move(s): Rampage DDT
Career Championships and Accomplishments
World Wrestling Entertainment (WWE)

WWE RAW Tag Tag Championship (1 time)
WWE RAW Women's Championship (1 time)