Brock Lesnar is a 43-year-old professional wrestler from Webster, South Dakota, United States. Lesnar was an amateur wrestler at Bismarck State College and Minnesota University before he signed with WWE in 2000. Lesnar wrestled for the WWE's developmental promotion, Ohio Valley Wrestling (OVW), where he was a three time tag team champion with Shelton Benjamin.
At the age of 25, Brock Lesnar made his WWE main roster debut and five months later he won the WWE Championship and became the youngest champion in the title's history. Lesnar left the WWE in 2004 to pursue a professional football career with the NFL's Minnesota Vikings. He was cut before the 2004 season and returned to wrestling in 2005. Lesnar then wrestled for New Japan Pro Wrestling and Inoki Genome Federation.
In 2006, Brock Lesnar left wrestling again to pursue a career as a mixed martial artist. He initially signed with Hero's in 2007 but joined the Ultimate Fighting Championship (UFC) later that year. Lesnar became the UFC Heavyweight Champion after defeating Randy Couture in a technical knockout in 2008. Lesnar retired from MMA after losing to Alistair Overeem in 2011.
Brock Lesnar returned to WWE in April 2012 and has since held the WWE Championship title five times and has been the WWE Universal Champion three times. Lesnar has won the King of the Ring (2002), Money in the Bank (Men's 2019) and the Royal Rumble (2003).
Lesnar came out of retirement in 2016 to fight Mark Hunt at UFC200. He defeated Hunt but Lesnar later tested positive to banned substances and had the result of his victory over Hunt changed to 'no contest.' Lesnar has since retired from UFC a second time.
Brock Lesnar currently wrestles for WWE on Monday Night RAW.
Stats
Born: July 12, 1977 in Webster, South Dakota USA
Height: 6′ ft 3″ in (191 cm)
Weight: 286 lb (130 kg)
Spouse: Rena Marlette Greek (Sable)
Children: 4
Ring Name(s): Brock Lesnar
Current Roster: WWE Monday Night RAW
Finisher(s): The F5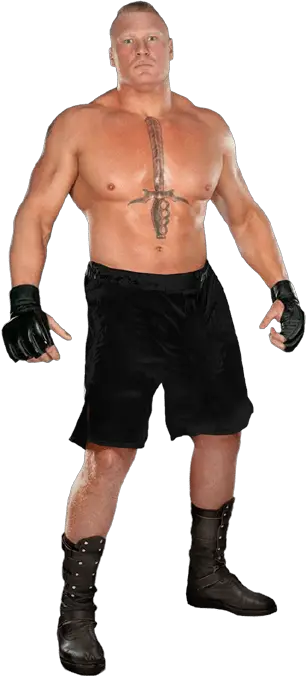 Career Championships and Accomplishments
Collegiate wrestling

National Collegiate Athletic Association

NCAA Division I All-American (1999, 2000)
NCAA Division I Heavyweight Champion (2000)
Big Ten Conference Champion (1999, 2000)
National Junior College Athletic Association
NJCAA All-American (1997, 1998)
NJCAA Heavyweight Champion (1998)
North Dakota State University Bison Tournament Champion (1997–1999)
Ultimate Fighting Championship

UFC Heavyweight Championship (1 time)
Two successful title defenses
Submission of the Night (1 time) vs. Shane Carwin
Inoki Genome Federation

IWGP Heavyweight Championship (1 time)


New Japan Pro-Wrestling

IWGP Heavyweight Championship (1 time)


Ohio Valley Wrestling

OVW Southern Tag Team Championship (3 times)


World Wrestling Entertainment

WWE Championship (5 times)
WWE Universal Championship (3 times)
King of the Ring (2002)
Money in the Bank (Men's 2019)
Royal Rumble (2003)