The most famous arena in the world, Madison Square Gardens, paid tribute to one of the most famous pro wrestlers, The Undertaker, today. This honorary message comes just a couple days after the conclusion of The Undertaker's docu-series, "Last Ride."
Madison Square Gardens' tweeted: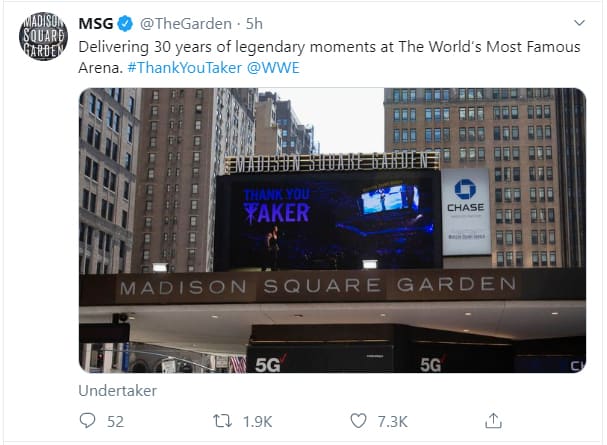 In an interview with Sports Illustrated, The Undertaker (a.k.a Mark Callaway), says that his recent signing of a 15 year contract with the WWE is not necessarily for in-ring action. "That extended contract is obviously not a contract that keeps me in the ring for 15 years," said Calaway. "It keeps the brand at home, and there are a lot of ways that Vince thinks I can contribute to the company after my days in the ring are done."
Calaway, who is 55-years-old, has been with the WWE for the past 30 years and had his final match against AJ Styles at Wrestlemania 36 in a "Boneyard Match." The match was supposed to take place live, but the COVID-19 pandemic for the WWE to shoot it without audiences at a remote location.