Gurvinder Singh Malhotra is a 31-year-old Indian professional wrestler. Malhotra is currently signed with World Wrestling Entertainment (WWE). He performs on WWE's SmackDown brand under the ring name, Shanky.
Malhotra attended Maharaja Agrasen College pursued B.Com. He was employed as an accountant in Maharishi Markandeshwar University in India. In June 2015, he saw The Great Khali talking about his new academy, Continental Wrestling Entertainment at the 164th episode of Comedy Nights with Kapil. As a result, Malhotra decided to join Continental Wrestling Entertainment later that year.
Shanky Singh Debuts for Continental Wrestling Entertainment
In June 2016, it was announced that Malhotra was a CWE Superstar named Shanky Singh. He had his first televised match against Manish Singh on July 26 2016. In his debut, he won by pitfall after delivering a chokeslam.
In September 2016, Shanky won the CWE's Battle Royal. The following week, he defeated Shallu Cena by submission by Hell's Gate. He won another Battle Royale match on October 17 2016 but was then attacked by Brody Steele and his friends. At another match on November 12 2016, Shanky defeated Pankaj.
Shanky Singh Selected for WWE Tryouts
On March 22nd 2017, Shanky announced that he was selected for the WWE tryouts in Dubai, UAE. Malhotra travelled to Dubai in March 2017 where he took part in a five-day audition for a WWE tryout and was selected to participate.
Malhotra attended another WWE tryout in November 2017 in India. Four years later in January 2020, WWE announced the signings of three Indian trainees, including Malhotra. At Superstar Spectacle on January 22, 2021, Malhotra, under the ring name Dilsher Shanky, made his WWE debut in an eight-man tag team match. He teamed with Giant Zanjeer, Rey Mysterio, and Ricochet to battle Cesaro, Dolph Ziggler, King Corbin, and Shinsuke Nakamura.
Shanky Drafted To WWE SmackDown
On the May 10th episode of Monday Night RAW, Shanky, along with Veer, aligned themselves with Jinder Mahal. As part of the WWE's 2021 Draft, both Shanky and Mahal were drafted to the SmackDown brand. Veer remained on the Raw brand which ended their alliance. He worked as a replacement to Madcap Moss on the March 18 2022 episode of SmackDown in a six-man tag team match. For the match, Shanky was teamed with Happy Corbin and Jinder Mahal against Drew McIntyre and the Viking Raiders. The six-man tag match was later won by the team of Viking Raiders and Drew McIntyre.
On the April 1, 2022 episode of SmackDown, he participated in the Andre The Giant Memorial Battle Royale match. During the match, Shanky teamed up with Commander Azeez and together they eliminated the Viking Raiders. But their joint efforts caused them to be targeted by the other competitors and both giants were eliminated.
A couple weeks later on the April 15 episode of SmackDown, he appeared at ringside for the Jinder Mahal vs Ricochet match. At one point during the match, Jinder was laying on the mat and Ricochet was about to perform the 630 finisher move from the top rope. But Shanky pulled Jinder out of the ring to save him. In response to that, Ricochet performed a flying cross-body maneuver on both men from the top rope to the outside of the ring. Later, Ricochet pinned Jinder Mahal to retain his Intercontinental title.
Shanky Feuds With Ricochet
Next week, on the April 22, 2022 episode of SmackDown, Jinder Mahal and Shanky interrupted Aliyah and Ricochet, who were being interviewed in a backstage segment. Jinder issued a challenge to Ricochet for the Intercontinental Championship rematch. But, he was interrupted by Shanky who himself wanted to face Ricochet and get the title match opportunity instead of Jinder. The match was later made official and announced that it would take place on the next week's episode of SmackDown.
On the April 29, 2022 episode of SmackDown, Shanky faced Ricochet for the Intercontinental Championship in a one-on-one match. Jinder Mahal was standing at the ringside corner during the match. Towards the end of the match, when the referee was checking on him and distracted from Ricochet, Jinder Mahal pulled the legs of Ricochet who was on top of the ring posts. Ricochet dropped on the posts and Shanky picked him up. Shanky was about to perform the finisher move but Ricochet countered with a roll-over for the pin and retained the Intercontinental Championship. After the match, Jinder started shouting at Shanky. In response, he returned yelling "Stop" in both Hindi and English. He then left the arena with Jinder Mahal alone in the ring.
SHOW LESS
Photos of Shanky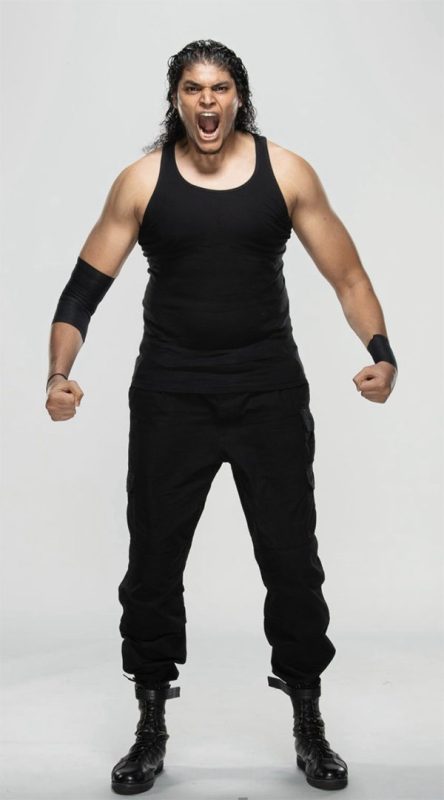 Career Championships & Accomplishments
Continental Wrestling Entertainment
CWE Heavyweight Championship (2 times)