Ashley Mae Sebera is a 34-year-old professional wrestler, from Seven Hills, Ohio. She wrestles for WWE as Dana Brooke and performs on Monday Night RAW.
Before pursuing a career in professional wrestling, she was a gymnast, bodybuilder, fitness competitor and model. Ashley held several championships in the National Physique Committee (NPC) in 2011. The following year, she earned a pro card at the International Federation of BodyBuilding & Fitness (IFBB). She also competed at the Arnold Classic on multiple occasions, including her finishing twelfth place in 2013, finishing thirteenth place in 2015, and finishing fourteenth place in 2016.
Dana Brooke's WWE Contract
In July 2013, Sebera signed a developmental contract with WWE and began training at the WWE Performance Center in Florida. She adopted the ring name, Dana Brooke. Her professional wrestling in–ring debut on NXT took place in September 2014. She teamed with Sasha Banks in a losing effort against Alexa Bliss and Bayley at an NXT live event.
Dana Brooke made her first televised in-ring debut on the April 15th 2015 episode of NXT defeating Blue Pants. She made her main roster debut the following year May 9, 2016 on RAW. Her first in-ring match was a few days later on SmackDown where she defeated Becky Lynch. Brooke then aligned herself with Charlotte Flair and was drafted to RAW where the duo feuded with Bayley.
Towards the end of 2017, Dana Brooke aligned herself with the faction, "Titus Worldwide," with Apollo Crews and Titus O'Neil. She participated in the first ever Women's Royal Rumble in 2018 entering as contestant number eight but was eliminated. Brooke made her WrestleMania debut in 2018 competing in the inaugural WrestleMania Women's Battle Royal. She was eliminated by Mandy Rose.
In September 2018, Dana Brooke disbanded with the Titus Worldwide faction. She then participated in the first ever women's only pay-per-view event, Evolution. Brooke was unsuccessful in the battle royal at Evolution. At the 2019 Royal Rumble, she failed to win that match as well. Brooke then challenged WWE RAW Women's Champion Ronda Rousey in March 2019 to a title match but failed to capture the championship.
Dana Brooke's Multi-Year Contract
In October 2019, Brooke was drafted to SmackDown in WWE's Draft. She signed a multi-year contract in December 2019. In January 2020, she entered the WWE's Women Royal Rumble but was unsuccessful. On an episode of SmackDown, Brooke defeated Naomi to qualify for the Women's Money in the Bank ladder match at the 2020 pay-per-view. Brooke took part in the women's Money in the Bank ladder match in 2020. While she didn't win, Brooke entertained audiences in several comedic spots throughout the match.
Naomi challenged Brooke to a rematch on SmackDown which she won after pinning Naomi. In July, Brooke competed in a Karaoke Showdown against Naomi, Lacey Evans and Tamina. Brooke sang the Honky Tonk Man's theme song and lost the competition to Naomi.
Dana Brooke's Return to RAW
In September 2020, Dana formed a tag team with Mandy Rose and together they won their first match against Natalya and Lana. At the WWE's 2020 Draft in October, Dana Brooke was drafted to the RAW brand again.
On the November 2nd episode of RAW, Brooke and Rose unsuccessfully challenged Nia Jax and Shayna Baszler for the WWE Women's Tag Team Championship. The following week they partnered with Asuka and defeated the team of Jax, Baszler and Lana. Unfortunately, Mandy Rose sustained a legitimate injury and both she and Brooke were pulled from their upcoming involvement in 2020 Survivor Series. To remove Brooke from the event, writers worked an angle in which Brooke was attacked by Reckoning, leaving her unable to compete.
On November 30, Brooke defeated Reckoning in singles competition. On the December 7th episode of RAW, Dana then partnered with Ricochet and defeated Slapjack and Reckoning. Brooke fought and defeated Shayna Baszler via disqualification after Jax interfered in the match. Mandy Rose made her return from injury and saved Brooke.
The following week Brooke and Rose lost a tag-team match to Jax and Baszler. On December 28th, Dana lost to Baszler again but challenged Baszler to a rematch on January 4th after the latter attacked Rose. Brooke won the match-up via pin fall.
Dana Brooke Wins First WWE Championship
At WrestleMania 37, Dana Brooke and Mandy Rose participated in the "Tag Team Turmoil" event. In May, Brooke was defeated by Charlotte via submission. Shen then teamed with Mandy Rose and Asuka to defeat Shayna Baszler, Nia Jax and Charlotte in a tag team match.
On May 31, Brooke and Rose defeated Naomi and Lana in a tag-team match. A feud with Tamina and Natalya resulted in Rose being defeated by the latter at Hell in a Cell. On the June 28 edition of RAW, Brooke and Rose teamed with Rhea Ripley but were defeated by Charlotte, Tamina and Natalya.
In October, Brooke entered the Queen's Crown tournament, where she lost to Shayna Baszler in the first round. On the November 22nd episode of RAW, Dana Brooke won the WWE 24/7 Championship when she pinned Cedric Alexander. She then took part in a 10 women tag team match as part of Liv Morgan and Becky Lynch's feud. Brooke was on Morgan's winning team. On the December 8 Main Event show, Brooke defended the title against Tamina.
On the December 28 episode of RAW, Brooke successfully defended the championship again. She partnered with Reggie in a mixed tag-team match defeating R-Truth and Tamina. The following week Brooke and Reggie defended the title again, this time against Tamina and Akira Tozawa. Brooke teamed with Rhea Ripley and Liv Morgan to defeat Nikki A.S.H., Tamina, and Carmella, on January 24 2022.
Brooke Battles for 24/7 Championship
WWE continued featuring Dana Brooke in a comedic storyline involving Reggie, Tamina and Tozawa. The storyline progressed throughout March to Brooke becoming engaged to Reggie. On the April 18 episode of RAW, during a storyline double-wedding ceremony, Brooke lost the 24/7 title after she was pinned by her partner, Reggie. Reggie then lost the title to Tamina who also lost to Tozawa. She then regained her title for a third time that same night.
Brooke lost the 24/7 title to Nikki A.S.H during a backstage attack. Brooke soon regained the title via pinfall in a 24/7 Championship match. She also requested a divorce from Reggie, after he attempted to pin her. On May 31, Brooke lost the championship after she was pinned by Tamina. On June 6, Brooke regained the 24/7 Championship from Tozawa and successfully defended the belt against Becky Lynch with the help of interference from Asuka.
Brooke was scheduled for a championship rematch on June 13 with Lynch, but the latter attacked Brooke before the match. On the June 20, 2022, taping of WWE Main Event (to be aired on June 24) in Lincoln, Nebraska, Brooke lost the WWE 24/7 Championship to Doudrop. She won the title back from Nikki A.S.H. on an episode of Main Event on June 23.
After being involved in a non-fatal accident, Dana Brooke missed several WWE tapings. She lost and regained the 24/7 championship title on the July 18th episode of RAW. Brooke then lost and regained the championship at multiple house shows. As of October 30, 2022, Brooke is a fifteen-time 24/7 Champion. On November 7, following an 8-day reign, Brooke lost the 24/7 title to Nikki Cross. The championship was then retired the same day.
SHOW LESS
Dana Brooke Photos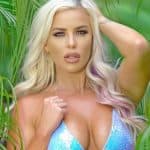 Career Championships & Accomplishments
World Wrestling Entertainment (WWE)

24/7 Championship (15 times)