Meiko Satomura (里村 明衣子) is a 42-year-old Japanese wrestler currently signed to WWE's NXT UK brand. She is the current NXT UK Women's Champion in her first reign.
Satomura made her professional wrestling debut for Gaea Japan, an all female promotion, on April 15, 1995. She won her first match against Sonoko Kato. She teamed with Sonoko Kato in November 1996 and together they defeated Sugar Sato and Chikayo Nagashima to become the inaugural AAAW Tag Team Champions. Satomura won the AAAW Tag Team Championship two more times but with partners Ayako Hamada and Chikayo Nagashima. She also won the AAAW Singles Championship twice. Satomura main evented at Gaea Japan's final show on April 10, 2005 where she defeated her trainer, Chigusa Nagayo.
Meiko Satomura Joins WCW
In 1996, Meiko Satomura started working for World Championship Wrestling (WCW). She participated in an eight-woman tournament for the inaugural WCW Women's World Championship but was eliminated in the first round by the tournament's winner, Akira Hokuto.
When WCW introduced its second women's title, the WCW Women's Cruiserweight Championship, she participated in the tournament to determine the inaugural champion but was knocked out of it in the first round as well.
Satomura Forms Sendai Girls' Pro Wrestling
After Gaea Japan closed, Meiko Satomura and Jinsei Shinzaki formed the promotion, Sendai Girls' Pro Wrestling. On September 23, 2009, Satomura participated in the Splash J & Running G tournament along with Kaoru and Tomoko Kuzumi. In the tournament's semi-finals, Satumora's team defeated the Dynamite Kansai, Makie Numao and Yasuko Kuragaki to advance to the final. They then defeated the team of Hikari Fukuoka, Kanako Motoya and Sonoko Kato to win the Splash J & Running G tournament.
A few years later, in May 2012, Satomura debuted for the promotion, Chikara. She also participated in the group's premier tournament, King of Trios. In 2016, she teamed with Cassandra Miyagi and Dash Chisako to win the King of Trios tournament.
Meiko Satomura's WWE Debut
In 2018, Meiko Satomura entered the second annual Mae Young Classic tournament and defeated Killer Kelly, Mercedes Martinez, and Lacey Lane. She was defeated by Toni Storm in the semi-finals.
Satomura signed with WWE in October 2020 and at the end of January 2021, NXT UK began airing video promos hyping her arrival. On February 11, 2021, Meiko Satomura made her ring-debut on NXT UK where she defeated Isla Dawn.
Satomura then began a feud with NXT UK Women's Champion, Kay Lee Ray, but was initially unsuccessful challenging Ray for the title. Finally, on the June 10th episode of NXT UK, Satomura defeated Ray and became the first Japanese wrestler to hold the NXT UK Women's Championship.
Meiko Satomura had her first successful title defense against Amale on the July 15th episode of NXT UK. She also retained against Stevie Turner on the August 20th episode of NXT UK. She would then retain the championship against Blair Davenport on the January 6th 2022 episode of NXT UK.
SHOW LESS

STATS
Birth name: Meiko Satomura
Born: November 17, 1979, Niigata, Japan
Height: 5 ft 2 in (157 cm)
Weight: 150 lb (68 kg)
Ring name(s): Meiko Satomura, Meiko Satomura Deluxe, Meiko Satomura DX
Current Roster: WWE NXT UK
Finishing Move(s): Death Valley Bomb, Scorpio Rising (Axe kick to a kneeling opponent while using their knee for leverage)

Meiko Satomura's Social Media




Meiko Satomura Photos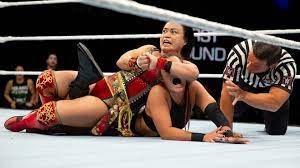 Career Championships & Accomplishments
Chikara
DDT Pro-Wrestling

KO-D Openweight Championship (1 time)
KO-D 6-Man Tag Team Championship (1 time)

Fight Club: PRO

FCP Championship (1 time)

Gaea Japan

AAAW Single Championship (2 times)
AAAW Junior Heavyweight Tag Team Championship / AAAW Tag Team Championship (3 times)
Hustling Cup (1996)
High Spurt 600 (1998, 2001)
Splash J & Running G (1995)

Progress Wrestling

Progress World Women's Championship (1 time)

Sendai Girls' Pro Wrestling

Sendai Girls World Championship (1 time)
Joshi Puroresu Dantai Taikou Flash Tournament (2011)

Tokyo Sports

Joshi Puroresu Grand Prize (2013)

Westside Xtreme Wrestling

Femmes Fatale Tournament (2018)

World Wonder Ring Stardom

World of Stardom Championship (1 time)
Stardom Year-End Award (1 time)

World Wrestling Entertainment (WWE)

NXT UK Women's Championship (1 time, current)