Dean Jonathan Muhtadi is a 34-year-old wrestler and former football player from Alexandria, Virginia. He wrestles for the WWE and performs on SmackDown under the ring name, Mojo Rawley.
In high school, Muhtadi played football and was a four year starter along the defensive and offensive lines. He played college football for Division III Christopher Newport University in Virginia and was awarded a full academic scholarship by the college. He was also a two-time All USA South Athletic Conference All-Academic Selection, a member of the President's Leadership Program, Honors Program, and Student Executive Board of the Business School. He was also the recipient of the Edith McMurran Honors Scholarship for the student who best demonstrates the balance of leadership, public service, and academic excellence. Mutadi transferred to Maryland in his sophmore year and was again one of the top student athletes during his three years at the school.
In 2009, Muhtadi was signed as an undrafted free agent to the NFL team, The Green Bay Packers. Before he started his wrestling career, Muhtadi was a professional football player for the NFL team, The Green Bay Packers. In 2010, he was signed by The Arizona Cardinals but sustained an injury during training camp and placed on injury reserve. Mutadi spent 18 months rehabilitating his injured and while he received numerous offers from the NFL, he opted to pursue a professional wrestling career.
In 2012, Muhtadi started his wrestling career after signing with WWE and was given the ring name Mojo Rawley. He made his NXT televised debut in May 2013 in a battle royal match that was won by Bo Dallas. In his NXT PPV debut at NXT Arrival, Rawley defeated CJ Parker.
In 2015, Zack Ryder joined the NXT roster and together they formed the tag team, the Hype Bros. In 2016, Rawley was called to the main roster and drafted to SmackDown where he reunited with Zack Ryder.
On the WrestleMania 33 kickoff show he won the 4th annual Andre The Giant Memorial Battle Royal, last eliminating Jinder Mahal. At the end of 2017 Mojo Rawley turned heel for the first time in his career attacking Zack Ryder.
Rawley made multiple brand switches between RAW and SmackDown rosters between 2017 and 2019. He's also won the 24/7 Championship on multiple occasions. Mojo Rawley is currently on the SmackDown roster.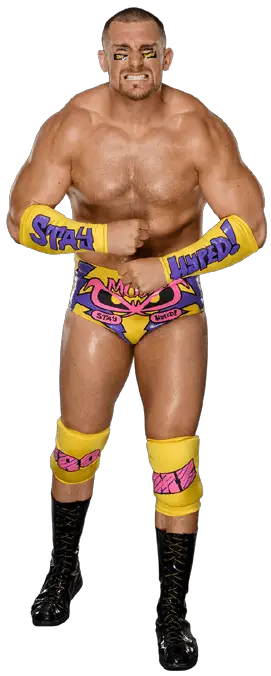 Stats
Birth name: Dean Jonathan Muhtadi
Born: July 17, 1986, Alexandria, Virginia, United States
Height: 6 ft 4 in (193 cm)
Weight: 265 lb (120 kg)
Ring Name(s): Mojo Rawley
Current Roster: WWE SmackDown
Finishing Move(s): Hyperdrive
Career Championships and Accomplishments
WWE

WWE 24/7 Championship (7 times)
André the Giant Memorial Trophy (2017)