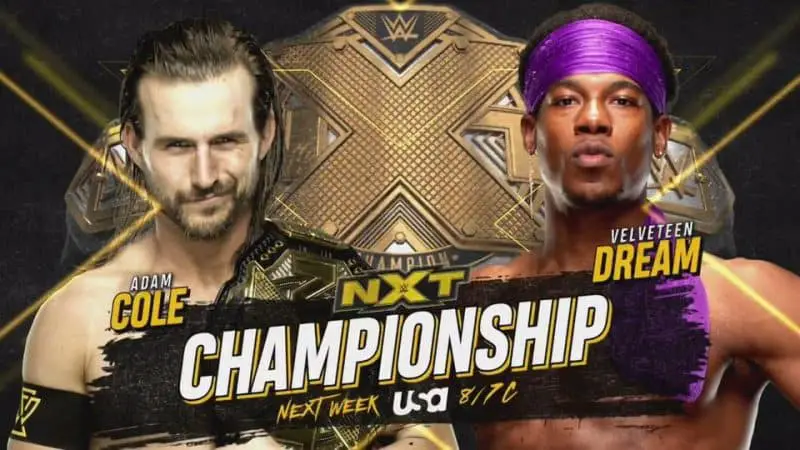 NXT TakeOver: "In Your House" airs live on the WWE Network at 7 PM (Eastern) and 4 PM (Pacific) on Sunday, June 7, 2020, at the WWE Performance Center in Orlando, Florida.
WWE NXT Preview Matches
Match Recap:
NXT Champion Adam Cole vs. The Velveteen Dream (Backlot Brawl)
Our Prediction: The Velveteen Dream defeats Adam Cole.
WINNER: Adam Cole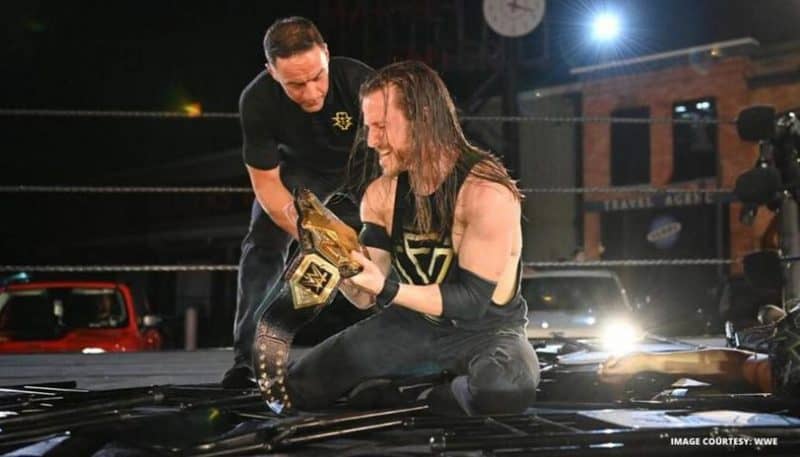 Adam Cole retained the NXT Championship in the Backlot Brawl match. Overall, this wasn't a good of a match but there were a few good spots like when Adam Cole was pushed onto the front of a car breaking the glass. Lots of blood on the champion's arms! Another highlight was when Dexter Lumis pushed the rest of the Undisputed Era into a trunk and drove away and Adam Cole hit a panama sunrise onto a pile of chairs to win the match.
Overall this match was pretty boring but the spots made it watchable. This leaves us with the question, who will dethrone Adam Cole? We give the match a rating of 4.5/10.
---
NXT Women's Champion Charlotte Flair vs. Rhea Ripley vs. Io Shirai (Triple Threat Match)
Our Prediction: Charlotte Flair defeats Rhea Ripley and Io Shirai.
Match Recap:
A fast-paced match that started with Ripley and Shirai fighting in the ring while Charlotte Flair stood outside the ring and watched. Ripley and Shirai then double-teamed Charlotte Flair. The highlight of this match was Shirai doing a moonsault off the stage set.
The match ended with Charlotte having Ripley in a submission and Shirai stole the pinfall after hitting Ripley with a moonsault while Charlotte was stuck in Ripley's submission.
Overall a good match with a great winner. May Io Shirai have a long title reign! We give the match a rating of 7.5/10.
---
Tommaso Ciampa vs. Karrion Kross
Our Prediction: Karrion Kross defeats Tommaso Ciampa.
WINNER: Karrion Kross
Match Recap:
Definitely not much to talk about as this match was shorter than expected but Karrion Kross's debut was strong. Kross defeated Tomasso Ciampa after he hit his finisher. Overall, a quick but impactful match with a great debut for Karrion Kross.
We give the match a rating of 6/10.
---
NXT North American Champion Keith Lee vs. Johnny Gargano
Our Prediction: Keith Lee defeats Johnny Gargano
WINNER: Keith Lee
Keith Lee retains his NXT North American Championship by defeating Johnny Gargano. There were some good spots in the match especially when Keith Lee threw Johnny Gargano through the glass barricade. Mia Yim and Candice LeRae interference was entertaining. Johnny Gargano stabbed Keith Lee in the eyes with a key but was no match for Keith Lee's spirit bomb.
Overall, a good match but not as good as Bálor vs Priest.
We give the match a rating of 6/10.
---
Finn Bálor vs. Damian Priest
Our Prediction: Finn Bálor defeats Damian Priest
WINNER: Finn Bálor
Finn Bálor won the match after Damian Priest despite being attacked before the match by Priest. Lots of brutal spots but none more insane then when Priest was dropped on the steel stairs from the apron (insane!). The match concluded when Finn Bálor hitthe Coup de Grâce for the win.
Overall, a better match than most people probably expected. We give this match a rating of 7/10.
---
Mia Yim, Tegan Nox & Shotzi Blackheart vs. Candice LeRae, Dakota Kai & Raquel González
Our Prediction: Mia Yim, Tegan Nox & Shotzi Blackheart defeat Candice LeRae, Dakota Kai and Raquel Gonalez
WINNER: Mia Yim, Tegan Nox & Shotzi Blackheart
Mia Yim and Candice LeRae fought in the stage garage which left Shotzi Blackheart, Tegan Nox, Dakota Kai, and Raquel González in the ring. Dakota Kai accidentally kicked partner, Raquel González, and Tegan Nox hit the "Shining Wizard" on Dakota Kai for the win.
A fun, fast-paced match and great way to kick off the show. We give this match a rating of 6/10.